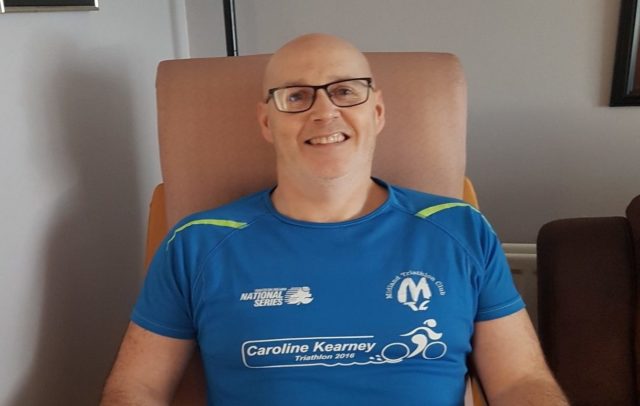 Ken Byrne is the Arthritic Triathlete. He has shared his experiences running with inflammatory arthritis and an autoimmune disease called Haemochromatosis. Ken recently had major surgery with a full right hip replacement, and has shared his recovery process so far with RunIreland.com.
How do I stay motivated?
I suppose there is no easy answer to this question, but there are so many influencing factors.
At the time of writing this, I am exactly 7 weeks post Operation. My recovery has been good. I was a little over 2 days in the hospital. My surgeon usually keeps his patients in longer and one of the nurses commented I must be doing great to be allowed out without him wanting to see me.
This was the start of the process, I got out of the hospital before others, result! it was a little secret goal.
Post Operation
The prehab stood to me. I was up and walking on the following week with the physio, and several short walks that day got things going.
The next morning the physio showed me how to manage stairs and we did some exercises – again not an issue thanks to prehab. The physio was more than happy to send me home after doing the stairs and exercises.
Staying Positive
I put no pressure on myself to be doing this and that by a certain time. Everyone is different and one added challenge I have with this operation is my Rheumatoid Arthritis.
Usually, I get my infusion every 6 weeks. My arthritis is playing up a little too at the moment, my ankles are starting to hurt, and my lower back too. I just have to be a little mindful of this.
I took all the positives and stuck them on the positive side. In my mind when the negatives pop up you can then go to the positive side and use this to get over the negatives. Don't get me wrong there are plenty of negatives and these negatives will be a big or small depending on how you look at them.
Recovery Challenges
For instance, I think the hardest thing for me was going from your normal life to being restricted to a bed and a chair all day long. Even though I was in agony pre-surgery, walking like an extra from night of the walking dead, I was still getting up, going to the pool or gym and working.
Boredom – some people may welcome it but after a while it's not all that great to be honest.
Then there is a lack of sleep because I am literally going from my armchair to bed. There have been many nights now in the past month I have been downstairs for hours during the night and then get about two or three hours sleep.
One morning I logged onto work at 4am, I was doing half days for this week, so I worked my half day from 4am to 9am, and then went to bed for a few hours.
Getting dressed is another challenge. It does get easier as the weeks pass but at the start, there is strictly no bending so getting dressed or undressed represented something of a complete challenge.
Getting up and out
I have been getting out walking every day. This very important for a good few reasons, a lot of the reasons I mention above, but the walking helps with the boredom, the energy, getting the blood flowing through the body, especially the wound area where it speeds up recovery and also the walking helps get the strength back.
I have challenged myself to distances, and each week I am trying to walk further and slowly build back up to give me a chance to get back to my fitness levels sooner.
Recovering
I went for my 6 weeks check up on Friday last and was delighted with the results, the hip and wound are great. I have been allowed return to the pool and gym. I can swim with the buoy; I can do some weight and core work and I can do the spin bike too.
View this post on Instagram
I can only do it to fatigue, the muscle where they cut through is still recovering and it's this muscle that will fatigue. I am really happy with this and can't wait just to do a little bit of work again (and to be honest, start trying to get a little bit of weight off that I put on just sitting on my backside for the past 6 weeks).
I also saw the Physio and got assessed and he was quite impressed with the strength of the hips and my walking. He told me to totally ditch the sticks and only use one when walking when the hip gets fatigued.
Over the weeks this will improve. I am delighted with how it has all gone so far. It's been hard some days with the sitting about and not being able to do things, but ironically by doing as I have been told I feel its been worth it with my progress.
Check out Ken's next blog on making future plans and setting recovery goals.