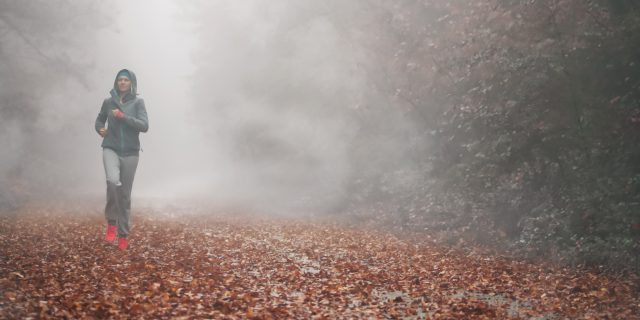 Met Eireann has announced that there won't be snow this Christmas but it will be rainy and windy. 
Although we are in for a dull and grey Christmas weather-wise, the temperatures will stay above average. There will be no sign of frost but it will become gusty on Christmas Eve.
A Met Eireann spokesperson said: "On Sunday, a few bright spells, but generally cloudy and locally misty, with some drizzle at times. A windy day, with strong and gusty southwest winds. Highs of 11 or 12C."
Stay Safe this Christmas
When running or training over Christmas, make sure to stay safe. If you are running outside make sure to wear hi-vis and ensure that road-users can see you, as the mist and clouds will lessen visibility. Stay hydrated with water as well as the hot whiskeys and if you are looking for races over the Christmas period, check out the list below.
Upcoming Events
5k Races
Louisburgh Santa Run
Dec 23 at 12:00 pm – 5:00 pm
Streets of Wicklow 5km
Dec 26 at 11:00 am – 5:00 pm
West Sligo Fun Run
Dec 26 at 11:30 am – 5:00 pm
Ardagh GAA Fun Run
Dec 26 at 12:00 pm – 5:00 pm
Farranfore Maine AC St. Stephen's Day 5k
Dec 26 at 12:00 pm – 5:00 pm
Shane Brennan 5K Newtownforbes, Co Longford (Chip Timed AAI Approved)
Dec 26 at 1:00 pm – 5:00 pm
Bree Youth Clubs Winter Fun Run/Walk
Dec 30 at 11:45 am – 5:00 pm
Ardagh Challenge 10 mile & 5km
Dec 30 at 1:00 pm
ERP Xmas Cracker
Dec 31 at 11:00 am – 5:00 pm
10k Races
Fields of Athenry 10K
Dec 26 at 11:00 am – 5:00 pm
West Sligo Fun Run
Dec 26 at 11:30 am – 5:00 pm
Turkey Trot 2017
Dec 26 at 12:30 pm – 5:00 pm
The Fat Turkey 10km
Dec 27 at 11:00 am – 5:00 pm
Land of the Giants Duathlon Claremorris
Dec 28 at 10:30 am
Bree Youth Clubs Winter Fun Run/Walk
Dec 30 at 11:45 am – 5:00 pm