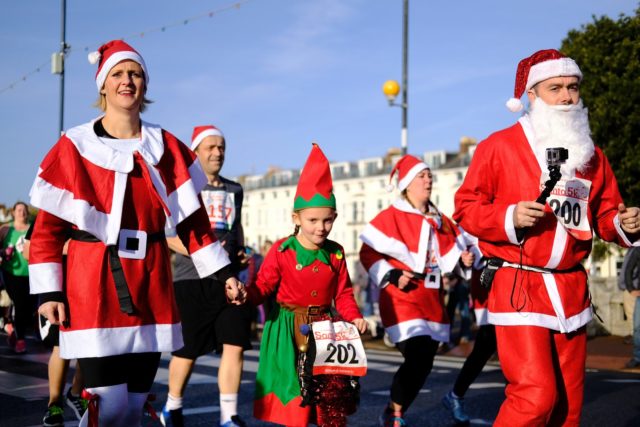 The pre Christmas parties are almost over for another year but the fun of Christmas is still in full swing!  If you fancy getting out and about over Christmas and the New Year,  check out some of our favourite events taking place around the country.  There is a full listing of events HERE
If you take part in one of the events we would love to hear your thoughts on it. Send your post-event reports to us for a chance to be featured.
Fields of Athenry 10K
Date: Dec 26 at 11:00 am – 2:00 pm
Location: Athenry, Galway
Price:  €25
The Fields of Athenry 10km takes place on St. Stephen's Day, December 26th at 11am. Over the last number of years this has become one of the leading road races in the country, and we aim to continue to improve the event. The race will be held on its traditional route, finishing under the medieval arch in Athenry.
Cavan Christmas Dash 5K
Date: Dec 26 at 10:30 am – 1:00 pm
Location: Cavan Town
Entry Price: Individual Entry – €15 (Kids under 16 – €8) | Family – Two Adults & Two Kids under 16 – €45 | Family of Four Adults – €50
Ardagh 5K Fun Run
Date: Dec 26 at 10:30 am – 1:00 pm
Our annual fundraiser is almost here, prizes for adults, locals and underage. Registration at Ardagh Community centre from 10.30AM, race starts at 12 Noon SHARP.
Pieta House Wren Run 3km & 6km
Dec 26 at 11:00 am – 1:00 pm
The Pieta House Wren Run is back for its fourth year on 26th December in Woodford, Co. Galway @11am.
Location: Woodford Community Field, Woodford, Co. Galway
Streets of Wicklow 5km
Dec 26 at 11:00 am

–

12:00 pm

Ever popular Streets of Wicklow 5km is on at 11:00 am St. Stephens Day 26th of December. This fast course offers cash prizes first 5 men and women in, category prizes and €100 for the Fastest Family across the line (2 parents & 2 kids to score)
Fat Turkey Run: 10 Year Anniversary
Date: Dec 28 at 11:00 am – 2:00 pm
Location: Dublin
Entry Price:  €24 (+reg fee) Includes a technical 'turkey' running tee-shirt
The Fat Turkey 10km event is to support Suttonians Rugby Football Club (established in 1924) and the IRFU Charitable Trust (Irish Rugby Football Union Charitable Trust was formed in 1978 to assist severely injured rugby players in their everyday lives, and help to restore their confidence and independence).
Run Off The Pudding
Dec 28 at 12:00 pm – 3:00 pm 
Location: Tullaroan, Kilkenny
Entry Price: €5 – €10
Run Off The Pudding 5K and 10K is an annual event in association withTullaroan Athletics Club located in the village of Tullaroan in Co. Kilkenny. The race is chip timed, bespoke medal at the finish line and light refreshments will be served after your run/walk. First 50 to sign online get a tec-top!
Burren Charity Challenge 2019
Dec 27 at 1:00 pm – 5:00 pm
Celebrating the 20th year of this amazing event, there is something for everyone in the Burren Charity Challenge set in the idyllic village of Ballyvaughan, Co Clare. You can run or walk 5km or 10km, you can cycle 40km or you can do both in our Duathalon all in aid of charity and to work off that Christmas pudding! Make a night or a weekend of it and stay to sample our great village hospitality and craic over the Christmas period.
Christmas Cracker 5k
Dec 29 at 12:00 pm – 5:00 pm
A festive 5k held in Lees road, Ennis on Christmas week. Runners and walkers of all abilities are welcome.
Fancy dress is optional
There will be a custom designed medal for all finishers!!
Resolution Run
Jan 1, '20 at 11:00 am – 1:00 pm
Location: Galway City Centre
Entry Price: €20
The Resolution Run 2020 is a fast and flat 5K road race that takes place New Years Day 1st January 2020, at 11.00 in Galway City Centre. The route passes most of the city's famous landmarks along the way. The race is AAI certified and there is a superb souvenir gift for all entrants, Race HQ is Claddagh Hall at South Park, Galway and race start is beside the park.
There will be teas, coffees and snacks available for all participants in The Claddagh Hall after the race. Presentation of prizes will take place at 12.15 pm.
Check out the full listing of events HERE
Happy Running & Happy Christmas