Making The Most of Your Race Listing on RunIreland.com
Listing your event on RunIreland.com has many benefits including exposure to a wide range of engaged followers and fans of running, jogging, adventure racing, triathletes and obstacle course enthusiasts.
To make the most of your listing we suggest you include as much information as possible within each section of the submission form below. Within the event description section be sure to include as much information as possible so people can make an informed decision about your event.
Suggested Information
Who is hosting / organising the event, who will the event benefit?
What does the event entail, is it suitable for walkers, joggers, experienced athletes and participants, is there a fun or kids element to it?
When does it take place, what time is registration/ packet pick up on race day,
Where does it take place, is the course flat, fast, hilly, off-road, coastal,  undulating or has it PB potential?
How can people register?  Include a booking link to your online registration platform, if you don't have this sorted yet be sure to tick the njuko box below to hear from our partners njuko.com. There are a wide range of benefits for you and your event participants if you partner with njuko for event booking, including a number of exclusive advertising rewards on Runireland.com.
Include FAQ information such as;  chip timing post-race refreshment options, goodie bag or t-shirt details, directions to the event, event parking, prize categories and prizes.
Don't forget to include an image for your event listing and be sure to check your spelling and punctuation in your event description.
Remember you can edit the information on your listing at any time, if you have any queries or would like information on advertising your event on the site please email

[email protected]

.

Run Like the Wind
Organiser:
Run Like the Wind
Sep 8, '18 at 11:00 am
Event Navigation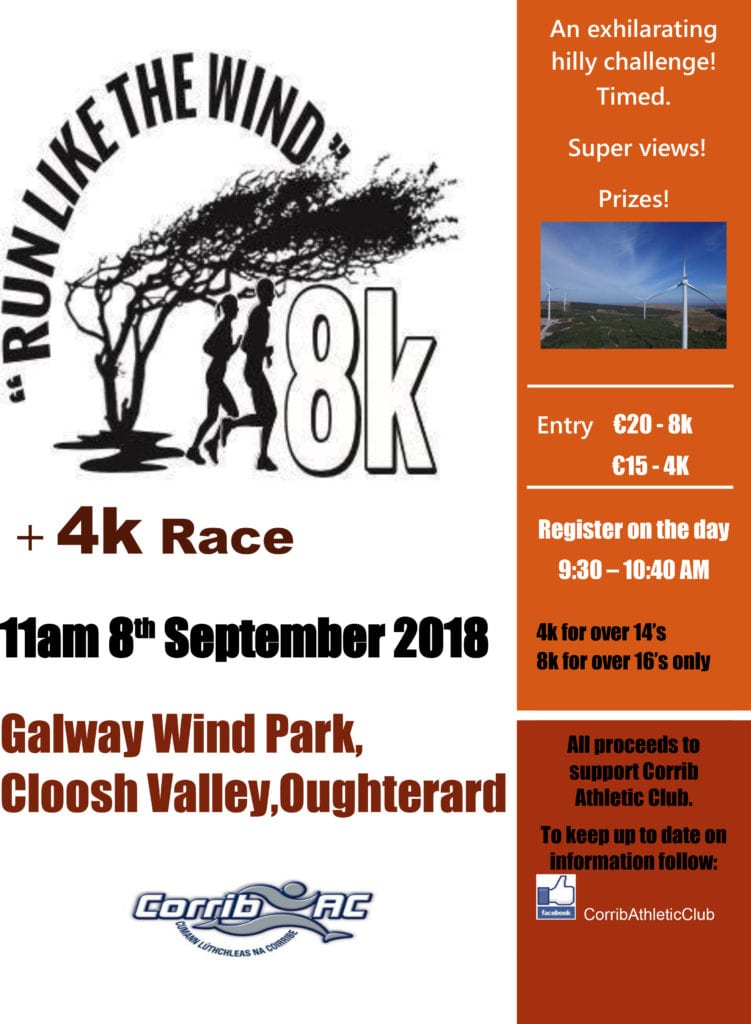 Run like the wind 2018
Basics: Start time 11am on Saturday the 8th September 2018.
Location: Galway Wind Park, Seecon East, Cloosh Valley, Oughterard- Feirm Ghaoithe, Uachtar Ard.
There will be a 4k and an 8k race. This event is run by local athletics club Corrib AC and is AAI permitted.
Advantages of this event:
• No cars
• Opportunity to try elevations
• Beautiful location
• Finish on a 900m down-hill
• Options of 8k & 4k routes
• 8k perfect for those who have completed the Streets of Galway 8k training or are planning to run the Carna 10k.
• 4k ideal for those starting their XC training
• Friendly atmosphere & lovely goodies afterwards.
There are striking technical t-shirts for entrants.
Prizes:
Prizes for:
• The first three male and female athletes in both races.
• The fastest male and female juvenile runner in the 4k- aged 14-17 years.
• Corrib AC members will be competing to be the fastest club member in the 4k and 8k.
The Galway Wind Park, (Seecon East) is located in the Cloosh Valley on the R372, approximately 7km south west of Oughterard, Co Galway/ Uachtar Ard, Co. Na Gaillimhe. This is approximately 33kms from Galway City and takes on average 45-50 minutes to travel.
If coming from Galway city, travel on the Clifden road N59 to Oughterard (30 minutes). In Oughterard, turn left onto Station road, Oughterard (this is the left hand turn just before the bridge and the RC church, continuing on the R372 for approximately 7km ( Bóthar Sheanadh Phéistín/ "Shannapheasteen" road).
Please note that sections of the Shannapheasteen road from Oughterard are narrow. The race start point is on the left-hand side at car park 2, Seecon East. Please continue past this to park.
We highly recommend car pooling.
Parking: The carpark for race athletes; registration and toilets are based at the operations centre of the Wind Park-on the right-hand side about 1km away from the start point.
https://goo.gl/maps/pgE6e2gT52B2
Registration: Registration will take place from 09:30-10:40am.
NB strict age restrictions: Please don't bring younger children to the race location unless there is a non-running adult with the child. Children younger than 14years of age will not be allowed to run. This is based on athletic guidelines.
• 4k race only for those 14 years of age & older.
• 8k race only for those 16 years of age & older.
Entry fee: €20 for 8k. €15 for 4k.
Details on 8k race: An up and back down route.
The first 3k of the route involves gradual ascents with some downhill sections; there is a tougher ascent after the 3k mark.
At the 4k mark, runners will turn around and enjoy a nice downhill section, followed by 5-6 small ascents mingled with downhill/flat sections; ultimately finishing on a pleasant downhill. In summary the first 4k of the route is the hardest section so pace yourself and aim for a negative split on the way back.
4k route:
An out & back route.The first 900m will have gradual ascents, taking a left hand turn downhill, turn at turbine 15, running uphill turn into and out of a short side route toward turbine 14, continue uphill, ascend and finish on a nice downhill piece. Again pacing is important.
Other Info:
Both 4k and the 8k participants will start from and finish at the same point and at the same time.
After the first 900m the 4k participants will turn left for their first downhill section while the 8k participants will continue straight.
Water available at start, 4k (midpoint of 8k race) and finish line.
The surface is compacted sand-gravel with some loose gravel/small stones in spots and occasional shallow potholes.
To get updates, checkout facebook (www.facebook.com/corribathleticclub)