Making The Most of Your Race Listing on RunIreland.com
Listing your event on RunIreland.com has many benefits including exposure to a wide range of engaged followers and fans of running, jogging, adventure racing, triathletes and obstacle course enthusiasts.
To make the most of your listing we suggest you include as much information as possible within each section of the submission form below. Within the event description section be sure to include as much information as possible so people can make an informed decision about your event.
Suggested Information
Who is hosting / organising the event, who will the event benefit?
What does the event entail, is it suitable for walkers, joggers, experienced athletes and participants, is there a fun or kids element to it?
When does it take place, what time is registration/ packet pick up on race day,
Where does it take place, is the course flat, fast, hilly, off-road, coastal,  undulating or has it PB potential?
How can people register?  Include a booking link to your online registration platform, if you don't have this sorted yet be sure to tick the njuko box below to hear from our partners njuko.com. There are a wide range of benefits for you and your event participants if you partner with njuko for event booking, including a number of exclusive advertising rewards on Runireland.com.
Include FAQ information such as;  chip timing post-race refreshment options, goodie bag or t-shirt details, directions to the event, event parking, prize categories and prizes.
Don't forget to include an image for your event listing and be sure to check your spelling and punctuation in your event description.
Remember you can edit the information on your listing at any time, if you have any queries or would like information on advertising your event on the site please email

[email protected]

.

Kinsale 10 Mile 2022
Event Navigation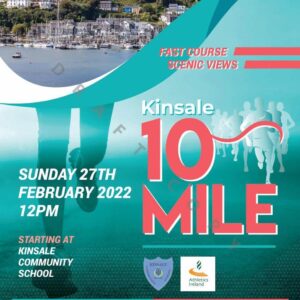 We welcome athletes of ALL ability levels who wish to run
the classic 10 mile distance in a beautiful setting.​
Prize List:​
Male and Female
1st place –  250 euro (plus course record bonus 100 euro)
2nd place – 150 euro
3rd place – 125 euro
4th place – 100 euro
5th place – 75 euro
​
Category prizes;
1st Age categories in M/F (40, 45, 50, 55, 60, 65, 70)
1st Wheelchair M/F
​
Course record bonus 100 euro (winner only)
Male record; 51:13   
Pat Hennessy (West Waterford AC) 2020
​
Female record; 1:01.21  
Claire McCarthy (Leevale AC) 2020
​
General Race information and FAQs:
Race Start and Finish will be based at Kinsale Community School at 12 p.m.
1. Does this race have an AI permit?
Yes the Kinsale 10 mile road race is an AI accredited road race, fully licenced and officially measured.
2. Is it possible to enter on the day?
It is online entry only and entries will close on 20th of February or before it of entry capacity has
been met.
3. Is there elite entry after the closing date?
We have reserved places for elite entries. Please contact us directly for information on elite time
qualifications.
4. Are walkers permitted in the race?
No walkers are permitted.
5. Where are race headquarters?
Kinsale Community School. The race will be signposted on all major routes coming in to Kinsale.
6. Are there parking facilities available?
There will be no parking at Kinsale Community school or on the road directly outside the school. There
will be some parking available at Kinsale GAA pitch approx 600m from school. There will be field
parking available on a parallel road to the school approx 800m walk. This will be signposted and stewards will be on duty in the morning. Kinsale college of further education has some parking approx 200m from the start. There will also be parking around adjacent roads to the school.
7. Where and when is registration and t-shirt collection?
To be confirmed at a later date due to covid considerations
8. What must I do with the chip?
The chip will be attached to your race number. Do not bend or try to fold your number as this could
damage the chip and you will not receive a time. Numbers must be worn on the front of your vest/shirt. NOT on the shorts. This is so that the chip can be read accurately.
9. Can I transfer my number?
Transfers are not permitted.
10. Are IPods/ MP3's permitted?
I Pods, MP3's etc are not permitted for safety on the route.
11. Are there toilets at the start line?
Toilets are available downstairs in Kinsale Community School gym in the dressing rooms and next door
to the dressing rooms. There are also toilets inside the front door of the main school building on the ground floor, the first floor and the second floor in the stairwell. On the first floor there are more toilets at the other end of that corridor.
12. Are there changing facilities available?
To be confirmed at a later date due to covid considerations
13. Will there be a baggage area?
There will be an un-supervised baggage area at the school track area – please do not bring valuables.
14. Where can I warm up?
The track is available as a warm up area. The car park in front of the track and the roads adjacent to the
school can also be used.
15. Where is the race starting?
The start line is on the road outside the main gate of Kinsale Community School.
16. Will there be first aid facilities there?
Red Cross ambulance will be present at the track and will be driving the route.
17. What will happen at the finish line?
At the finish the race will enter the track and turn right, running anti-clockwise around 3 sides of the
track. The finish line will be on the straight at the school side of the track. Please proceed to baggage
claim in the centre of the track.
18. Will there be post race refreshments?
To be confirmed at a later date due to covid considerations
19. When and where will the prize giving take place?
To be confirmed at a later date due to covid considerations
​
Caution: This Race will take place on OPEN ROADS and participants are advised to remain aware of this throughout the race and to follow the instructions of our course marshalls and the Gardai who will assisting us on the day. Unfortunately we can't facilitate runners with buggys/strollers and we ask that all participants follow the advice of our course marshalls throughout and not to wear headphones/earphones.
N.B. We ask all entrants and spectators to adhere to public health advice with regard to covid and your attendance at this event. 
​
Thank you very much and we look forward to seeing you on RACE DAY.
​
Happy training!!
​
​
​
​
​
Goals and Proceeds of the Race
​
​
The goals of the Kinsale 10 mile road race include;
(1) hosting a national standard event that runners of all levels from all over Ireland can feel free to participate in
and
(2) To use this race to raise funds for Kinsale Community School Athletics Track (which will be an amazing facility to have on our door step) and to raise funds for the organising clubs of Riverstick/Kinsale Athletics club
All proceeds will be divided between these causes.
All club members and the race organising committee are giving their time and effort on a 100% voluntary basis to help raised these funds so that we can further invest in local sports participation, achievement and enjoyment.
This is a fully licensed Athletics Ireland event that is being organised to the highest standards by local
people who are passionate about our sport and passionate about Kinsale and the surrounding areas.
We are very thankful to Kinsale Community School for having the vision to develop a 300m track and
field facility. This facility will be of fantastic benefit to the whole community and surrounding areas of
all ages, of all abilities, across all sports and across all fitness levels from complete beginner to an elite
sports person.
​
So finally we wish to say thank you very much for your support of our race and our local clubs and we look forward to seeing you on race day.
​
Race start at Kinsale Community School 12pm
Fast Course
Great Prizes
Kinsale hospitality
​