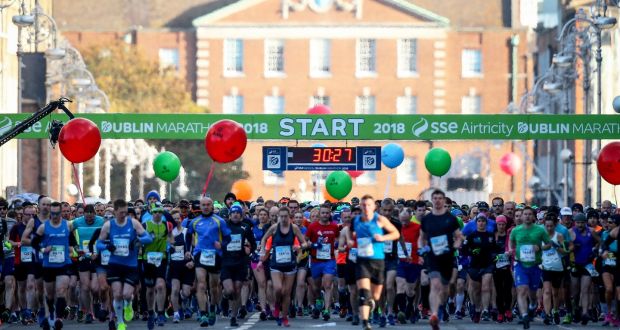 Our advice? There's no time like the present. 
T-minus 8 months until D-Day. Dublin Marathon 2019 will have a record breaking 22,500 participants for its 40th Anniversary on Sunday 27th October. The additional places will go on sale on 1st July.
If you've got your hands on one of these entries, or you're hoping to get one on 1st July, chances are you're well versed in how to prepare. But maybe this is your first marathon, or you're looking to get a PB, or you just can't seem to decide on a training plan.
So When Should I Start Training?
Even though the event seems ages away, getting started now will stand to you eight months down the line.
Manage your expectations. Deciding what you want to achieve with your Dublin Marathon experience will make your training plan become much clearer. Write down the answers to the following questions, and be realistic:
What is your current fitness level?
What marathon time are you aiming for?
How much time can you make for training?
Have you got any holidays/events planned that will interrupt your training?
Figuring out how much work needs to be done versus the time you have available will determine your training plan.
What Training Plan Should I Follow?
Like with most things, there is no 'one size fits all'. One Google search will show you all the different ways you could train for a marathon. With so many options, it's hard to figure out what plan to go for.
The best thing to do is to listen to all the advice you're offered but only apply what is necessary and relevant to you.
You don't need to be running long distances at this stage of your preparation. With eight months to go, you have time to ease your body into its new regime.
General body conditioning will go a long way. If your muscles are stronger, you will feel the difference a few miles in. Mix up your training – don't just stick to running. Try incorporating strengthening exercises to build strength as well as stamina.
Here is an example of a one-month training plan for building up distance closer to the time:
Full Marathon Training Plan | Half Marathon Training Plan
Copy this layout, and set yourself a realistic plan in monthly chunks, working around your other commitments.
How Do I Know If I'm On The Right Track?
Break up the eight months into two-month blocks, stating what you want to achieve by the end of each block. This means creating four achievable goals before the ultimate goal of the Dublin Marathon.
Give yourself a pat on the back every time you succeed with one of these goals. This way, you really will notice your progress.
Motivation
If you are struggling with motivation to train, maybe you need to set yourself goals for in between now and event day. Consider signing up for a summer half marathon, and work towards this.
This will also give you a good indication of how prepared you are, or of how much work needs to be done before the marathon.
Think about getting a running buddy, or joining a running club for extra support and motivation. Even on the days you're feeling tired, this provides a sense of accountability, making it more likely that you'll push through and stick to the training plan.
It's All About Attitude
Put the work in and you'll reap the rewards, it's as simple as that. The countdown begins!