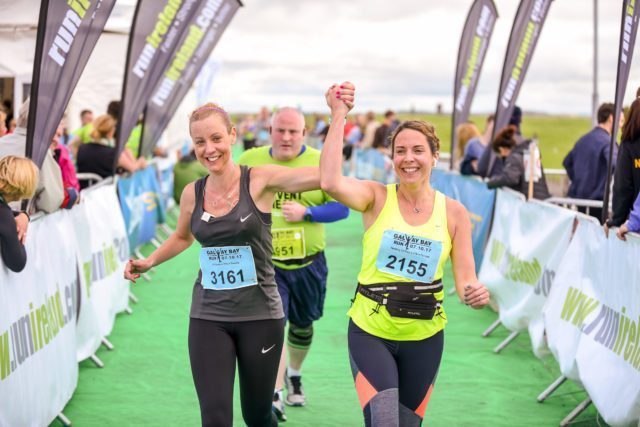 The first day of a new year comes after many days of indulgence, festive fun and a distinct relaxation in training and healthy living. For many days before the 1st of a New Year,  we start to think about how we will get back into the swing of things once the New Year rolls around.
Well, the New Year has arrived and with it is the resolve to set some new goals and plans for 2018.
Despite the running boom that has swept the country over the past number of years, there are still plenty of people who have never run to the shop let alone run a timed 5k.For those who have never run a race before, it can seem daunting, confusing and a serious challenge, but fear not, here are some simple tips to get you on the road to your first race in 2018.
Bring a Friend
The easiest way to get started is to be accountable, so get a wingman or wingwoman who will commit to running with you to do the race. When you don't feel like training they are the ones to drag you out the door. You may not want to go but you'll never regret getting out and getting your session done.
Join a Group or Club
You can decide to do your own thing taking to the local streets, playing fields or running track, you can also join a running club or group. Check out all the options especially those who have a 'new to running' programme such as ' Fit For Life' who encourage and support new runners to achieve their goals.
Pick a Race and Distance
Make sure the race distance suits you, for some a 5k is a great starting point, for others a 10k or longer is the preferred challenge. Make sure you give yourself plenty of time to get race ready for your first event regardless of the distance. Choosing a race that's easily accessible will help with race day logistics and preparation, if it's a race close to home you can run the course as part of your training in the lead up to the event.
Consistency is Key
Don't do too much too quickly, or try to get faster or go longer within a short time frame, this can lead to injury or overtraining. If you miss a training session don't panic, just keep your training consistent, be sure to stretch and recover between sessions. You should aim to increase your mileage or time by just 10% each week, anything more can lead to injury.
Download an app to track your training
Mobile technology sees us using gadgets of all sorts to track our training and movement on a daily basis, whether your watch can be synced to your phone or you just use your phone app to track your time, pace and distance this is a great way to track your training and see your improvements on a weekly basis. Some apps also have great online communities where you can see what your friends are up to with their training. Nothing like a little friendly competition to keep you motivated. Many apps also have training plans that you can access for your race distance.
Try out a Park Run
If you are lucky enough to live near a Park Run venue then make use of their free, friendly, timed weekly runs that take place every Saturday morning across the country. They welcome runners, walkers and joggers of all levels and are a fantastic resource for all runners regardless of ability. Doing a Park Run as a dry run before your race can also help you with your planning of your own race. Who knows you may become a regular park runner.
Whatever your racing goal, remember it's the taking part that counts, you don't have to run fast you just have to run. Good luck whatever your race distance.