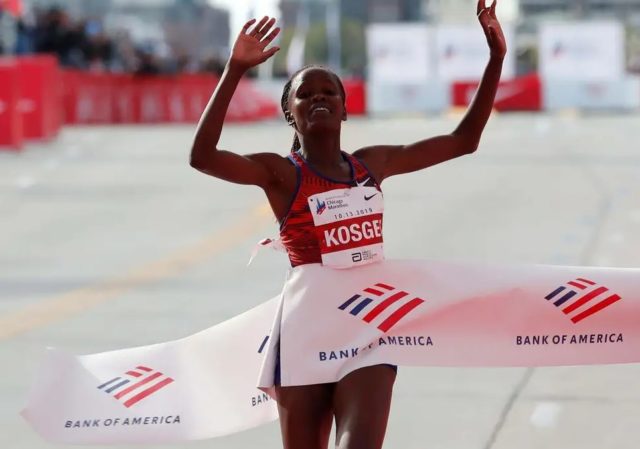 Brigid Kosgei breaks Paula Radcliffe's women's marathon record in Chicago.
Kenya's Brigid Kosgei has set a new women's marathon world record time of 2.14.04 in Chicago, beating Paula Radcliffe's best which was set in London 2003. It adds to the Kenyan's win in London this year when she clocked 2:18:20 and became the youngest winner of the race.
Kenya's Brigid Kosgei not only won the Chicago Marathon for the second year in a row, but she broke the women's world marathon record. https://t.co/K964rgh8YY

— CNN Africa (@CNNAfrica) October 14, 2019
After a 16-year wait, the 25-year-old smashed the record leaving Ababel Yeshaneh 6 minutes and 47 seconds behind in second place. 
Radcliffe was present at the finish line to congratulate Kosgei, with her 2003 time being the longest-standing marathon world record by either men or women in the post-war era has now been beaten by an astonishing 81 seconds by the Kenyan.
Afterwards, an elated Kosgei admitted she was surprised to run so fast. "I am feeling good, and I am happy because I was not expecting this," she said. "But I felt my body was moving, moving, moving so I went for it."
In fifth place was Ireland's Fionnuala McCormack who secured a place at the Tokyo 2020 Olympics as she crossed the line in a personal best of 2:26:47. The Wicklow athlete's time was the second-fastest ever by any Irish woman, only behind Catherina McKiernan which puts her 2nd in the all-time list of Irish marathon runners.
Great 5th place finish Fionnuala McCormack 2: 26.47 @ChiMarathon @irishathletics pic.twitter.com/3ZoSjEreSs

— RayPFlynn (@RayPFlynn) October 13, 2019
Overall what an incredible weekend for Kenya! Eliud Kipchoge has become the first person to run a sub-two-hour marathon, completing a 26.2 mile course in Vienna's Prater Park in 01:59:40.
While praised by IAAF President Sebastian Coe, Kipchoge's achievement is not recognised as an official record by the IAAF as it was set outside of open competition and used in and out pacemakers.
https://twitter.com/TeamRunIreland/status/1182962718162194432?ref_src=twsrc%5Etfw%7Ctwcamp%5Etweetembed%7Ctwterm%5E1182962718162194432&ref_url=https%3A%2F%2Fwww.runireland.com%2Feliud-kipchoge-makes-history-with-first-sub-two-hour-marathon%2F