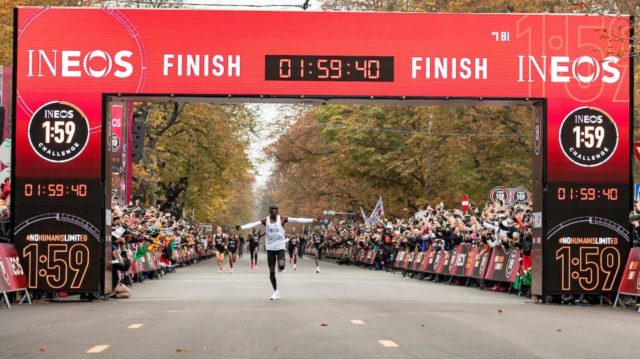 Eliud Kipchoge has become the first person to run a sub-two-hour marathon, completing a 26.2 mile course in Vienna's Prater Park in 01:59:40. 
HISTORY! pic.twitter.com/qjLfofhL5s

— Eliud Kipchoge (@EliudKipchoge) October 12, 2019
Today marks a celebration of physical endurance and mental grit and determination after Eliud Kipchoge's superhuman performance.
"After 65 years, I am the first man! I want to inspire many people, that no human is limited."
The Kenyan 34-year-old previously attempted the sub-two-hour marathon in Italy in 2017, but it wasn't to be as he fell short by 26 seconds. Before today's second attempt, Kipchoge compared the achievement to landing on the moon.
A Team Effort
Today, the Olympic champion and world record holder was accompanied by 41 in-and-out pacemakers who were guided by lasers coming from a support electric pace car which led the pack, as he completed four laps of a 9.4km route:
"The 41 pacemakers are among the best athletes in the whole world … to all of them I want to say thank you, thank you for doing the job. We made history together."
Split times for @EliudKipchoge's phenomenal performance today to break 2 hours of running over 26.2miles.

📸 INEOS 1:59 Challenge pic.twitter.com/WqmnzuC9cK

— RunIreland.com (@TeamRunIreland) October 12, 2019

Kipchoge was guided by seven athletes at a time, with five running shoulder to shoulder in front of him and two either side. Kipchoge maintained between 2.48 and 2.52 kilometres throughout the race, and completed the last kilometre with a smile, knowing he was making history.
"That was the best moment of my life. The time I knew I was going to make history."

This is the moment @EliudKipchoge knew the job was done. 🙌#INEOS159 #NoHumanIsLimited pic.twitter.com/9Y7ahwcZc5

— INEOS 1:59 Challenge (@INEOS159) October 12, 2019

"I am feeling good, after Roger Bannister it took another 65 years to make history," he said. "Now I've gone under two hours to inspire other people and show the world that nobody is limited."
🗣️ "It has taken 65 years for a human being to make history in sport after Roger Bannister." – @EliudKipchoge #INEOS159 #NoHumanIsLimited pic.twitter.com/JWxbVHglco

— INEOS 1:59 Challenge (@INEOS159) October 12, 2019
Kipchoge's world record of 2:01:39 at Berlin Marathon 2018 still stands as the official world record
While praised by IAAF President Sebastian Coe, Kipchoge's achievement is not recognised as an official record by the IAAF as it was set outside of open competition and used in and out pacemakers.
His 2018 Berlin Marathon Record still stands – a record that was nearly challenged at this year's Berlin Marathon by Kenenisa Bekele who ran the world's official second fastest marathon in 02:01:41.
However, it is still an inspirational display of sportsmanship and of the capabilities of the human body.
If today's news doesn't make you want to go for a run, we don't know what will.
Today we went to the Moon and came back to earth! I am at a loss for words for all the support I have received from all over the world.

Thank you to all who gave me the opportunity. Asante. pic.twitter.com/0HTVBjB6YY

— Eliud Kipchoge (@EliudKipchoge) October 12, 2019