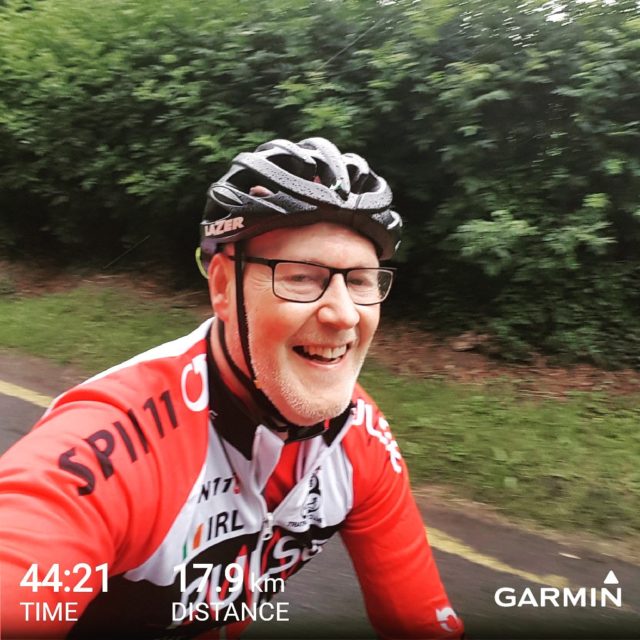 For those who have been following my blogs that Run Ireland have been so good in publishing, you will know that in February this year I got a full hip replacement, and you will also know I suffer with Rheumatoid Arthritis and Hemochromatosis.
In 2018 I trained for and completed three triathlons and completed Dublin City marathon last October while on the waiting list for my new hip.
I wanted to write this latest blog about the lessons I have learned over the past few months while going from recovery to rehab. I hope that by reading this, if you are looking at time on the side-lines with either Injury, Illness or surgery, that this may help you through that time.
Recovery
The surgery was a great success.
In preparation for the surgery I had broken this whole process down in my head: prehab, surgery, recovery and rehab, and finally back into training for the 2020 season of triathlon and perhaps some runs.
The first three steps all went very well. I had a minor set back with my scar not closing right, but eventually the scar healed and I followed the advice given of walking as much as possible. I have to say I just hate walking I don't really know why – I would just much rather be on a bike or running.
However, I persevered with the walking and it definitely made a difference. With this operation there is a lot of just sitting about and doing nothing, so the walking helped break down that boredom and obviously to get me moving again.
Next step: rehab
I had been looking forward to this for a long time getting back to the gym and the pool. I had been doing my walking and increasing my walking pretty much daily, also was back in the office.
I am very lucky as my work enables me to be able to work from home. Post-surgery I took a full 2 weeks off and then started working from home, going into the office only one or two days at a time for about 6 or 7 weeks.
Getting back to the office full time and back to normal is a big hurdle, you don't quite know how much this takes out of you, just moving, getting up and out of a seat, sitting in meetings etc are all quite tiresome, even the travel in and out on the train. Another thing is once your back in the office your colleagues think your back 100% and in truth you're not.
This was a challenge, I wasn't quite prepared for and it took me a while to readjust to normal life. On the positive side I was walking and moving so much better. The same route to the train was now taking me 7 minutes instead of 20 minutes of pure agony pre surgery. I was also able to walk the stairs "like a normal" person.
I now see people taking the lift and don't just judge them and call them lazy anymore (In my head), I don't know what ailments they may have and if they are lazy well it's not really my business.
Getting Back to Exercise
I went to the hospital physio and after a q&a session, working on bike and balance, and the trusty rubber band exercise I was told it was ok to hit the gym and pool again.
I was straight back swimming with the buoy between my legs like I was before the operation. I was giving myself a pat on the back for not being dog slow and getting fitter, but was I really? Was this actually the right thing?
I went into the gym, started on the spin bike and doing a few weights, some of the sets were there the same as I was doing pre operation.
This went on for about a month maybe three weeks. I was also walking. I went back to Parkrun as I was told there were a number of people who walked the course now, so I went to the Parkrun and walked it, but I pushed myself to walk as quick as I could.
I fell straight into the competitive me again – I was not going to be last. For the record I am a slow walker even my fast walking would be slow compared to others.
My hamstring was still tight, and it seemed to kind of cave in or become more painful when I got tired or about 4k into a walk. This was annoying me.
I had an appointment with the hospital physio and was looking forward to being allowed push on and move forward with things but that morning the traffic was awful, I arrived 15 mins late and was told I could not be seen.
To be honest I lost the plot and stormed out. I was so annoyed but decided I would just continue my rehab on my own.
My own rehab
Back in pool, another session ticked off. Then one morning back into the gym, swinging a kettlebell, there was an almighty pop from my lower back. I was shocked didn't really know what to do, dropped the kettlebell and prayed to god I could straighten up.
I was able to do straighten but it was a weird odd feeling, it was not killing me not too sore to touch but I knew I did something. I was so annoyed with myself.
I got into the office and I took some anti-inflammatory painkillers and got through the day. That night though in bed It really hurt to lie down, I struggled turning and it was really really sore. I was worried I had done some serious damage.
My wife was speaking with my and asked me what weights I was lifting and what type of sessions I was doing and when I told her she just looked at me like I was mad.
My problem is that I felt ok, in fact, because I was pain free for the 1st time in such a long time, I felt great. I fell into a trap where even though I felt good my body, my muscles, my skeleton is still catching up and these parts are not great, in fact they are weak.
I decided I needed to go to a physio and get my back looked at.
New Physio – Pain & Performance
In the days before going to Tommy from Pain & Performance, I seriously had to think what I wanted to achieve and how and what was I prepared to do to achieve it. I wanted to speak with Tommy about my long-term fitness and not just my back.
All my training in the past 5 years has been just me basically doing what I can to get fit enough to complete the triathlons or the marathon, it was not real proper structured training, focusing on weak areas. In fact most of it was shying away from my weak areas because well, they were weak and it was sore and painful so why do it.
And that's the next lesson. I realised I was very weak in certain areas, actually most areas and certainly in the areas where I needed to be strong for triathlons and running.
When I reviewed my training over the last number of years, I didn't concentrate on anything much – I swam, cycled and last year I started to run. But as my hip was sore and getting more sore most of the time especially towards the end of the year, I was constantly leaning forward, my posture was shot, I was just walking anyway to allow me feel less pain.
So really, when you think about it logically, coupled with 3 months of mainly sitting about on my backside my body is just not in great shape.
Session #1
I spent a lot of time speaking with him about what I wanted to do, what I have done, how I have done it and also giving a lowdown on all my ailments which is quite exhaustive at this point.
The next morning, I woke expecting to be in bits but most surprisingly I was not, I was feeling good, more flexible and the pain in my back had subsided.
I spent the next week just simply doing the exercises as prescribed and by Friday my back paid had improved a huge amount, it was still there but nothing compared to what it was like and I was moving much freer.
Session #2.
I stick with the exercises and do a little in the pool. Another positive was being back in the pool a little, mainly to do my exercises but I did swim a little and most importantly without any buoy.
During this time a noticed something like a blood spot on my leg at my calf muscle, I didn't know what it was but it wasn't sore nor itchy so I didn't pay too much attention to it.
I was feeling off for a number of day's just not myself and in very bad mood, I was cold and hot. Then one day checked the leg and noted where the spot was it was quite large and a little itchy and sore to touch.
I went to the GP and he confirmed Cellulitis and put me on strong antibiotics. I also had a virus derived from this bite too hence feeling rubbish for the past week.
Session #3
So couldn't really train for the guts of a week, all I could do were a few walks, otherwise I was knackered I had no energy from the bite and virus.
I started to feel a little better from the Sunday and this was Tuesday morning, so headed back to the gym for more exercises. Slamming balls to the ground (which I kind of liked a lot), more pushing the sleigh up and back, getting lower on it to make it harder (as if it was not hard enough).
I got more advanced exercises too which is great. I was knackered though; this viral thing knocked me flat out.
Seeing Results
But the good news is, I am noting a improvement, and my back pain is just gone certainly to the point that it's not bothering me at all. I am now allowed back into the pool for proper sessions and back out on the road on my bike for 30/40 minutes. I am delighted with this progress.
So after close to a year off the road bike and 4 months post hip replacement op I got back out this morning.. hip was brilliant, am delighted to be riding pain free.. pic.twitter.com/QFHTd8XQqS

— Ken Byrne (@thearthritictri) July 6, 2019
I got back out on my road bike the weekend just passed did 18k, 44 minutes and was just so happy to be back, it was last August since the last time I was out on the road so close to a year.
I am off on holiday at the end of this week, the plan is to relax and chill but to keep up the strengthening and to swim a load.
When I get back then it's back on the bike, work hard in the gym and get back some good swim sessions.
I have also found not seeing all my friends racing and training as normal very hard. I was letting it frustrate me for a while, but now I have accepted that it's next season for me and even longer perhaps. But I will be back and back a new stronger, fitter version of me.
I hope you find something good in this story so far and that you can relate to some of these issues, if you want you can follow me on social media.
Insta –  @theartritictriathlete