Slaney Valley Adventure Race 2018
Event Navigation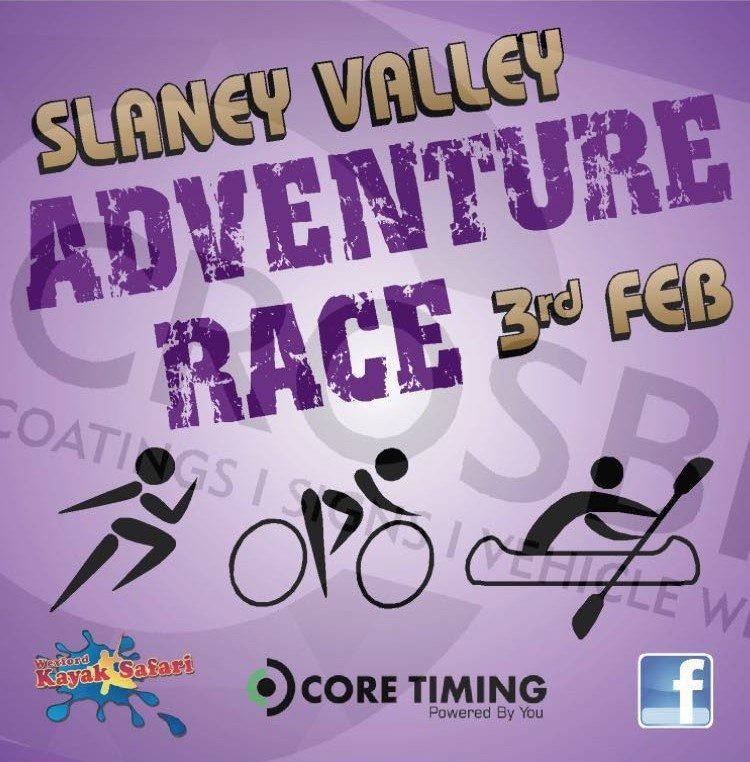 Prizes to include:
1M  €300         1F €300
GAA Club Team €2000
Total distance:  33.5Km
Start Location:
Gary Byrnes Grain Store,
BREE
CO.WEXFORD
Y21 EK46
The Race consists of the following
Stage 1:  Cycle 22km
Description: Starting in Bree village, this cycle route will bring you through the rolling Wexford countryside, crossing the Slaney River and back along the Slaney valley
Terrain: Sealed road
Features: Stunning views of the river Slaney and surrounding valley
Stage 2:  Kayak 1km
Description: In association with Wexford Kayak safaris, competitors will Kayak a circular route along the spectacular river Slaney.
Restrictions: Participants cannot use their own Kayaks. They must use the Kayaks and paddles provided. Buoyancy aid must be used at all times.
Stage 3:   Cycle 4km
Description:  A short cycle brings you back into Bree Village, for the final transition.
Stage 4: Forest Trail Run 6.5KM
Description: Competitors will follow a short road before ascending up-to the stunning Bree hill. Following a a rolling forest trail competitors circle the Hill, taking in the breath taking views of the Slaney valley below, before ascending the renowned Downhill Mountain Bike track. From here, it's down through the forest and back to the finish area in the Village below
Terrain: Sealed road, Forrest track, Mountain track, forest trail
Features: From Various Points along the trail you have panoramic views across the Slaney valley and rolling Wexford countryside.
Precautions: Trail runners are recommended
Related Events