Making The Most of Your Race Listing on RunIreland.com
Listing your event on RunIreland.com has many benefits including exposure to a wide range of engaged followers and fans of running, jogging, adventure racing, triathletes and obstacle course enthusiasts.
To make the most of your listing we suggest you include as much information as possible within each section of the submission form below. Within the event description section be sure to include as much information as possible so people can make an informed decision about your event.
Suggested Information
Who is hosting / organising the event, who will the event benefit?
What does the event entail, is it suitable for walkers, joggers, experienced athletes and participants, is there a fun or kids element to it?
When does it take place, what time is registration/ packet pick up on race day,
Where does it take place, is the course flat, fast, hilly, off-road, coastal,  undulating or has it PB potential?
How can people register?  Include a booking link to your online registration platform, if you don't have this sorted yet be sure to tick the njuko box below to hear from our partners njuko.com. There are a wide range of benefits for you and your event participants if you partner with njuko for event booking, including a number of exclusive advertising rewards on Runireland.com.
Include FAQ information such as;  chip timing post-race refreshment options, goodie bag or t-shirt details, directions to the event, event parking, prize categories and prizes.
Don't forget to include an image for your event listing and be sure to check your spelling and punctuation in your event description.
Remember you can edit the information on your listing at any time, if you have any queries or would like information on advertising your event on the site please email team@runireland.com.

Milltown 10k Run for Ollie 2020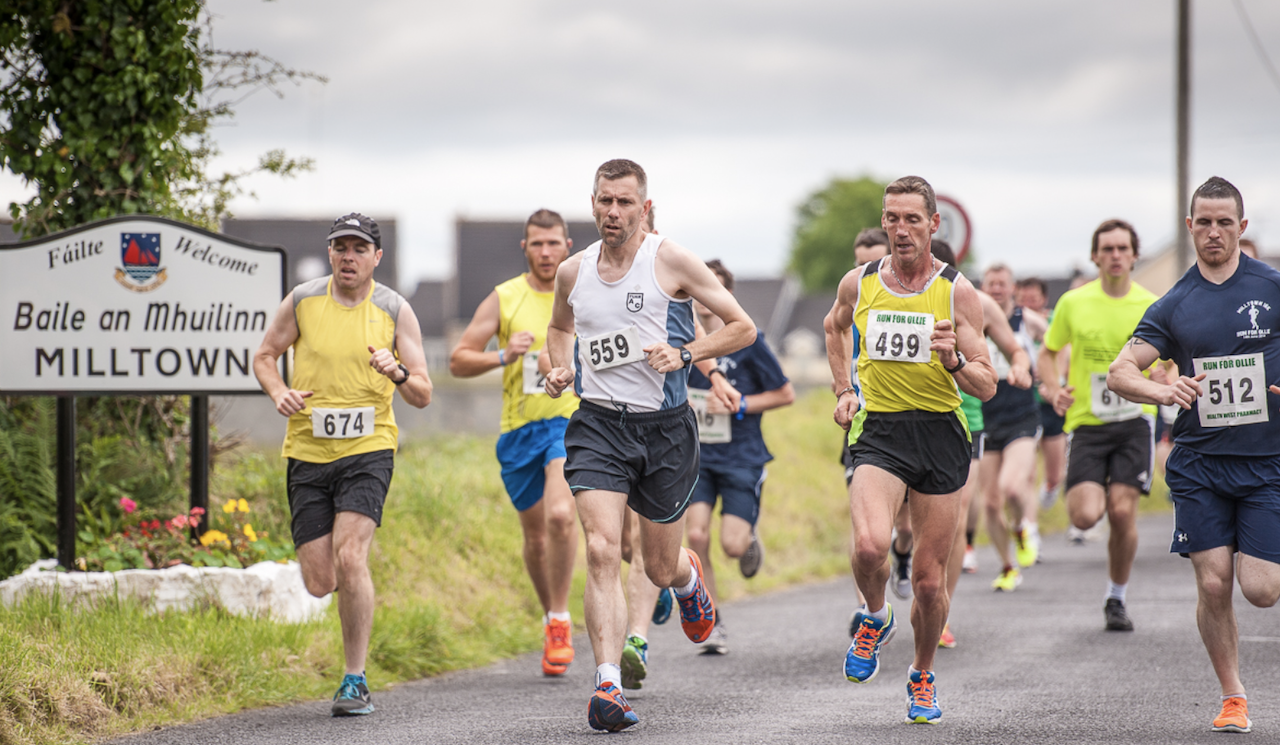 This is is the 11th "Run for Ollie"  in the beautiful surroundings of Milltown in Co. Galway. The run is in aid of Ollie Burke, a 43yr old electrician who fell from a height and suffered an Acquired Brain Injury and now requires 24hr care. All the proceeds from the event go to pay for his care. You can read more about Ollies story on www.friendsofollie.com.
How much does it cost to enter?
The entry fee is €25
What do I get for the €25
Each person will receive a technical running t-shirt, a medal on completion, a bottle of water along with a Banana or orange on finishing the run.
Will there be on the day Entries?
You can enter on Friday 12th June from 6-9pm or on Saturday 13th from 11-2.30pm
Where do I pick up my race number and chip?
You can pick up the Race pack from the Community centre in Milltown on either Friday evening or Saturday morning before the race.
What's the difference between entering the event and registration?
Entering is when you enter the event online and registration takes place on the day of the race.
Can I enter on the day?
Yes.
 Are there finishers medals?
Yes there are.
Can I enter and walk the course?
Yes. You can enter and walk the Run for Ollie 10km course. If you are walking the full 10km course please enter the walker category and start at the back of the field
Am I a runner or a walker?
If you plan to walk the entire course you are a walker. Otherwise you are a runner.
When does the race start?
The race starts at 3.00pm sharp.
Is there a minimum age?
Yes. You must be 14 yrs of age to do the 10k run .
Will I get an official finishing time?
Yes. The event is chipped time by red tage timing and if you give your correct phone number on registration you will receive a txt with your time and place. The results will also appear on www.friendsofollie.com and www.athenryac.com
Where can we stay nearby?
The best place for Accommodation is either Tuam or Claremorris
Where do the races start?
The race starts in the Millbrook estate on the Dunmore road. It will be signposted and any Marshall will direct you.
Will the roads be closed?
We work closely with the Gardaí and Marshalls on the route to minimize any traffic on the route, but for the majority of the event the roads will be closed
Can I wear IPods etc during the run?
No it is not recommended to wear earphones on the route for Health and Safety concerns
Will there be toilets?
There will be several toilets at the start/finish
Should I wear my race number to the front or back?
Please wear your race number to the front.
Will there be water stations on the course?
Yes, there will be 3 water stations on the route
Will there be refreshments available after the race?
Yes, there'll be tea, coffee, Sandwiches and treats available in Sheridan's Lounge located close to the end of the race
Will there be showers available after the race?
Yes there will be showering facilities available in the Milltown Gaa for all in designated Male/Female dressing rooms
When will I receive race day info?
We will be in touch with all entrants during the week before the race by email with up to date race day information. Please also check this website and the event Facebook page
When will the results be available?
Results will be posted on this website shortly after the event.
Are results based on Gun time or Net Time?
All results are based on Gun time
What are the prize categories?
 Senior Male/Female, 1,2,3.
Over 40 Male/Female 1,2,3.
Over 50 Male/Female 1,2,3.
Over 60 Male/Female 1,2,3.
Junior Male/Female
Any further questions please e-mail us on friendsofollie@gmail.com