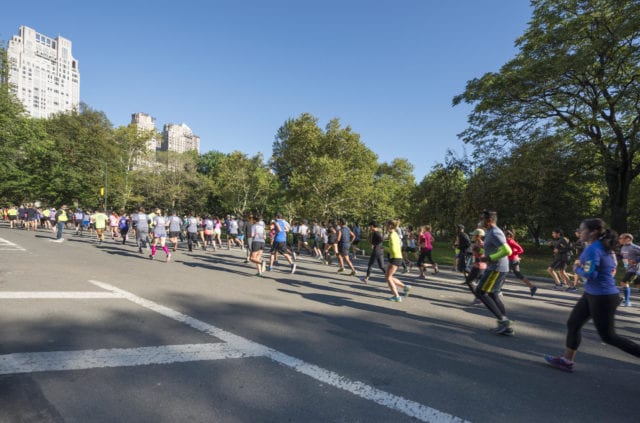 I have taken part in the New York City Marathon 4 times (I think… it's hard to keep track when you have done 160 marathons), and here is my course overview.
New York City Marathon was the first marathon I ever took part in, so it holds a special place in my heart. 5:15 was my time back then. Below, I will go through the New York City Marathon course giving a few tips and trick and highlighting special things to look out for.
Staten Island >> Brooklyn >> Queens
Verrazzano-Narrows Bridge
When you are going over the Verrazzano-Narrows Bridge which is in the first mile, you'll find yourself at the highest point on the course so you're actually climbing over the bridge. Because of this, the start can feel much more difficult than it actually is. If you were unaware of this, it might cause some undue panic making you think you aren't fit enough or that the race ahead won't go well for you. Don't worry. The first mile will probably be one of your slowest.
The Verrazzano-Narrows Bridge actually bounces too. There are so many people on the bridge that you can actually feel the motion of the bridge. If you are like me and suffer from Vertigo, stay in the middle of the bridge. Don't find yourself isolated on the side. When you are on the side and the bridge is bouncing up and down, and you're looking out over the edge, you can actually get queasy. Or at least I do.
The First Mile
As I mentioned, the first mile is the highest point of the course. The first mile in the New York City Marathon is quite tough. It's not a major hill but because it's the first mile of the race most people would be worried about their pace. They might be checking where they are. Don't worry about your pace. Once you come off the bridge you'll be going downhill into Brooklyn, so you'll easily make up your time gradually.
Queens >> Manhattan
Brooklyn
As soon as you come off the bridge the crowds build and you should hear the familiar American accent saying 'Welcome to Brooklyn'… it always makes me smile. A million people welcoming us nutjobs their neighbourhoods.
Settle in for the trip through Brooklyn and Queens, the crowds, fire departments, NYPD, everyone comes out to welcome the marathoners. They're really proud of this event and it shows.
At mile 15, you'll be running across the Brooklyn Bridge and that point of the race gets quite unnerving and even eerie. You go from a huge amount lot of noise on the street, sirens, people and everything, to the Brooklyn bridge which goes on for nearly a mile and it's just silence There are absolutely no spectators. It goes from really loud to really quiet very suddenly and then it's just us runners. It can feel really weird. And as the bridge is surrounded by metal girders, it's almost like you're in a cage. Thinking about it now, it's actually a lovely experience and one of my favourite parts of the course. It's like a breath of fresh air where you can calm down after all the buzz of the first half.
But what will make the hair stand on the back of your neck is when you come off the bridge. You go down a kind of spiral onto 1st Avenue in Manhattan and the crowd just erupts and all of a sudden they're 10/15 deep on both sides of the road. So it goes from really quiet back to the most amazing electric atmosphere… much louder than the first half. Just wait until you get there, you will know what I mean.
Manhattan >> The Bronx
1st Avenue
It's long. It's very long. Almost 4 miles long. It goes from 16 to about 20 miles into the Bronx. Apparently, you can see the Yankee Stadium up around this point of the course. I've never seen it but maybe at that stage, my head is looking at the ground too much.
When you come out of the Bronx, you come back down to Manhattan. I always feel if you are told something may happen, you'll be prepared and perhaps won't feel it… so all I'll say is Central Park seems to be a long long way from the Bronx. It just seems to go on forever. It's only 3 miles but from everyone I have talked too, they all seem to agree that it feels like it really does go on forever. So just know that it doesn't.
Central Park
Central Park is absolutely brilliant. Beautiful. It is quite hilly. You'd imagine once you're there it is going to be flat. It's not but at the same time, you're nearly there.
You come out of the park for a little bit along Central Park South. This is where a lot of the charity cheer zones are and the crowd gets loud again and then go back into the park again.
You finish beside Tavern on the Green. It's an amazing finish. Take it in and enjoy it. You've just completed one of the world's biggest running events.
For more tips and tricks on how to handle big city marathons, check out this article.