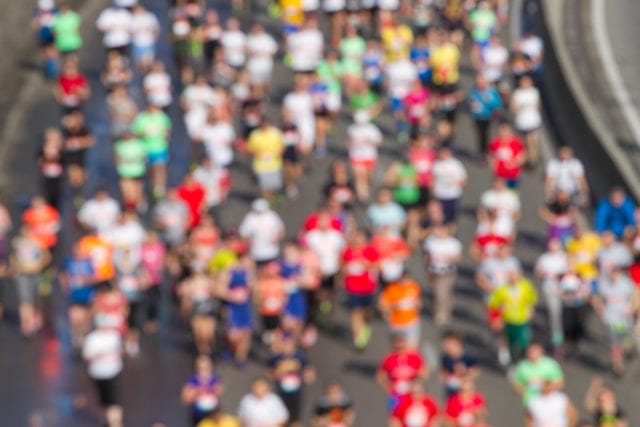 Whether you took part in the Dublin Marathon last weekend or are taking on New York City Marathon this weekend, you can't deny there is a huge difference between big city marathons and smaller events. Here are some of the differences that you should be aware of before heading into a big city marathon.
Crowds
If you usually take part in smaller events, you may not be ready for the big crowds that big city marathons attract. It's not just the number of participants, the crowds of spectators can be a big distraction… both positive if you're up for the buzz, but also negative if you are going through a bad patch in your race. Just being aware that this is ahead will help you cope with the sometimes overwhelming emotion of a million people shouting you on.
Start Area
The start area at big-city marathons tends to be extremely busy and it too can be overwhelming if you're not prepared for it. Realistically, how often are you ever in a big crowd like that? It would be similar to standing in a major concert. Sometimes, people may not be ready for that feeling because they're not expecting to find themselves in an environment like that, as part of a run. These are the feelings that lie ahead of the upcoming New York City Marathon with over 50,000 other people.
On the morning of the event, you can feel the nervous energy around you. There is a huge amount of tension at the start area. My coping mechanism is the opposite of what you'd expect or witness. The majority of people would be laughing, joking, flitting around, darting from one side to the other, opening and closing their bags, excited and energetic. I don't do any of that. I try to find myself a quiet little corner where I can sit down and watch everything and just take the atmosphere in. It can be a lovely few minutes if you let it embrace you and your mind. You can almost get yourself into a state of relaxation where you feel as if you are merely a tiny dot. Everything around you is really busy but you are in your own calm little world. I think that is the best way to prepare yourself amidst the chaos of the start area.
Bag Drop
So if you think the start area is a little crazy… don't get caught up in the crazy. Get into that little zen moment. Be calm and precise about your preparations. Once that bag goes into the bag drop, that's it. It's easy to get caught up in the frenzy of "I need to get my bag in", "I need to get to the start corral really quick" but New York can be really really cold early in the November mornings. Depending on your pace and what you're planning to do, I would be leaving it until a little bit later to put my bag in. Stay wrapped up and walk to the start at your leisure. That is, of course, dependent on your target finish time. If you're going for a faster time, getting caught out at the back of a wave can be frustrating, but more on that later.
Staying Warm
Your bag is placed in bag drop and you're making your way to the start line. Again, depending on what pace you are planning to do, you might have put your bag in early which means a bit of waiting around. If this is the case make sure to stay wrapped up and warm. A lot of people use black bags here as they can just throw them away but I don't like the idea of that as a lot of them will end up in the Hudson River.
My advice would be to get a cheap but warm piece of clothing that you can later discard. I know what you're thinking, surely that is a waste? No, it's not. New York Marathon has teamed up with Goodwill to collect the cast-offs which are then treated as donations to the non-profit agency's stores. So there is no need to feel guilty about throwing a piece of clothing away on course. You can have peace of mind knowing it's going to a good cause.
Finding Your Pace
You'll see this at all big city marathons where either fast people are starting too far back or slower people are starting too far forward but there are so many different abilities of running in the race that if you were getting overly excited you could find yourself darting around looking for a clear run for the first half an hour.
Trying to move around people is the absolute worst thing you could do. You will either injure yourself, tire yourself out or get into a pace that's simply too fast. Doing spurts of fast running to get around someone and then slowing down again will do no good for your overall pace. It's better to just go with a nice steady easy pace until the crowds disperse a bit.
When I did the Dublin Marathon last weekend, I was supposed to be doing 8:55 per mile but my first mile was something closer to 9:30 so you could be losing 30 to 40 seconds per mile on the first few. So, this is where I am going to contradict my earlier advice. If you leave your bag in too soon you are going to be left out in the cold but if you leave it in too late, you will end up at the back of your wave. There is a juggling act there. Therefore, my earlier piece of advice is to either bring or buy something really warm, a hoodie, hat, gloves and everything that you can throw away, is the best strategy in my opinion. Get your bag in early and get into the chute early. Then you can run your own race.
Find the Positives
If you think about it, the feeling you get when your nervous butterflies are fluttering and your heart rate is going through the roof, is actually the same feeling you get when you are excited. Don't let the nerves get to you. Just keep thinking that all you're feeling is excitement.
A girl I was running with recently said she got a really bad muscle strain while she was running so instead of letting that feeling turn into a fear of an injury flaring up, she thought "oh, that must be a really strong muscle." So always try to turn the negative into the positive.
Don't Wear Headphones
City Marathons, and New York City Marathon in particular, is an unbelievable experience. The course has so many highs and lows in terms of volumes and crowds (read more on the New York City Marathon course here). I don't see why anyone would want to miss hearing that electric atmosphere by listening to the same crap music that you listen to while your training.
Ditch the earphones. You have to when you're doing big city marathons. Purely for the atmosphere.
Finish Line
Getting out of a big city marathon finish line can take a while. But look… you're finished. Your job is done. Don't panic or get frustrated with the crowds. Just know that it is going to happen. It's not a negative. It is just part and parcel of a big city event.
Keep an eye out for the statue of Fred Lebow, the Race Director and founder of the New York City Marathon. He is standing there with a stopwatch welcoming you to his finish line. It's a nice one to see.
Number 1 Piece of Advice for Anyone Doing NYC Marathon
I'm sure this is the same for all city marathons but with New York in particular in mind, here is my number 1 piece of advice:
The following morning, get up early and go down to the finish line.
It's amazing to go back to the place and see it with nobody there. The contrast from the day before is unbelievable. Usually, the finish line is still up. You may not be able to get into the exact area but just go down for a light jog.
One year, I went down to there to do this and there was a woman finishing. 24 hours later. There was a crowd there waiting for her and it was a lovely moment to witness.
So whatever big city marathon start line you may find yourself on, enjoy it. It's a very special feeling if you just go with the flow and let the atmosphere carry you.
Check out this article to see my course overview of the New York City Marathon.