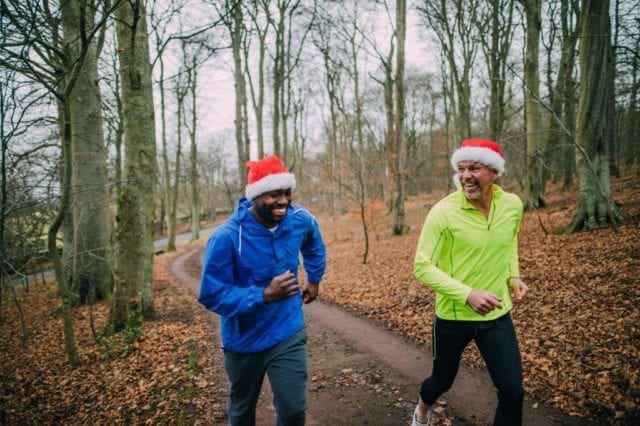 It's silly season, and the food, drink and parties are coming in full swing.
December is known for mince pies, Christmas market food stalls, mulled wine and hot whiskeys – and a whole lot of fun. With all the excitement, how do you keep your training on track while still enjoying the holidays?
Here are our top tips for surviving the Party Season:
1. Stay Hydrated
We all know that the benefits of drinking enough water are endless. It is important particularly at this time of year to keep up your water intake, as this will make the hangovers less severe and the food cravings less intense.
Drink a pint of water before every meal. If you're craving a snack, drink some water first. Sometimes we mistake thirst for hunger.
Throughout the parties and nights out, swap every second drink for a water or a miwadi – you'll thank yourself on your run the next day.
2. Get Enough Sleep
Try and get at least seven hours sleep per night. If the Christmas festivities interrupt your sleeping schedule, get up as usual and try to squeeze some exercise and then take a short nap throughout the day. Swap your coffee for herbal tea or some more water.
 3. Look After Your feet
Don't let something like blisters interrupt your training. Keep the new shoes at home until they're broken in, and wear a comfy pair for hitting the town.
Comfy shoes means more stamina for dancing, which means more cardio. It's a win-win.
4. Encourage Your Family to Join Your training
If it's quality time with your family that's getting in the way of your training, why not combine the two?
Try to convince your family to join you on a brisk walk or a jog. Maybe even get everyone to sign up to your local turkey run. It might be more fun than you think.
5. Stock up on Healthy Supplies
Let yourself indulge, but try not to overdo it. When you're at home, stock up on healthier options. Keep the fruit bowl full to curb your sugar cravings, and try to snack on nuts and dried fruit rather than chocolates and crisps.
Try to have three balanced meals every day, or at least have a healthy breakfast each morning. This will minimise snacking and ensure you have the energy you need for the busiest time of year.
Swap the take away at the end of the night for a sandwich when you get home. Not only are you saving yourself from the unnecessary fats, you're saving money too.
Keep bananas at hand for post drinking pre running nutrition. It should be easy on the tummy, and also will help with electrolyte levels. Sip on a sports drink or coconut water to boost your electrolyte levels even more.
6. Don't Panic if You Can't Train
It's a busy time of year, and even the most organised person can sometimes have to leave training on the long finger. Don't beat yourself up too much if you miss a session.
If you're feeling wrecked after your Christmas party, swap your 7am run for an evening stroll or some light stretching or yoga in front of the tv while winding down.
7. Everything in Moderation
Don't be saving your calories for the party you're going to – eat a balanced meal before you go out and you'll be less likely to over indulge.
Enjoy yourself. If you want a mince pie after dinner, or to tuck into the box of choccies in front of the fire, go for it. But be smart too. Enjoy your treats and eat them slowly, and try to refrain from going back for seconds or thirds.
You can have fun at Christmas without falling off the wagon.
Planning ahead and prioritising your activities will help your to maintain a balance between socialising and exercising. Come January when you don't have to start training from scratch, you'll be thanking yourself.