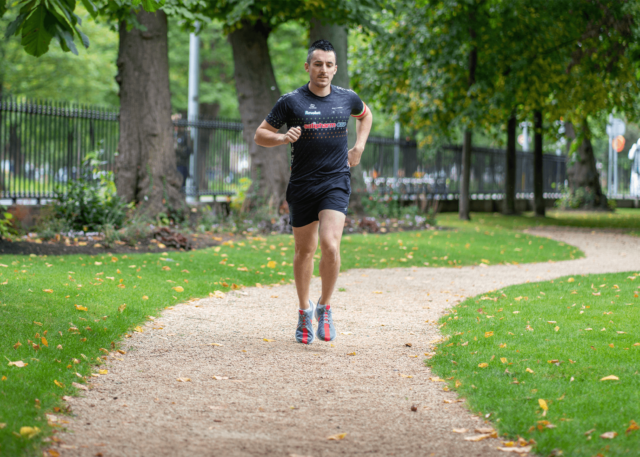 Shane Finn, Irish Ultra Athlete is the official Ambassador for Satipharm CBD Capsules.
Tips for KBC Dublin Marathon
At this point, the majority of your training towards the KBC Dublin City Marathon is completed! There are a few things to take into account that can help you in the build-up for race day! The hard work is almost done and now it is a case of getting to that start line and embracing the day. The hardest part of a marathon is often in the weeks leading into the race – then once as you cross that start line you get an opportunity to show that hard work pays off and really enjoy the day!
Taper Tips
When it comes to the last few weeks before your chosen race – sometimes less is more. I often see people "panic train" 14 days before an event in order to squeeze a few more sessions in. Sometimes that is not the best approach to take. You can increase the risk of injury, the risk of overtraining & possibly the risk of becoming ill. All the things that you want to avoid before an event or a marathon. So resist the urge to do an extra-long run or an extra speed session during this window. You can absolutely keep running – but keep it short and keep it steady. Personally, I think you are better getting to a start line 5% undertrained than 5% overtrained. So control what you can control & be smart!
Simplify The Complexities
Another philosophy of mine is to embrace and perfect the simple things. This is especially important in the build-up of the KBC Dublin Marathon. You don't need to try and introduce any new foods, new methods or anything new in the two weeks before a race, in fact, the less you can change the better. In preparation, the long runs are dress rehearsals for race day, so, for example, the night before a big event eat the same dinner you would before your long runs. Here are a few reminders for the checklist:
1. Layout your race kit the night before the race & pin your number on your T-shirt or singlet too.
2. Layout your normal breakfast & prepare your water bottle or coffee etc
3. Prepare how you are going to get to the start line a few days in advance. Don't leave it until the morning to figure that out, it will remove a lot of the stress.
4. If you are preparing a Race Bag for after the race – pack that the night before too.
If you tick off this checklist then you can wake up with peace of mind and then head to that start line to get the job done.
Race Plan for KBC Dublin Marathon
You should be able to gauge and work out your race plan from any long runs completed and the training you completed. It is vital to be realistic here too. Stick to what you are accustomed to and stick to paces that you trained for. I see a lot of people going out too hard at the beginning of a race or else getting carried away with the crowd and running 30 seconds faster per mile than they should. Unfortunately, this will come back to bite you later on in the day.
You worked hard to get on that start line and certainly made some sacrifices too, so you owe it to yourself to have a good day out there and enjoy it. All those long runs and all those days where you found the sessions tough and you struggled – it's all worthwhile.
How to Recover & Repair after a marathon?
The marathon takes a lot out of the body. Both physically & mentally, therefore it is important to respect the recovery process and the duration that it takes. Post marathon when you are a little run down and your immune system might be vulnerable it is important to rest as best you can. Fuel the body with good food and keep on top of the hydration too.
It could be a good idea to add in some active recovery such as a walk the morning after the race or even a light swim. Aim to get back running 3/4 days after the marathon – but again keep it really light. It would also be good practice to do a session with your local physiotherapist to iron out any kinks or to see after any niggles you might have picked up on race day.
Then the next step is to get moving again and plan ahead for the next year or your next challenge to start working on the things you would like to improve on.
Shane Finn is the official Ambassador for Satipharm CBD Capsules