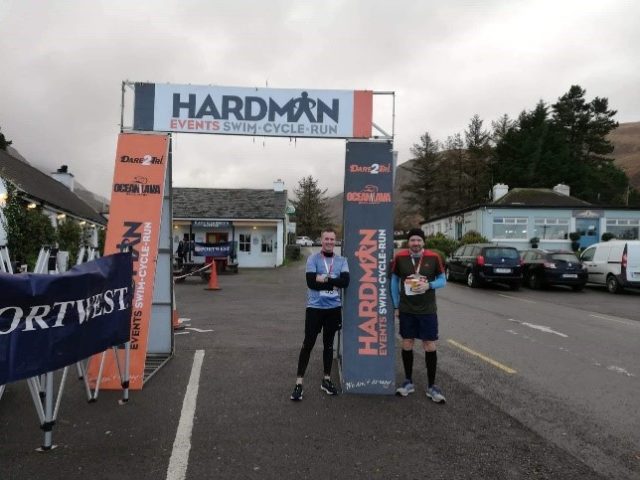 I think the clue should have been in the name……" HARDMAN marathon", not an "intermediate marathon" or "HANDY" marathon, there was no one selling lies that it would be grand and flat for the most part – this would be a bit hardcore! All week, the anticipation of lining up on Sunday, Nov 17th made me want to assume the foetal position and rock himself to sleep such as the thoughts of the route😊. I couldn't find anything online that took away my "fear" …absolutely nothing, this was going to be difficult, no 2 ways about it! F*&king get with the program Andy or get off the pot I said to myself in a reassured delicate tone!
6 marathons done already this year, I decided to do one more. I had my sights set on Clonakilty again having done it last year in 3.44, but I'm not around that day. Slim pickings marathon wise exist beyond that. A google showed there was a run in the Gap of Dunloe November 17th…. aptly named Hardman Gap of Dunloe Marathon.
This doesn't bill itself as a fast or flat marathon, but more so that now all the traditional PB and flat marathons are done for the season……its time to try something different. There are no pacers, minimum water stops, no postal option, very much no hand holding! – I viewed this race as "It's time to treat yourself to a challenge", the chance to achieve what few will be able for, a majestic marathon triumph in the face of exquisite pain generated by the willingness to never give up! F&*k me, it was different alright.!
I decided with a mate of mine Kevin that I'd sign up for this to make my number 7 marathon for 2019 and the OCD in me also wanted to bring my total marathons ran to 10, which this would and cap off 2019 in style. This was also my 3rd marathon in 9 weeks having just finished Galway Bay/Swiss city marathon in Lucerne in October and now this. I took the full 7 days off with no running before this one, reasoned there was no benefit for additional training and what the body needed would be rest. Correct call, I think!
This was the first time there was a full marathon on the Gap of Dunloe having been ran previously as a half marathon distance. The Race was also on a Sunday, so for the Sat night, we booked an excellent BnB for 30 euro each with breakfast about 10 mins from Killarney centre and 10 mins from Kate Kearney's cottage called Douglasha house, top-rate place, excellent breakfast, decent sized rooms, very reasonable and Joan is a fantastic welcoming host. Left Limerick around 4.30pm and took about 2 hours to get to the BnB. Dropped our gear and Joan recommended a decent place in Killarney called Salvador's for some pasta. Food was ok, we got Spaghetti bolognese and lasagne, 2 desserts, 2 coffees and water for 60 bucks. Had a swift pint of Guinness in the "Golden Nugget" pub. Hit the hay around 11 pm. Rose early at 6.45am showered and got race ready. Joan kindly got up and cooked an early fry for 7.30am. We left the house just after 8am for registration at Kate Kearney's cottage. Weather was ok, threatened to drizzle but for the most part ideal running conditions. I think the limit entry wise for this race is set at 200, 75 people signed up and 57 actually turned up & finished the run (the delta for the other 18 that didn't show up were pussy's obviously 😊). I would expect with a little more advertising and word of mouth from this year's participants, the entry numbers will definitely rise for 2020.
Very casual registration, got number, cool orange hardman buff and decent quality long sleeve Portwest top (race entry fee was very reasonable only 50 quid plus booking fee–  excellent value)!
We had a quick race brief with 5 or so mins to the start by Alan the race event organiser and headed about 3/400 metres up the road where we would make our start. The walk to the start was even hilly!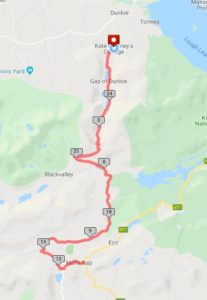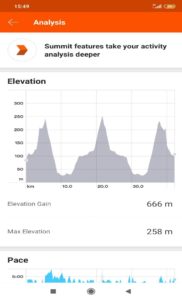 Just after 9 bells and we were off, first 5/6km or so is more or less uphill, some hard pulls, some easy ones. Legs were still fresh so not too bad. Then initial drop in elevation is drastically downhill, motoring down the road toward black valley at 4.30km per min pace, and remains either downhill or level until approx. 12km's. Elevation profile from Strava & route taken are below. Then its uphill pretty much until the halfway point. Pretty knackered as I reached Molls gap, asked for a glass of coke instead of water. Then its down or flat until approx. 33/34km and the killer hills begin for a couple of km's again.
Running marathons is great if you like to kill some time on the route chatting to someone every now and again, I find it makes it that little bit easier. For the first half, spent some time chatting to a girl who had done multiple marathons before and had completed a 100KM ultra which was pretty cool. Later on, in the race, met a chap who hurt his ankle so threw him a few Nurofen I had with me, and pretty sure I saw that he got going again as spotted him again later in the race. For the last 15% of the race, got chatting to a chap who was completing this marathon as his first – yes you read that correctly, his first marathon, and he was his birthday that day as well, he was 42! These kinds of marathons have likeminded people involved, everyone will have good portions of the run and everyone will struggle every now and again, a kind word or "keep going, nearly there" does really help. The race-winning time, by the way, was an unbelievable time of 02:53:16 by Derek Griffin. I placed myself 21st from 57 (genuinely thought I'd be closer to last than mid-table, so happy enough!)
The toughest part for me was knowing I had to go back up the section around the black valley that we came down after the first 5km at pace, but then I guess you knew after that last section of pain, it would be relatively straight forward to the finish. The bling was nice, and it sits well with the other 9 medals –this one was definitely hard-earned.
The route and the scenery, in general, is majestic. The lightly snow-covered peaks, the narrow winding roads, the odd sheep within a couple of feet of you as you run by makes this a very unique event. I can see how someone could get sick of the urban flat marathons, but don't get me wrong, I still like to run flat races and it's nice to try for a PB….just every now and again, its good to test yourself with something different, and this is definitely that!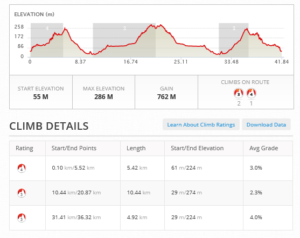 Do I have any regrets about this race – no way! It was an incredible challenge. Under no circumstances do this as your first marathon, but if you do a bit of moderate hilly running as part of your general training and you have a few marathons under your belt previously, and you just want to challenge yourself to something new – then you have to do this race!!!!