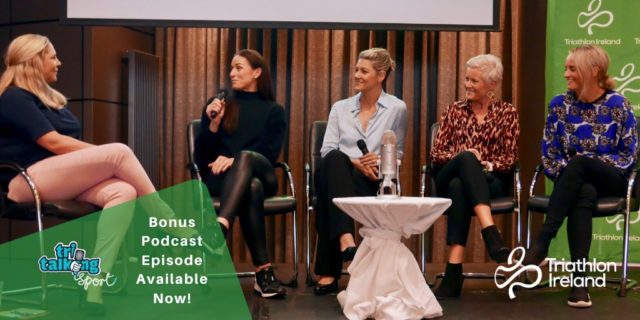 Triathlon Ireland recently hosted a Women's Health and Wellbeing Conference in Dublin with an array of insightful speakers and hands on workshops designed to inspire, support and encourage more female participation in the sport.
As part of the conference an athlete panel discussion was held featuring Eve McCrystal, Fiona O'Donnell, Ber Downey and Dr. Hilary Hughes who regaled and inspired the audience with stories of their journey to date in triathlon.
Each of these incredible female athletes has shown courage, bravery and resilience in pursuing their passion for sport, pushing through barriers to continue their triathlon journey providing much inspiration to women and men everywhere. The discussion was funny, insightful, humbling, informative and very entertaining.
The panel discussion, hosted and recorded by Tri Talking Sport was released as a podcast episide in partnership with Triathlon Ireland  and is now available for download across all podcast platforms and on the link HERE
Speaking about the sold out conference Women's Participation Lead for Triathlon Ireland Anna Grealish summarised the day
"The Women's Health & Wellbeing Conference could not have happened without the fantastic speakers and workshops we had. We had a great mix of thought provoking and specialist speakers and practical workshops which I think allowed everyone to learn something new and I hope everyone enjoyed. Our panel of athletes were four of the most inspirational women I have heard speak and for me, this was one of the day's highlights. The conference brought together women and men who wanted to learn more about health and wellbeing for sport and I hope this is something that will grow every year. Special thanks to Sport Ireland and the 20×20 campaign for their support with this conference".
If you are inspired by the females on this episiode why not get in touch with Triathlon Ireland and take your first steps in your own personal triathlon journey.