Ken Byrne started this blog series here, where he talked about his experiences with triathlons and training for Dublin Marathon with two debilitating conditions. 

I have never been so doubtful about anything before.
Leading up to Dublin Marathon I was awful to live with. I was trying to think of different ways to get through it without having to walk the whole thing, and was really stressing about it. It was the last thing in my head at night and the first thing in my head in the morning.
Marathon Prep
All this was made worse by my final run before the marathon. I was in Sligo for the weekend and set out for a 5k on Saturday morning. It was a disaster from the start, both ankles and then hip started hurting not even halfway into it.
I didn't know what to think, I was so disappointed. If I was like this on the day of the marathon I'd be out and ringing my wife to collect me in the Phoenix Park (if I made it that far).
I decided I had no choice but to rest for the full week. The marathon was the Sunday, but I needed the whole week to see if my aches and pains would settle.
Went to the Expo on Friday afternoon to get my number and stuff, got some nice gear, bumped into a few friends and had a bit of a laugh. I wasn't too nervous in there but then as I left it really hit just how big this whole thing was. I was scared, but decided I couldn't do anything but try to enjoy it, soak everything in and smile.
Sunday October 30th – Marathon Day
I surprised myself by actually getting some sleep the night before. Woke up feeling good body wise, looked out and it seemed to be a nice crisp sunny morning.
Went down for breakfast, couldn't eat anything from my stomach doing somersaults. I managed coffee, got ready and left, taking a Banana to eat in the car on the way. We were coming from West Dublin and got stopped in traffic just outside Dublin city at Heuston Train station. I was trying to think about how to make it to the start line without having to walk miles, as I needed to conserve every bit of energy and protect my hip as much as possible.
On Your Bike
So I got out and hopped on a Dublin Bike and cycled all the way down the Quays to outside my office in Grand Canal. The meeting point for the start was just up the road so that was an unplanned way to get a warm up done and get to the start.
I made my way down the road and saw the 5-hour pacers with their huge balloon tied to them, they were hard to miss. If I had the run of all runs I calculated I could be maybe 5 ½ hours but more than likely I will be between 6 and 6 ½ hours.
Got chatting with a few people around, it was mad there was so many people it was just bodies all over the place. We walked from the meeting point to the start line and it was here I bumped into my buddy Sandra from my Triathlon club.
Sandra was doing her first marathon too, so we took our place at the top of the start line. Here we go. All I was thinking was why on earth did I think this was a good idea, but too late.
Bang! We're off. The Race Begins.
I ran the first 3 or so Kms with Sandra and told her my plan of walking the hills and my 5 mins and 2 mins, so I left her on the 1st hill where I walked up and then ran again once on the flat.
They talk about the atmosphere and wow they were not wrong, it was amazing there were so many people out on the streets it made the hairs stand.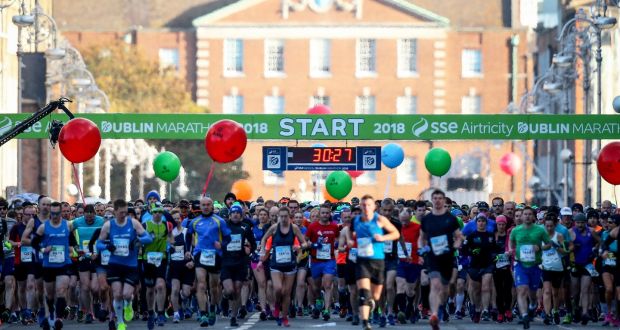 Before I knew it I was 5k in and heading into the Phoenix Park and I felt really fine. It was here I started my 5 mins and 2 mins walk proper, the ankles and hip doing ok.
I know the Park well and it was just a great feeling to be here doing this and so many people around you are feeling the same the buzz was deadly.
So through Chapilazoid and up into Kilmainham again walking the hills and running the flat, all this seemed to be on a rise but I kept going, then down towards Crumlin. The halfway mark was at the top of Crumlin and I passed under on the 3hr mark.
Climbing the Wall
I was happy with this I was slowing a little but still felt ok, took on some jellies and isotonic drinks. About 16.5 miles in and I was on a long straight road and I was running then all of a sudden nothing, couldn't lift my feet I just ran out of energy.
No cramp just no energy. As I was walking I met up with a guy from England who had done 27 Marathons. He said to me to keep walking the pace we were walking and to get some fuel into me and I would be fine. We chatted and passed through a feed station and I got some gel and isotonic drinks into me and was feeling better.
On this road I saw so many people in aid tents, on the side of the road in cramp and some in tears, it was awful to see being honest. I was still smiling and felt ok, was getting some energy back into the legs.
Heartbreak Hill
I started to jog again just past the 20-mile marker, the road was flat or downhill. It was a slow shuffle, but I was still going forward.
There were 2 hills before the final 5k and honestly, they were just cruel. The first one I was halfway up it, walking and my hamstrings were wanting to cramp, I wanted a rope to get me to the top. I manged to get up without going into full cramp and then started moving again which shook the cramp out a bit. I saw people sit on the side of this hill just not able to get up it.
The final hill they call Heartbreak hill and again it's cruel and a real heartbreaker after the 1st hill but once up it was slightly downhill, and you knew it was taking you back into the city and the final 5k from UCD.
When I got to UCD I knew I'd make it.

I knew my family were at the finish line and I just really wanted to get to them, it's mad how the mind works, getting to UCD you say things like it's just a Parkrun left (this is after doing close to 8 of them in a row).
At this point I was struggling, I was walking more than I was jogging. My whole body was starting to hurt, my bones, my whole skeleton, I was at a point where I had enough pounding the roads and just wanted to be in the Pub. I have never had my whole skeleton hurt like this.
As I got to the RDS I started seeing people walking towards me who had finished and were going home (oh I know that feeling). I was hoping they were not dismantling the finish line – at this stage my watch had died so I wasn't sure of my time, but I knew I was close to my 6 ½ predictive time. I kept going, walking, trying to jog, just end soon please.
I got to the bridge at Mount St, this was the 1st time I could actually see the finish – it was amazing, the buzz and adrenalin was so good.
Crossing the Finish Line
I then heard by eldest daughter screaming, shouting, jumping up and down that was just brilliant, a few moments later I see my wife, my son and my brother and sister in law. My wife was shouting at me not to stop, honestly if I did I don't think I'd have got going again.
And then the finish line and relief. Ken, you're a marathon runner was my first thought.
I was so happy, I walked to get my medal, finisher tee shirt, goodie bag and then finally meet my family beaming with pride I show off my medal.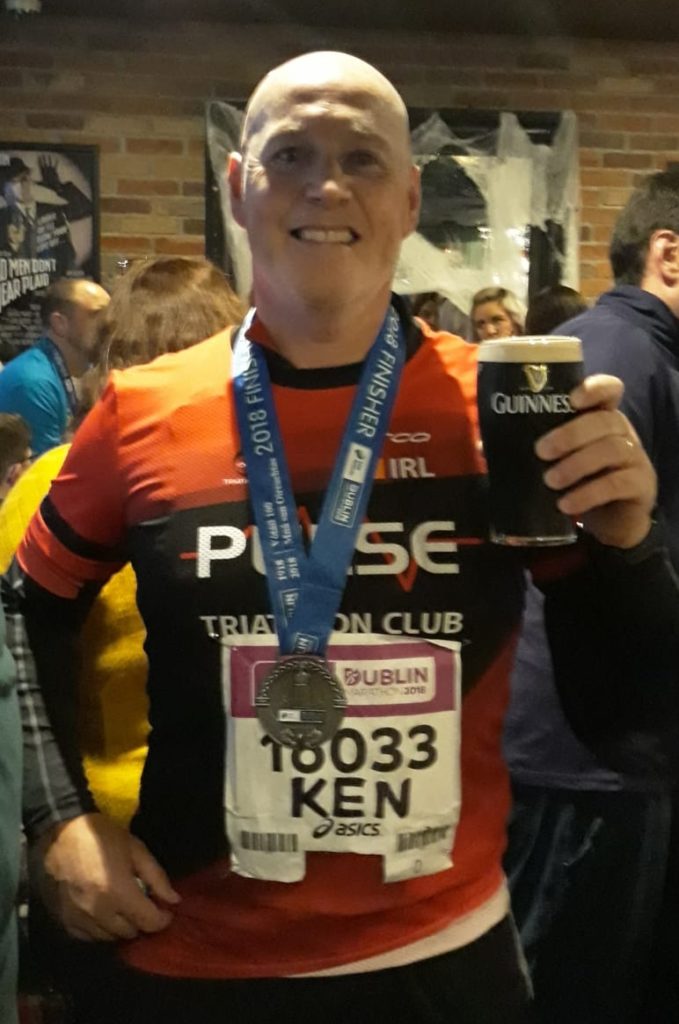 We went to a pub closeby to have that pint that I absolutely deserved. It was a brilliant atmosphere I was so happy I was struggling to sit or stand, but after a short while I was ok.
Bucket list ticked!
The recovery week was actually ok, the next day I was so sore, but I got gradually better as the week went on and the big thing was I didn't make myself sick or trigger a flare up which was brilliant.
The marathon was an amazing experience. Training was very tough I had promised my wife I would not kill myself out there, I employed my plan and managed to get to the finish in one piece.
Would I advise someone to do one? Yes – if I got through it anyone can.
Ken is an ambassador for Sundried Activewear – use the code BYRNE at the checkout you can get 50% your whole order.