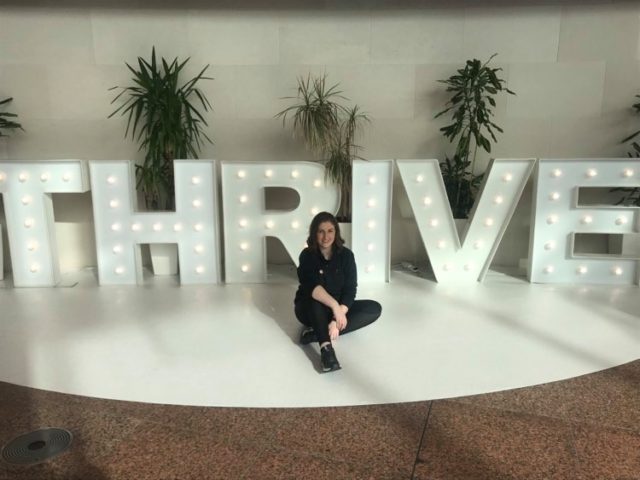 On Saturday the 29th of February, I made my way to the Convention Centre in Dublin for Thrive Festival. It was a day filled with delicious demos, thought-provoking talks and heart-pounding workouts. Exactly what I was expecting.
Thrive Festival is a two-day "ultimate fitness and wellness experience under one roof". Over the weekend, the festival hosted over 200 fitness classes, wellness workshops and cookery demos.
Standout Moments
There is so much to do and see at Thrive. For me, the best parts (that I got to see) were:
Siobhan Murray – Resetting Your Resilience Masterclass
Strut Fitness
Women's Health Panel discussion with Natalie Lennon, Jess Redden, Dr Doireann O'Leary, Niamh Cullen & Hayley Madigan
Thrive Marketplace
Kellogg's Activation
Siobhan Murray – Resetting Your Resilience Masterclass
A former psychotherapist turned resilience, life and burnout master; Siobhan started the day off with a masterclass on resetting resilience.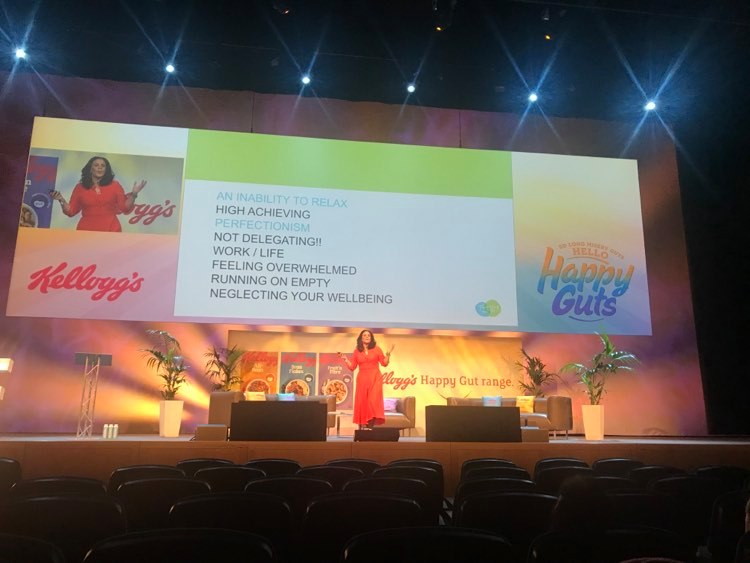 Author of the best-selling book The Burnout Solution, Siobhan began the masterclass by asking 'What is burnout?'. She demonstrated by asking a member of the audience to come on stage and asking the volunteer to take a balloon and bounce it in one hand. This balloon represented his relationships. Another ballon was added, this was his job. Another was added, this was his health. One more was added and this was the 'curve' ballon. It represented your washing machine breaking on a Tuesday morning or your car failing the NCT. It didn't take long for him to lose control of all four balloons.
Siobhan continued by talking about how we try to juggle so much and gave some tips on how to live a full and healthy life without causing ourselves to burnout.
I really enjoyed Siobhan's masterclass. It was relatable, real and very interesting. I left feeling uplifted and knew I could adopt a few of her suggestions into my life straight away.
Strut Fitness
I laughed my way through this dance fitness class. Strut Fitness is filled to the brim with sassy dance moves. It will have you feeling like the biggest diva in no time. Although I'll admit I backed out when it got to twerking on all fours on the floor, it was great fun and I would recommend doing it with friends.
An aspect of Thrive that I really love is it can be tailored to each individual person. With four floors of classes, demos and workout sessions happening at the one time, everyone can build their own schedule on the day. The hardest part is trying to fit everything you want to do and see into your schedule.
Women's Health Panel…
…discussion with Natalie Lennon, Jess Redden, Dr Doireann O'Leary, Niamh Cullen & Hayley Madigan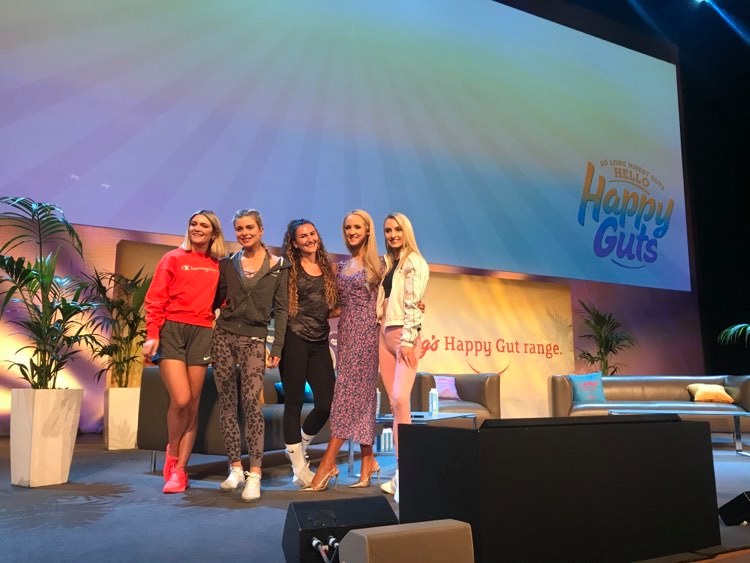 Of course, before I even took my seat, I knew this was going to be a good one. Sure, look at the line-up. I follow some of the girls on this panel on Instagram, so I was probably looking forward to this the most out of everything. Those that I wasn't following I certainly am now.
The great thing about a panel discussion like this is you get so many insights from people that have been on or are going on different journeys.
Although I really enjoyed the panel, I felt it was more on the topic of extreme fitness struggles rather than women's health. I would have liked to see someone on the couch that has had a journey with weight loss rather than weight gain.
However, the women spoke well, made some interesting points and I felt like I was watching a conversation rather than a panel interview.
Thrive Marketplace
The Thrive Marketplace is one of my favourite aspects of the event. I love taking the time to visit all of the stalls. Some of well-known brands and some of small businesses with a fun and inventive idea/product. I loved having a browse of the AvaRose Leggings stall and at the Aveeno stall we were treated to relaxing hand massages and free samples.
Kellogg's Activation
Similar to last year, the Kellogg's activation was fun and delicious. They had multiple cereals to choose from and you had the option of garnishing them with almost every sort of seed, fruit and milk you can think off. Then you can sit under the rainbow and enjoy a delicious breakfast.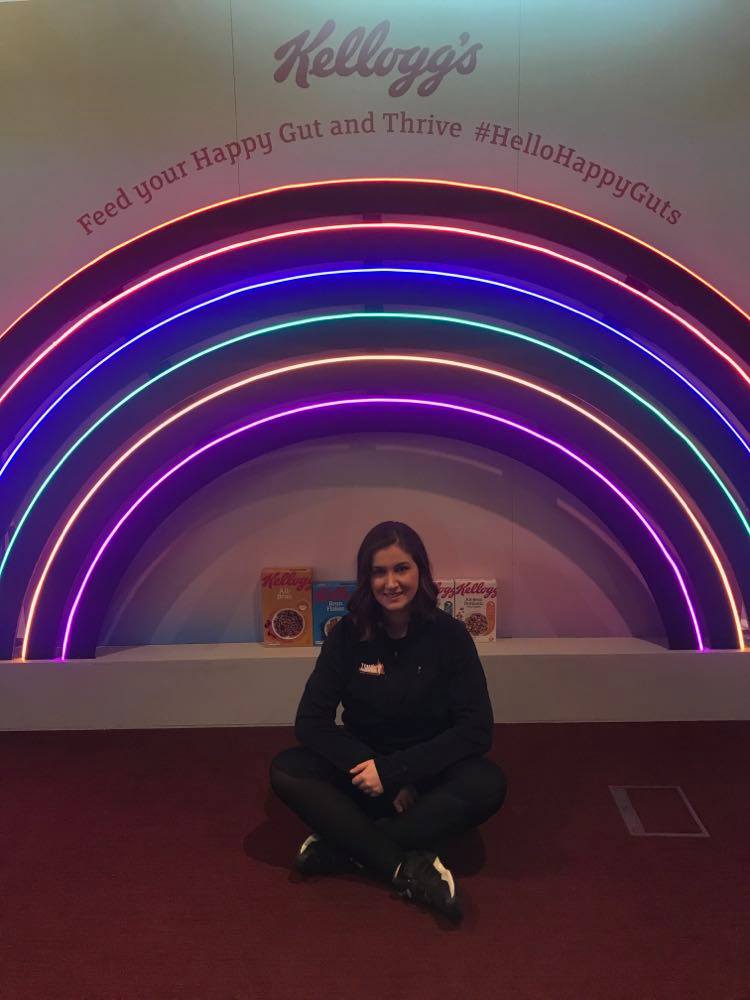 Take-Away Points
The key points I took home with me were:
Mindfulness doesn't have to mean meditating. As long as you make time in your life to do the things you enjoy and really submerge yourself into them, that is a form of mindfulness
You don't have to calorie count to maintain a healthy diet. Instead, look at your plate as if it were a pie chart. Your pie chart must include a source of protein, carbs, fruit/veg and fat
Talk to your purple alien. Odd I know, let me explain. Create a little character for yourself, like a purple alien perhaps? Imagine that he/she is in space and desperately wants to be on earth. To keep he/she happy you have to spend time each day talking to it expressing how you feel and what you see. It is as simple as going to a walk and saying 'Hey purple alien, It's a beautiful sunny day down here on earth and I can see green leafy trees, the spring flowers blooming and a dog running my way.' This little exercise takes you out of your own head, makes you aware of your surroundings and keep your alien happy.
Overall Comments
I love Thrive Festival. The only drawback was that the structure this year was very different from last year and I'll admit I wasn't prepared for that. Last year it was more fluid giving people the option to stroll around and hop in and out where and when you wanted. This year it felt as though you needed to have your day planned ahead and make sure you got booked into what you wanted to do/see. This wasn't made clear (to me at least) and I lost out on the opportunity to try some of the yoga and pilates classes because they booked up fast. I also had seen that Pound was advertised and was very much looking forward to that but unfortunately it was only on the schedule for Sunday. Overall, I enjoyed the day and look forward to it next year. I'll just make sure I am a lot more prepared.