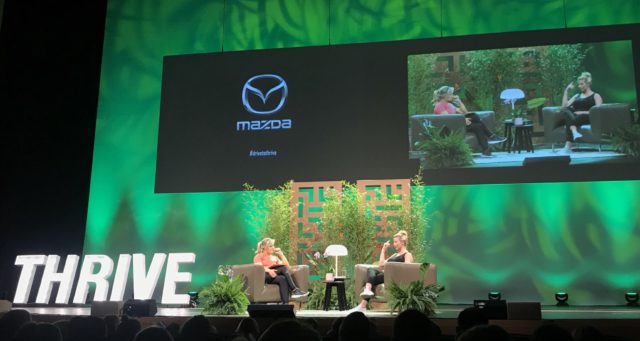 On Saturday the 30th of March, Ciara, and Aoife from our RunIreland.com team went to Thrive Festival.
Thrive Festival is a two day "ultimate fitness and wellness experience under one roof". Over the two days, the festival hosted over 200 fitness classes, wellness workshops and cookery demos.
An aspect of the event that makes it unique is that the attendee can build their own day.
Multiple demos/classes/workshops are happening at the one time so you can choose which you would like to attend and book yourself in.
We caught up with Ciara and Aoife to see what their thoughts of the event were.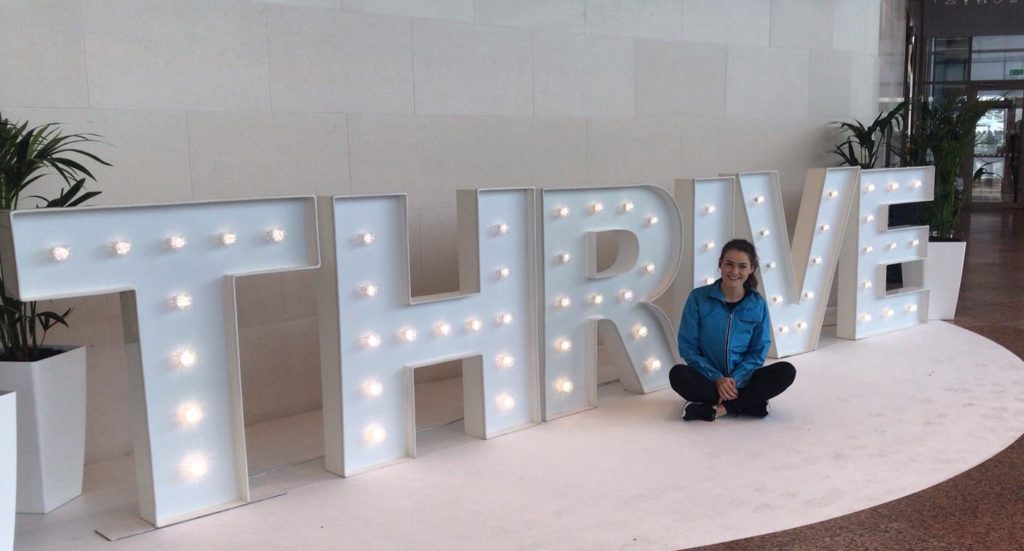 The Venue
The Convention Centre was the ultimate venue. It's centrally located so very easy to access from any side of Dublin and it's huge and airy so even in the crowds it never felt too congested. Even after a workout session, it was never stuffy and it's so easy to find your way around and switch between floors as needed.
Thrive Marketplace
As part of the experience, there was a marketplace that showcased delicious food and drinks brands as well as natural beauty products and workout clothing.
We took a stroll around the marketplace and were eager to engage and see what each of the brands had to offer. We attended Session 1 which was 8:30am to 3:30 pm so we were delighted to be met by Keoghs at the entrance who provided some delicious popcorn as our breakfast.
We ventured around the corner and met the Activia team who kindly provided course #2 of breakfast. We spoke to the Activa Team and were the first to enter their competition by taking the below photo.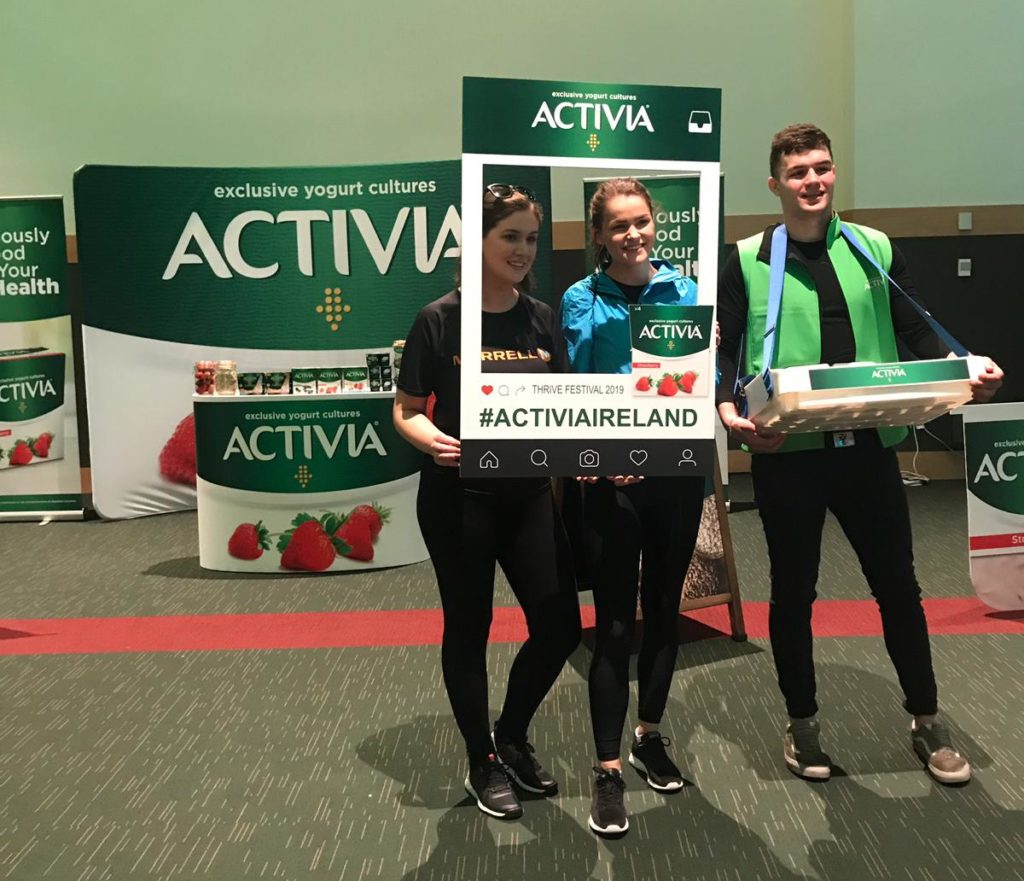 As the day went on we met the Indeora team who have created a Healthy Magnesium Deodorant which is free from all forms of aluminum, propellants and synthetic fragrances. We noticed that a lot of the brands at the event were highlighting the importance of natural and sustainable products. We were both delighted to see this and Indeora's deodorant smelt amazing so we will definitely be making a purchase.
We also tried out Clinton's Crisps, and loved the strong flavours. We were super surprised when we were told that they were gluten-free and used only Irish potatoes – and especially when we were told that they are all vegetarian, even the Seared Steak flavour.
Believe it or not, both Ciara and Aoife both tasted their first Fulfil bar on the day and are fairly sure their addiction has now begun.
The Introduction
When we arrived we were welcomed by Mazda Ireland who set up a Japanese Garden, offering a peaceful time out with green tea and Japanese massages.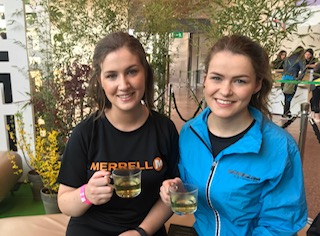 After a quick walk around the Marketplace, at 9:30 we headed to the Thrive Signature Stage for the first session of the day which was a 'Conversation with Gemma Atkinson hosted by Anna Geary'.
It as a nice welcome as it was a relaxed and friendly conversation between two successful women about their health and fitness journey. During the session, they discussed how they fit workouts into their daily routines, what style workouts they do, how they eat, their biggest weaknesses when it comes to food and much more.
"Some people train as a punishment, whereas you should train as a celebration of what your body can do." – @MissGAtkinson #drivetothrive #thrivefestival pic.twitter.com/dpXDecwwRB

— RunIreland.com (@TeamRunIreland) March 30, 2019

The session set the tone for the event as a safe environment for everyone to explore different aspects of health and fitness and learn about the industry.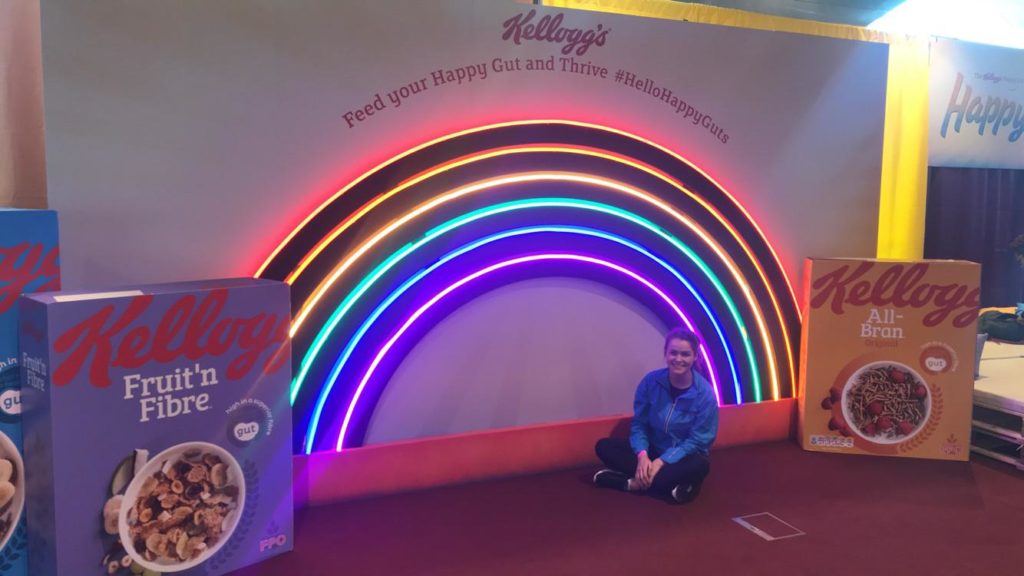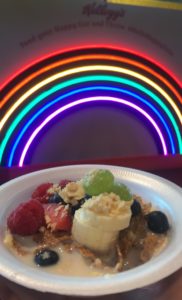 On our way out of the Signature Stage we came across the attractive Kelloggs Happy Guts platinum sponsor area, which had a positivity sticky notes board and a cereal pick mix style bar with the Happy Guts range.
This range included a choice of All Bran, Bran Flakes and Fruit'n'Fibre, with fresh fruit, nuts and seeds available as toppings, as well as yogurt, milk and oat milk.
We each chose our favourite toppings and enjoyed the meal, chilling out in their seating area surrounded by the bright and positive decor.
After the first session, Ciara and Aoife split up to experience different workshops.
Ciara's Workshops
The workshops I chose to attend were:
Combat Stress & Boost Energy with Nicole and Lauren Windas
Quick and Easy midweek meals with Indy Power and
Live More Sustainably with Finn Ni Fhaolain.
Combat Stress & Boost Energy with Nicole and Lauren Windas
We all live in a fast-paced world and we all get stressed out from time to time. The key points I took from the talk to help combat stress were:
Breath
When you get stressed out take a minute to take a few breaths before jumping into whatever is causing the stress. Those few deep breaths will give you time to calm your heart rate, assess the situation and think before you act.
Exercise
We have all been told time and time again that exercise can help combat stress and boost your energy and Nicole and Lauren provided the scientific data to back this up. However, they did say to make sure you don't work out too late as your body is buzzing with endorphins after working out and this can affect sleep. If you are working out late make sure it's something meditative like yoga or pilates
Blue light & mobile phones
Nicole and Lauren suggested not looking at your phone first thing in the morning and last thing at night. In fact, it might be better to leave your phone on the other side of the room altogether.
Gratitude Journal
Keeping a gratitude journal will help you to stay positive by forcing you to think of something you are grateful for each day. They suggested keeping this by your bed and it can be something as simple as someone smiling at you or having a roof over your head.
Aromatherapy
Candles with attractive smells can help sooth the mind. Not only do they smell good which we like but some scents can evoke positive associations to happy memories. For example, Lavender might remind you of your grandmother's garden or beach scents might remind you of a trip to the beach with your family.
Slow down
As I said, we live in a fast-paced world. Don't forget to slow down from time to time to appreciate things.
Nicole and Lauren are sisters who founded Ardere, a healthy lifestyle company specialising in aromatherapy candles, nutrition and wellbeing advice. After the talk, I took Aoife down to see their stall and chat to Nicole and Lauren. Both were so friendly and passionate about what they do. We ended up doing private 15min consultations with them to get specific advice on our daily routines.
While Aoife was in her consultation, I made sure to get a good sniff at the Ardere candle range and my god, they smell amazing. I particularly liked the 'REETHI' candle which is white geranium and sandalwood scent.
Quick and Easy midweek meals with Indy Power
The set up of this demo was brilliant.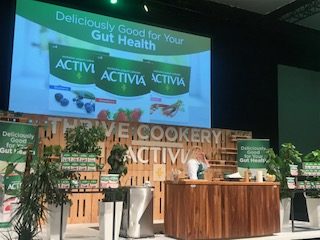 It was so easy to hear Indy as she cooked. Her recipes were exactly as the title of the demo said; quick and easy. The demo showed how you can make great tasting food out of fairly plain and everyday ingredients – many of which were canned goods that can be kept in the press.
It was great to see that you can easily make tasty meals out of things in your press even when there is next to nothing in your fridge.
Live More Sustainably with Finn Ni Fhaolain
One of my new year's goals was to be more environmentally conscious, which is why I definitely wanted to attend this talk. The Mac Twins from the Gut Stuff interviewed Finn from the Saltwater Stories.
Finn is a marine scientist, author and chief living in Bundoran. As Bundoran is a huge surfer spot in Ireland and she is a marine scientist, Finn is passionate about cleaning our oceans and beaches and a huge part of that is living an all-around more sustainable lifestyle.
During the talk, everything from style, makeup, and the food was discussed as well as traveling and cleaning. Finn shared how she thrifts clothes she finds in charity shops, makes her own makeup using cocoa powder and cornflower and is set to open her sustainable bakery by the sea, Milish Bakery in the next few weeks.
It was highlighted that living a 100% clean and sustainable lifestyle is next to impossible in this day and age, and that this needs to be accepted. A lot of people don't make any changes to their lifestyle because they can't commit to it 100%, but instead of having a small group who live this way, imagine the difference we could make if the whole world makes just a few changes.
A few easy changes to make are:
Use Metal reusable water bottles, cutlery and lunch boxes instead of plastics one.
Switch to bamboo hairbrushes and toothbrushes.
Use reusable cotton pads or cut up an old t-shirt to make your own.
Plant a tree in your garden every time you get a flight.
Walk or cycle when you can.
I really enjoyed this talk, the Mac Twins are hilarious and I can wait to get to Milis Bakery when it opens. The highlight of the talk? Knowing I can make a dupe of Benefits Hoola Bronzer using cocoa powder and cornstarch.
Aoife's Workshops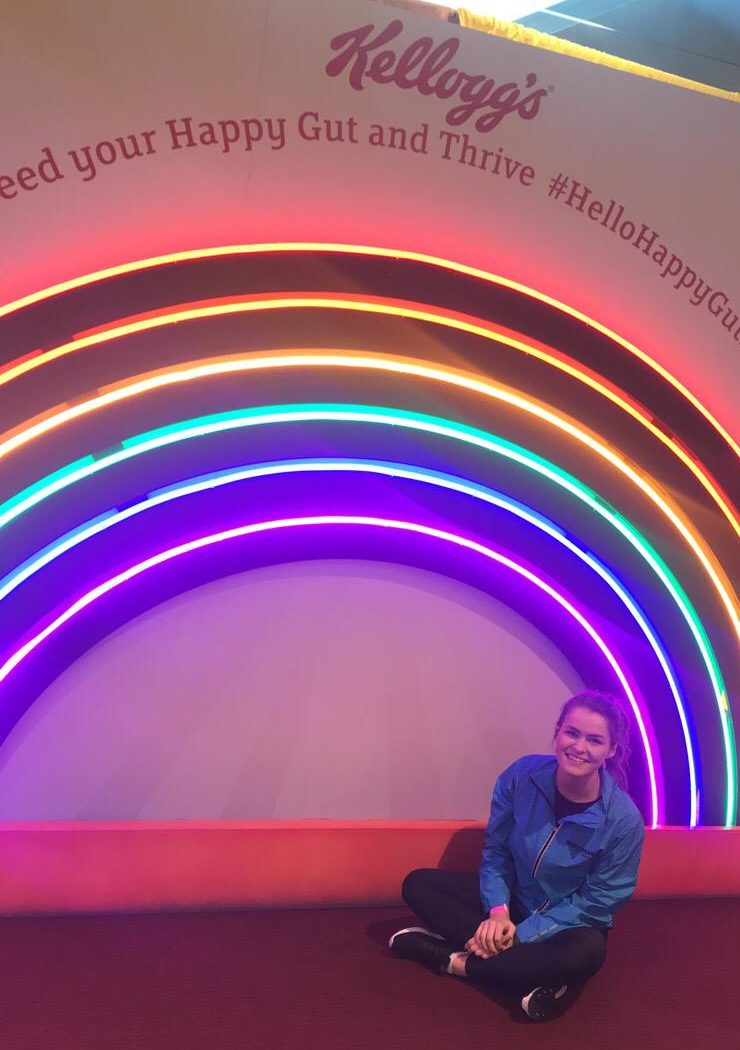 30-Minute Leg and Butt Workout with Maeve Madden
Quick and Easy midweek meals with Indy Power and
Tom Coleman – Sleep: Practical Advice and Tool
Leg and Butt Workout with Maeve Madden
It's three days later and I can still feel the burn.
Maeve Madden put us through our paces in the Thrive Move 1 stage with Pure Athlete. Explosive energetic exercises had all attendees breaking a sweat within minutes, but we were kept going by Madden's infectious enthusiasm.
Quick and Easy midweek meals with Indy Power
I rejoined Ciara for this one, and enjoyed Indy Power's simple recipes for quick, easy and healthy meals. To see some of the recipes, check out the Little Green Spoon website and app.
Tom Coleman – Sleep: Practical Advice and Tool
Wellness expert Tom Coleman has worked with Irish athletes and his Thrive Talk gave practical advice and tools for sleeping.
He spoke about the stigma Irish people have around sleep; how Irish people commend those who get up super early and work with little sleep. It is seen as a strength, when really, getting enough sleep is fundamental toward working efficiently and productively.
"The early bird catches the worm, but the second mouse gets the cheese." – @TomJColeman, on the stigma around sleep. #drivetothrive #thrivefestival @Thrive_Festival

— RunIreland.com (@TeamRunIreland) March 30, 2019
Coleman gave tips for how to improve our sleep, and was very entertaining:
His first tip was that the bedroom should be used for two things only – sleep and 'the other thing', only one of which he claimed to be an expert in.
Get a bedtime routine in order to wind down, and start it around thirty minutes before you intend to go to sleep.
Make sure your sleeping environment is clean, cool and with dim lighting.
Don't eat too much or too little before bed.
No caffeine after 3pm
Remember, when it comes to nutrition and sleep, it's all about quality, quantity, timing.
It's all about habit – get into the habit of 8 hours sleep and start to notice the improvement in your physical and mental health.
Overall Thoughts
A positive, uplifting event – we're already looking forward to the next Thrive Festival!