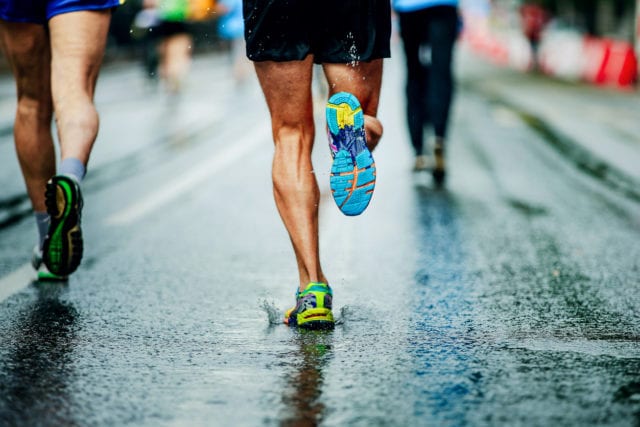 Love it or hate it, the rain cannot be avoided in Ireland. Here are some of RunIreland.com's top tips for running in the rain:
Don't Overdo the Layers
Just because it's wet doesn't necessarily mean it's cold. You can wear layers, but keep in mind that whatever you strip off mid-run you'll either have to carry or dump. Prioritise the innermost layer by wearing a tight performance top.
A light rain jacket is always a good idea, and some can even be folded up into pocket size and easily carried for if the rain clears up. Ideally, get a jacket that is light, but also waterproof and windproof.
Lather on the Vaseline
In wet conditions, chafing can be even worse than usual. Use a balm or petroleum jelly on your feet, arms, nipples, legs, or anywhere else you experience chafing.
Be Visible
Safety should always be your priority while out running. Root out the bright coloured luminous gear and make sure you can be seen by motorists and other people by wearing a hi-vis jacket or hi-vis strips.
Wear a cap
Even if you hate them, a brimmed cap will keep the rain out of your eyes throughout a race. It will also help to keep your head dry and warm. Try a few different styles and sizes to find the right fit for you.
Make sure your Phone or iPod are protected
If you don't want to leave your phone at home, make sure that it doesn't get water damaged. Even in your pocket your phone isn't fully safe from the rain. Pop any electronics into a waterproof case, or a simple zip lock plastic bag.
Invest in Good Quality Socks
This goes for running in any weather – wear a good pair of running socks. Cotton socks offer no help in the rain, and will only lead to you feeling cold and getting blisters.
Be Careful
Rain can make road surfaces slippy. Take care and go a little slower than you would on dry ground.
Change out of your wet clothes ASAP
When you finish, change out of you wet clothes as quickly as you can. Even though you might not feel cold, you'll thank yourself later when all your running buddies start sniffling.
Bring a plastic bag
While some opt to wear a plastic bag while running at a race, we suggest you bring a change of clothes, and a plastic bag to put your wet clothes into after your run. Using newspaper to dry out your shoes helps too.
Once you start running in the rain it's never as bad as it seems – you might even enjoy it. If not and you're struggling to keep going, just think about the hot cup of tea and chocolate when you finish – you'll have deserved it.