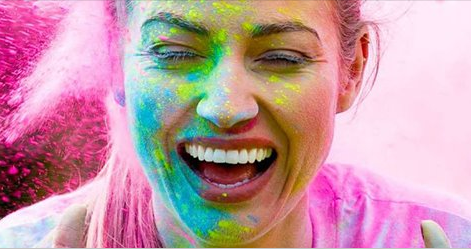 The 2018 dates for Irish Cancer Society Colour Dash sponsored by Aldi have been announced. 
The stars of RTE's young offenders announced the line-up of The Irish Cancer Society's 2018 Colour Dashes.
2018 Dates and Locations 
This year the Colour Dash events will take place across the country in four different locations, including a new location in Limerick. The dates and locations for 2018 are:
NUI Galway, 10th June
Pheonix Park, Dublin, 17th June
University of Limerick, 23rd June
Pair Uí Chaoimh, 24th June
All the money that is raised from these events is used to support cancer patients and to fund vital cancer research.
Announcing the 2018 events…
PJ Gallagher said:
"Colour Dash is a fantastic opportunity for families in Ireland to enjoy a fun day out while helping the 40,000 people who will get a cancer diagnosis this year. We all know someone who has been affected by cancer, and I lost my dad to the illness. Colour Dash, sponsored by Aldi, is a fun event with a serious cause at the heart of it. We can all play our part in the fight back against cancer. Sign up now at cancer.ie/colourdash and help raise crucial funds for cancer research and supports for cancer patients and their loved ones."
Averil Power, Chief Executive of the Irish Cancer Society said:
"As the number of Irish people with cancer increases, record numbers are turning to the Irish Cancer Society for information, care and support. Only two percent of our funding comes from the State. We are therefore hugely dependent on money raised through events like Colour Dash to fund vital lifesaving cancer research and services such as our Night Nurses, Volunteer Drivers and Freephone Cancer Nurseline. Inject some colour into your summer by taking on a Colour Dash and show your support for people affected by cancer."
Sponsored by Aldi Ireland
Aldi has supported the Irish Cancer Society since 2016. In this time they've helped to raise over €500,000 through the Colour Dash events and other fundraising including sponsorship, staff donations, sales of Daffodil day daffodils, staff'Bric a Brac' and charity cards at Aldi stores.
Aldi Ireland's Group Buying Director Finbar McCarthy said:
"Aldi is very proud to partner with Irish Cancer Society and support the Colour Dash for the third year in a row. This is a wonderful event for a cause that is close to the hearts of our customers and staff. Staff across our 130 Irish stores are gearing up to make this year's Colour Dash a success, having already raised over €600,000 since 2016 to help provide essential services for people affected by cancer. We look forward to seeing the Aldi teams and supporters out in force around the country for this great initiative."  
Sign up now at cancer.ie/colourdash as spaces for each Colour Dash are limited and expected to sell out again this year. Registration is €30 per person, and €5 for children under 12.