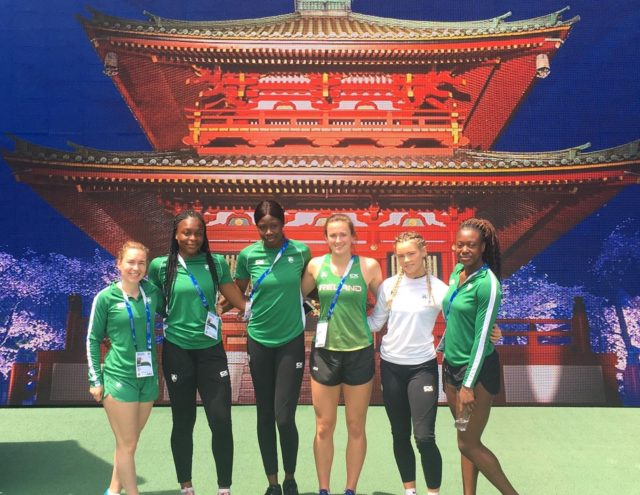 The Irish Women's 4x100m relay team put in a super performance last weekend on Saturday May 11th in Yokohama to finish 10th overall at the IAAF World Relays.
🇮🇪4x100m relay result from IAAF World Relays in Yokohama🇯🇵
➡️44.02 for 10th place overall faster than one of the finalists.
Well done to our young team of athletes 👏👏
ℹ️https://t.co/PAkMHZooKB #yokohama2019 #worldrelays #Tokyo2020 pic.twitter.com/yRB1fySU7P

— Athletics Ireland (@irishathletics) May 11, 2019
The team finished 6th in the third heat which also provided the two fastest losers. The 44.02 time produced by the young Irish team was faster than one of the finalists which fairs very well for qualification for Tokyo 2020.
Squad:
🌟4×100 Relay Team🌟
A top 10 finish for a team with an average age of just 18 years ⚡️⚡️⚡️ @IAAFYokohama19 #IAAFWorldRelays #Yokohama19 🇮🇪 pic.twitter.com/fCnuiRM9GZ

— Athletics Ireland (@irishathletics) May 13, 2019
Patience Jumbo Gula
Niamh Whelan
Ciara Neville
Rhasidat Adeleke
Lauren Roy
Gina Akpe Moses
Heat Result
POS BIB ATHLETE COUNTRY MARK Reaction Time
1 GER Germany [GER] GER 43.03 Q SB 0.211
2 JAM Jamaica [JAM] JAM 43.08 Q SB 0.145
3 AUS Australia [AUS] AUS 43.19 q SB 0.152
4 ITA Italy [ITA] ITA 43.40 q SB 0.143
5 KAZ Kazakhstan [KAZ] KAZ 43.71 0.158
6 IRL Ireland [IRL] IRL 44.02 SB 0.137
7 CZE Czech Republic [CZE] CZE 44.67 SB 0.148
8 ECU Ecuador [ECU] ECU 44.74 SB 0.198