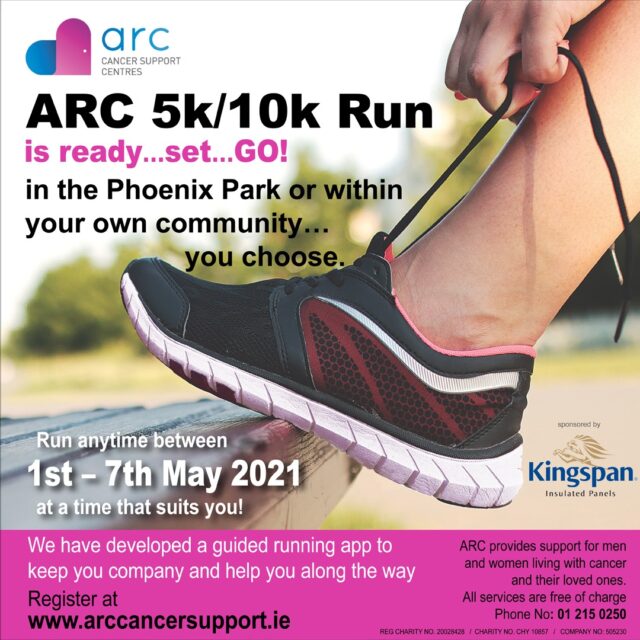 This year, the annual ARC 5k and 10k run will take place on the 1st – 7th May in Phoenix Park. Due to current restrictions participants can also get involved in their own area if they wish. 
Once you register online at https://www.arccancersupport.ie/arc-run-2021/ your  fundraising page will be automatically set up via iDonate where you can spread the love and ask your nearest and dearest to sponsor you by sharing your link on your social media platforms, WhatsApp messaging or e-mail.
Before the 1st May you will also receive your login details to install the Run On Your Own (ROYO) app. This app has been designed for those running in Phoenix Park or within your own area.  No matter where you run, you will hear words of encouragement from our ARC supporters such as well-knowns like Mairead Ronan, Davey Fitzgerald, Ian Dempsey and Jason Byrne, at each kilometre milestone. So, don't forget to bring your earphones and connect them to your phone! You may even see them on the route!
For those making their way to Phoenix Park, click into your ROYO app when you are on Furze Road, off Chesterfield Avenue. Our clever app will direct you to the start line. You will hear an audio countdown 10, 9, 8, 7, 6, 5, 4, 3, 2, 1 GO!!!! 
The app will direct you whether to turn left or right, so don't worry, you won't lose your way, we've got your back!! 
REGISTRATION IS NOW OPEN – VISIT: https://www.arccancersupport.ie/arc-run-2021/
 "The ARC 5k and 10k run is an event that appeals to all levels of fitness.  This is an ideal time of year to get out your runners, dust them down and come out for a morning of fresh air and fun.  This event helps us to continue funding our holistic approach to the treatment of cancer that complements traditional medicine by assisting with people's emotional and psychological well-being.  Our services are also offered FREE of charge to people affected by cancer and their loved ones," said Mairead Mangan, Head of Fundraising, ARC Cancer Support Centres.   
Please help us spread the word by encouraging family, friends and work colleagues to sign up.  Further details about the event can be obtained from our Fundraising Manager, Tracy Power on [email protected] please call 01 215 0250.