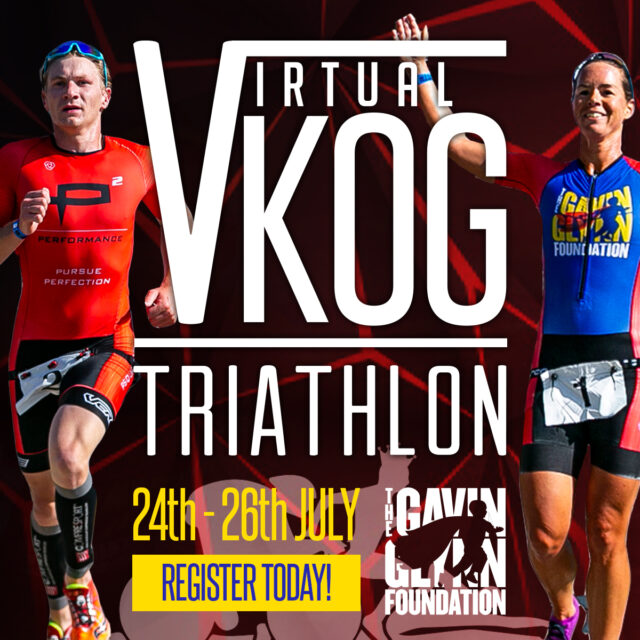 VKOG2020 is a virtual triathlon that allows you to complete the triathlon distance of your choice, on your own time, in your own location.
No costly entry fees, no travel expenses, no race-day hassle or pressure, there are really no drawbacks!
Register for: Either a Sprint or Duathlon (option for any "non-swimmers," out there (see distance breakdown below).
You can choose to spread your three disciplines over the 72 hours
(6am Friday 24th July – 6pm -Sunday 26th July) or complete them one after another in true triathlon style – whatever suits your commitments and ability – that's the beauty of virtual events.

Location: Anywhere
The Cost: You can do it for free (and give yourself a high five at the end) or, you can to make a minimum €30 donation to The Gavin Glynn Foundation (Helping Families Fighting Childhood Cancer) and receive a VKOG2020 Finisher Pack. Here is your chance to stay active when you can't participate in an in-person race.
Choose your preferred race distance:
• Sprint Distance – 750m (swim), 20km (bike), 5km (run)
• Duathlon – 5km (run), 20km Bike, 2.5km (Run)
You can do each leg at separate times over the weekend if you wish, for example in the case of a duathlon:
• Friday – Leg 1: First Run Duathlon or (750m Swim)
• Saturday– Leg 2: Cycle
• Sunday – Leg 3: Second Run
WHO CAN PARTICIPATE?
Whether you are a seasoned triathlon, veteran or brand new to the sport, anyone can compete in VKOG2020.
Okay, so how do 'Virtual Triathlons' work?
A virtual triathlon is a race that can be completed at any location.
You can Run/Walk, cycle/swim outside while adhering to social distancing and safety rules.
HOW DO I TRACK MY PROGRESS?
We have partnered with Results Base who has the only fully integrated solution for virtual events. Participants once registered for VKOG2020 will then create a profile on ResultsBase Website and can link your Strava account to the VKOG2020 Event. This will allow us to have a live leader board for the event across all disciplines and races.
To register and find out more details please visit:
www.kingofgreystones.com