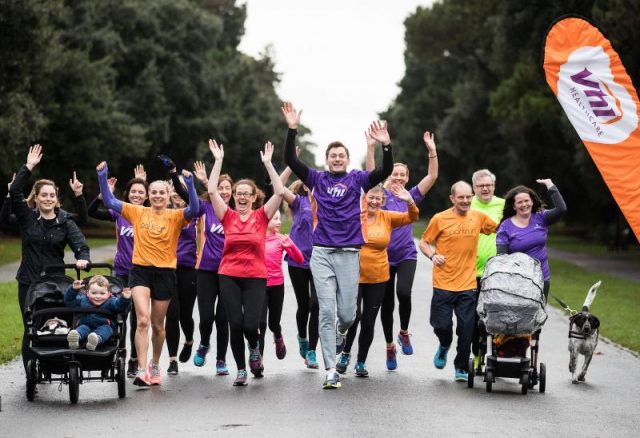 Join David Gillick and Mick Clohisey at St Anne's parkrun Vhi Ambassador, David Gillick and Athletics World Championship competitor, Mick Clohisey, are calling on walkers, joggers and runners to join them at St Anne's parkrun on Saturday, 19th August when Vhi will host a special event to celebrate their partnership with parkrun Ireland.
parkrun Ireland support local communities in organising free, weekly, timed 5k runs every Saturday at 9.30am. parkrun events are open to all ages and abilities.
In addition to the normal parkrun at St. Anne's on Saturday 19th August, Olympians David Gillick and Mick Clohisey will be on hand to lead the warm up for parkrun participants before completing the 5km course alongside newcomers and seasoned parkrunners alike.
To help participants refuel after their morning exercise, Vhi will be providing a selection of delicious and healthy snacks in the Vhi Relaxation Area at the finish line. Each participant will receive a free theraband and a team of physiotherapists will also be on hand to guide participants through a post event stretching routine.
St Anne's parkrun event director, Jamie Killeen is extending a warm welcome to newcomers;
"The community at St Anne's parkrun prides itself on being welcoming to all, so if you've never completed a parkrun before or have just let your parkrun habit slip, I'd encourage you to give it a go this weekend. Vhi will be providing an extra level of support to participants and volunteers so Saturday is as good a day as any to get started! Just register at parkrun.ie and we'll see you bright and early!"
Declan Moran, Director Marketing & Business Development, Vhi said;
"We are absolutely delighted to be supporting the growth of parkrun in Ireland. The success of parkrun lies in the simplicity and accessibility of these local community based events. Anyone can give it a go and all are welcome, from those who volunteer, to those who want to run, jog or walk it right up to the Olympians who participate and support their local parkrun. At Vhi we are committed to helping our members live longer, healthier, more positive lives and this partnership is helping us to do just that. I can vouch for the positive difference it has made to Vhi staff members and we see an increasing number attending parkruns on a regular basis and enjoying the many benefits associated with it. I hope you can join us at the St Anne's parkrun this weekend."
Vhi Ambassador and Olympian, David Gillick added;
"I'm really looking forward to helping and encouraging everyone at the St Anne's parkrun on Saturday morning. parkrun is a brilliant way to get some exercise, socialise and generally get your weekend off to a great start. I'm a regular parkrunner myself completing the course with my family when I can. In St Anne's Park on Saturday morning you'll see walkers and runners of all ages and abilities so don't worry if you haven't run or walked 5km previously. Vhi will also be providing some healthy snacks and a Relaxation Area to unwind in afterwards!"
parkrun Ireland supports local communities in organising free, weekly, timed 5k runs every Saturday morning at more than 65 venues all over Ireland, with around 5,000 people of every age and ability taking part each week. The events are organised by more than 600 volunteers every weekend from Bere Island to Ballina to Ballinteer. Over 100,000 registered participants have run more than 3.6 million kilometres at parkrun Ireland events since it started here in November 2012. Originally launched in the UK in 2004, parkrun is the single biggest participation running event globally with nearly three million registered participants and an average of 165,000 weekly participants.
To register for a parkrun near you visit www.parkrun.ie. New registrants should select their chosen event as their home location. You will then receive a personal barcode which acts as your free entry to any parkrun event worldwide.