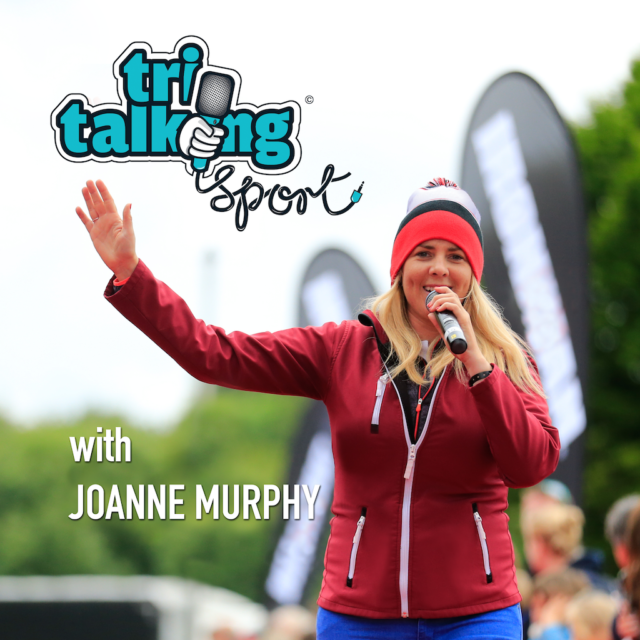 Joanne Murphy the voice behind Tri Talking Sport today launched a new sports podcast for athletes, adventurers and endurance enthusiasts.
The accomplished sports presenter and commentator is widely recognised as the voice on the finish line of many a triathlon, running or cycling event in Ireland, the UK and indeed further afield.
What will the Tri Talking Sport podcast be about?
The Tri Talking Sport podcast will feature interviews with inspiring athletes across a multitude of sports who are chasing their sporting dreams and goals on a daily basis, from amateurs to elites, professionals to thrill seekers and everything in between.
The focus of the show will predominantly be placed on hearing from the many inspiring athletes and adventurers taking part in a variety of endurance challenges who have fantastic stories to tell about their lives, their commitment and dedication to their sport and the challenges they face as they pursue their goals.
Speaking about her new venture, Joanne said, 'I'm delighted to finally get the podcast up and running, (pardon the pun), it's been on the cards for a while and was a little daunting to begin with to get it all set up and live, but it's great to see and hear all the work of the past few months come to fruition.' 
Launching the Podcast
Speaking about the podcast this morning at the Sport for Business Event at Galway Racecourse, Joanne said 'There are so many athletes and adventurers achieving amazing results and astonishing feats who don't get a lot of coverage in the media and don't have an outlet to talk about their achievements. The podcast will provide the opportunity for these individuals to tell their story and put it directly into the ears of those who wish to not only be encouraged and motivated, but also provides the platform for listeners to gain valuable insight and inspiration for their own personal sporting pursuits.'
The First Tri Talking Sport Podcast
In the first episode Joanne chats with triathlete Caroline Heffernan from Tri Lakes Triathlon Club in Galway.  Caroline, a mum of two is an avid triathlete and sports fan despite suffering from Cystic Fibrosis.  She is the first Irish person with CF to complete a full distance triathlon finishing IRONMAN Barcelona last year. Her courage and commitment to her health and her sporting goals will no doubt be an inspiration to everyone who listens to the show.
Episode one is now live across all podcast platforms, subsequent episodes will be released fortnightly on a Wednesday afternoon. To subscribe and listen to the podcast search for Tri Talking Sport on Apple Podcasts and Spotify or simply log onto www.tritalkingsport.com.