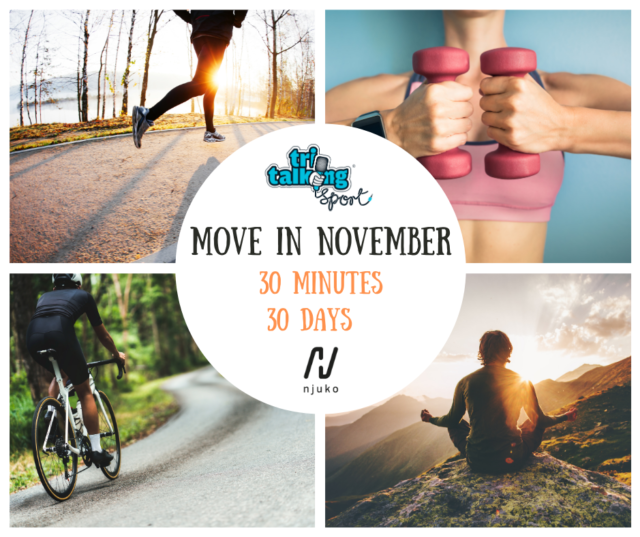 As another month dawns many of us are looking forward to new beginnings in the month of November. We may be in Lockdown 2.0 but that doesn't mean we can't set aside some time to improve our fitness levels or to simply get moving.
For many, getting 30 minutes of physical activity completed every day is a bigger struggle than you would expect, with the added stress of COVID19, travel restrictions and gyms closed the motivation to keep moving on dark and dreary days is even more difficult. This Challenge will help you to get on track and keep you accountable even on days when the last thing you want to do is put on your training gear and get moving.
The Challenge
The Challenge encourages you to complete 30 minutes of physical activity on each of the 30 days of the month. Ideally, you would plan to be active on each of the days but life gets in the way, plans change and so ultimately the goal is to complete 15 hours of activity during the month from 1st – 30th November. How you decide to do this is up to you.
The key is setting aside the time to complete the activity and take some time out to create a new habit of incorporating physical activity into your daily and weekly routines.
How Does it Work?
Participants select their physical activity of choice and complete a tracker to keep account of their activity. The reward for the challenge is in its completion and personal satisfaction, however, those who embrace and complete the challenge will have access to a variety of prizes and exclusive discounts across a number of events and products. It's also meant to be fun, so don't take it too seriously!
Staying Focused
This challenge offers the opportunity to set some realistic fitness goals and have fun whilst looking after your mind and body as we navigate these peculiar times. Whether you have plans to run a 5k, tackle a triathlon, complete a cycling sportive or swimming challenge for the first time or climb a mountain in 2021, with focus, dedication and consistency you will achieve your goal.  This challenge could be the first step to crossing that finish line and is a lovely route to retaining or gaining fitness as we head into the final months of 2020.
Register for the Tri Talking Sport challenge HERE