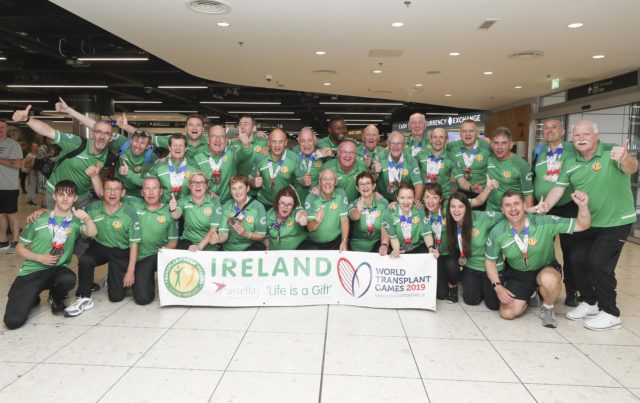 This weekend 38 members of Transplant Team Ireland returned home from an unforgettable week-long World Transplant Games 2019 which were held in Newcastle Gateshead, UK.
A Hero's Welcome
When the team walked through to the Arrivals Hall at Dublin airport's Terminal One (on Saturday afternoon, 24th August) with their mighty haul of 50 medals they were greeted to a rousing welcome by family, friends and supporters. The team's final medals tally was 17 Gold, 18 Silver and 15 Bronze which earned them a very respectable 11th place position on the leader board amongst 56 countries some with larger teams and the host country GB&NI coming first with 320 participants.
Transplant Team Ireland
Despite a blustery start to the week, the sun shone down on the final day of competition for Transplant Team Ireland athletes at track and field events as they pushed themselves towards success bagging seven medals including 1 Gold, 3 Silver and 3 Bronze to include in their final haul.
Regardless of individual successes in competition, the spirit of goodwill and lust for the gift of life was palpable. New friendships were forged and old friendships reignited within the team and with people from all over the world, all of them sharing a common bond and showcasing the success of organ donation.
Competing for Transplant Team Ireland were 29 men and 9 women ranging in age from 16 to 81. They have all received transplants including 1 heart, 1 lung, 1 bone marrow, 4 liver and 31 kidney. Team Doctor Ayanfe Obilana who works at Cavan General Hospital looked after the team's care at the Games and the Team Manager is Colin White.
The Athletes
John Moran, a kidney transplant recipient from Glasnevin, Dublin proved to be a powerhouse over the week securing a remarkable 5 medals including 3 Gold and 2 Silver including one Gold on the final day of competition for the 800m race as well as a Silver for the 200m sprint. John, age 61, this year celebrates the 34th anniversary of the living donor kidney transplant from his brother Frank. Earlier in the week his first Gold was won for the 10km cycling event followed up the following day with a Gold in the 30km Cycling race, and on the penultimate day he won a Silver in the 1500m.
Youngest Team Ireland member and newcomer to the World Games was 16 year old Jack O'Brien from Navan, Co Meath who bagged three medals, a Silver in Darts, a Bronze in the long jump and on the final day of events secured another Bronze in the 200m sprint and achieved a personal best with a time of 26.53 seconds.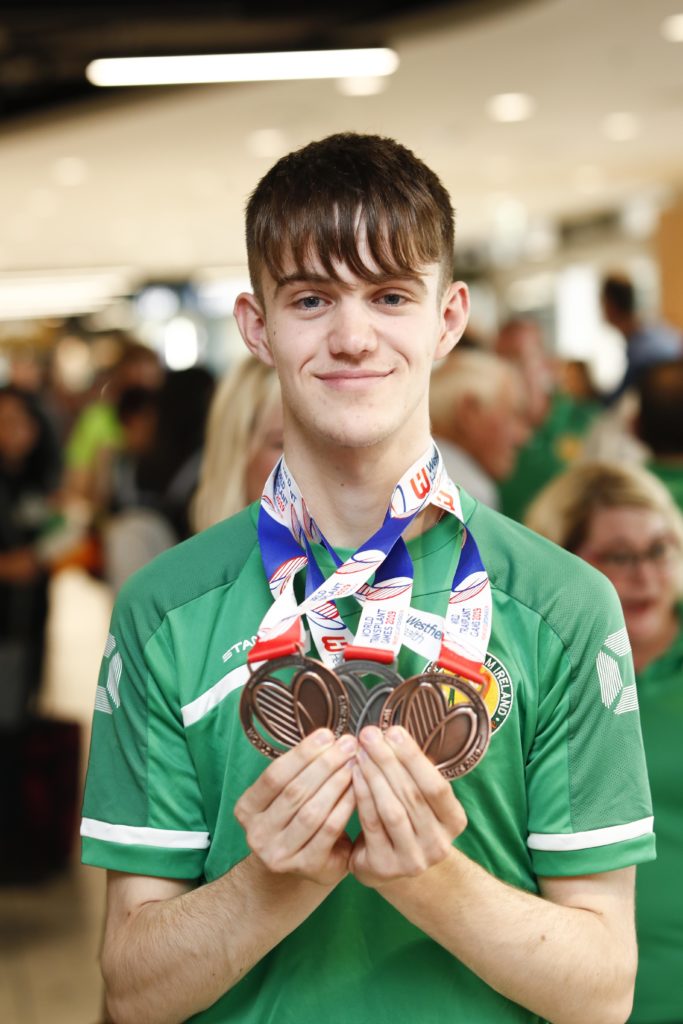 Mike Keohane, a liver transplant recipient from Roscarberry, Cork won a Silver in his favourite event, the 5km Race walk. Retired medic, Ron Grainger, from Castleknock, Dublin, a kidney transplant recipient, won Bronze in the 100m track event.
Bone Marrow transplant recipient Trevor Lynch from Limerick, and now living in Buckinghamshire, UK, enjoyed a very successful week at his first World Games taking a bronze in the 1500m race on Thursday and then followed up with a Bronze for the 800m on the final day of competition.
Golden girl Deirdre Faul, a liver transplant recipient from Dalkey, also won five medals at the Games. She broke two World Transplant time records in Swimming at the 100m Breaststroke and the 400m freestyle events and she also was awarded with a Silver in the 50m Breastroke and 200m Freestyle, an extraordinary accomplishment as just days previously the 51 year old defended and won her World Transplant title in Squash, her seventh in a Row since her first win at the 2007 games.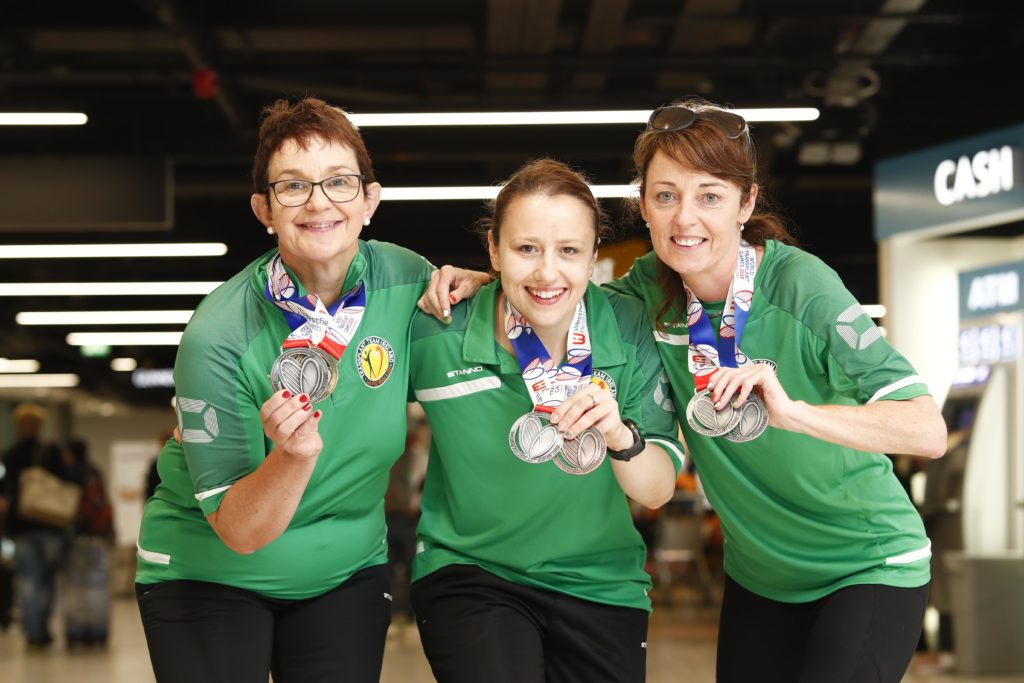 Three irish women were awarded with Silver medals in the 5km team race event. They were Sinead McGowan from Renmore, Galway, Anna Pokojska from Killarney, Kerry and Sheila Regan from Nenagh, Co Tippearary. Sheila was also the first medal winner for the Irish team when she secured a bronze for the 5km road race. Her race teammate Sinead McGowan who now lives in Sydney also won a Silver medal for the Virtual Triathlon which combines the times of three separate events: swimming, the 5k race and cyling. Anna also won a Bronze medal in the 30 km cycling event
Also at the Swimming pool another Dubliner Peter Heffernan from Skerries won two bronze medals for the 50 m and 100 m Breaststoke events. Peter Heffernan from Skerries said after winning a Bronze in his second successful swim, "I'm delighted with the result of the two days swimming with a bronze in the 50m backstroke yesterday and then another in the 100m Backstroke today. I'm very grateful to my donor and their family for one, being able to participate, and two, the ability to train throughout the year to participate. Equally, it's great coming to the games to mix with the team and all the other lovely people. Everyone is very friendly and encouraging, full of support and absolutely great craic."
Paul Prendergast from Santry, Dublin won a Silver in the Darts singles event in the 70-79 years age category. In Golf Ron Grainger from Castleknock and Michael Dwyer from Cabinteely won medals, Michael Dwyer won a Gold and Ron Grainger won two Bronze medals for Golf as well as a Bronze medal away from the golf course for the 100m sprint with a finish time of 15.52.
The Irish team of twelve golfers proved to be very strong and secured an impressive 3 Gold, 2 Silver and 4 Bronze medals for the team in individual and golf pairs events played on two days at Graham Wylie's Close House Golf 'Filly' course. Ron Grainger won Bronze in the Golf pairs competition with Tony Gavigan from Meath. Tony also won a Silver medal for his individual net score while Ron also won a Bronze medal for his individual net score and later in the week away from the golf course he won his third medal at the games, a Bronze in the 100m sprint. Another Dubliner who won a medal Gold medal in Golf was Michael Dwyer from Cabinteely for his Golf Net score. at the games. Other Irish golfers who were awarded with medals were Garry Campbell (Gold) form Wicklow, Marie O'Connor (Gold) from Clare, John McAleer (Silver) from Antrim and Eoin Hurley (Bronze) from Waterford.
Overall Experience
In summing up the games experience Team Captain Harry Ward said, "it's been a great week, the team spirit has been strong and the wonderful supporters have been willing and able to do whatever was asked of them at a moment's notice. Each and every athlete gave it their best and was ready to support the next team member that was up for competition. It was great to have all the newcomers to the team this year, and their supporters all joining us for the first time. They all slotted into the team like they had been here for years. It's been wonderful to have my wife Mary here with me also. All the events were very well organised and all of the Team's nineteen volunteers and supporters were excellent."
Team Manager Colin White (from Balbriggan) concluded the week saying, "it's been absolutely fantastic week. The team spirit has been overwhelming. The buzz, comradely, friendship, the sense that we are all in this together, every medal is a medal for the team. It's wonderful to see people getting their just rewards, the team has put in a lot of work this year and it's paying off. What has been really positive for the team, was competing successfully in the team events like pairs in Golf, pairs in Tennis and triples teams in Darts. We are not a bunch of individuals we are unified! Every single person brings something to the team such as their mere presence at a venue, smiling face and active encouragement. Wandering around as Team Manager, I hear from other teams and officials about what an amazing spirit our team has. I am so proud to say I am part of the Irish team."
Graham Wylie, Chairman of the World Transplant Games 2019 and Graham Moore, chairman of Westfield Health and the Donor Family Network were ever present across each venue around Newcastle during the week to present medals to transplant athletes and there were also appearances from Golfer Lee Westwood and former Newcastle United premier league footballer Alan Shearer.
2020 European Transplant & Dialysis Sports Championships
The Irish Kidney Association will host the 2020 European Transplant & Dialysis Sports Championships in Dublin next summer (August 2nd-9th 2020) and its primary goal is to highlight the importance and success of organ donation for transplantation. Team Ireland were actively promoting the event to all European athletes this week and many teams spoke of their excitement to attend Dublin 2020.
Colin White said, "I am so delighted by all the interest and excitement expressed for 2020. Expectations are high so we are excited and keen to deliver. The support we have had from national bodies bodes well for the partnerships that we hope to have to help us deliver the most successful European Transplant & Dialysis Championships ever."
There was an abundance of messages of support and encouragement for the team including letters from Minister Simon Harris and Minister Shane Ross as well as social media posts from the British Embassy, Cycling Ireland, the Confederation of Golf in Ireland and Swim Ireland while other Sports governing bodies sent good wishes also. A video message was sent by soccer legend Niall Quinn as well as the Abu Dhabi Rose of Tralee Karen Cashman whose sister Edel is a liver transplant recipient. Throughout the week the general public continued to send in goodwill messages to the team on social media.
The eldest Team member John McAleer (age 81) from Newtownabbey, Antrim won two Silver medals in Pétanque and Golf. John, a retired university lecturer who got called for his kidney transplant operation while on the golf course, had his wife Bridget to support him to the Games.
Heart transplant recipient Mick O'Shea, from Mallow, Cork, a newcomer to the team and also a very welcome addition, said, "It's amazing to see where I am today versus where I was two years ago prior to transplant and that's all down to my donor, donor family and all the support I received from friends and family."
This year the team has gratefully received support from Swim Ireland, Athletics Ireland and Irish Squash. The ongoing coaching support from Swim Ireland has been particularly welcomed. Astellas Pharma Ltd. has again provided some sponsorship towards the costs of running the team. For more information on the World Transplant Games and the Irish athletes visit the team blog www.transplantteamireland.ie and Games website www.worldtransplantgames.org.
THE FULL IRISH PANEL IS AS FOLLOWS
ANTRIM: JohnMcAleer, Newtownabbey (kidney) (oldest member of the team)
CAVAN: Aodhagan Cullen, Cavan (kidney)
CLARE: Marie O'Connor,Lahinch (kidney)
CORK: MikeKeohane, Rosscarbery (liver); Charlie Ryan, Cobh (liver); Michael Kiely, Mitchelstown, on
the Limerick border (kidney); Pat O'Sullivan, Mallow (kidney);Michael O'Shea, Mallow (Heart)
DONEGAL: Kieran Murray, Ramelton (kidney)
GALWAY: Sinead McGowan, Renmore (living in Australia) (kidney)
KERRY: Anna Pokojska, Killarney,via Poland (kidney)
KILDARE: James Nolan, Kilcullen (kidney)– living donor kidney transplant 32 years ago (kidney)
KILKENNY VIA LIMERICK: Emma O'Sullivan (kidney)
LIMERICK via UK: Trevor Lynch,Cappamore, (Bone Marrow)
LOUTH: Tommy Marrett, Ardee (kidney)
MAYO via UK: Julie O'Neill,Westport- Award winning businesswoman, underwent living donor transplant from brother 37 years ago (kidney);
MEATH: TonyGavigan, Navan & native of LONGFORD father of deceased donor (kidney);
Jerome Lyness, Navan,(kidney);Rachel Eagleton, Bettystown – youngest female on the team (33) (kidney);
Jack O'Brien, Navan, – youngest member of the team (16) (kidney);
MONAGHAN: Thomas Flannery, Tandarageebane (Lung);
TIPPERARY: Orla Hogan, Nenagh (kidney); Sheila Gregan, Nenagh (kidney);
WATERFORD via Dublin: Eoin Hurley (age 25, student at TCD)(kidney)
WESTMEATH: Finian Farrell, Mullingar (kidney);
Noel Marsden, Athlone (kidney)
John Connell, Mullingar, living in South Africa (kidney);
WICKLOW: Garry Campbell, Greystones (kidney); Philip Kavanagh, Arklow (liver);
DUBLIN: Ron Grainger, Castleknock, D.15 (kidney); Harry Ward, Team Captain, Baldoyle, D13 (kidney);
Paul Prendergast, Santry, D.9 (kidney);Anthony Byrne, Artane (kidney);Peter Heffernan, Skerries (kidney);
Leonard Ryan, Tallaght (kidney); Michael Dwyer, Cabinteely (kidney); Deirdre Faul, Dalkey (liver);
John Moran, Glasnevin, celebrating 34th anniversary of living donor transplant from brother (kidney).
TEAM MANAGER, Colin White from Balbriggan, Dublin
TEAM DOCTOR Ayanfe Obilana
For organ donor cards Freetext DONOR to 50050 or visit website www.ikw.ie/get-a-donor-card
You can also download the IKA's digital organ donor to your smartphone. Your wishes to be an organ donor can also be included on the new format driving licence which is indicated on the back of the card by Code 115.