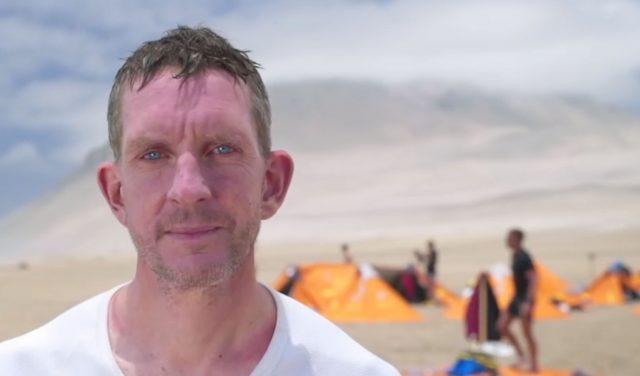 The narrow, winding road could barely be seen through the rain pelting against the windshield. The wipers were fighting a losing battle as the car trudged at five miles per hour. Peering through the momentary clearness the wipers allowed was a crew, searching. They were armed with foil blankets, towels, lightweight clothing and a flask filled with a Lyon's teabag, what you'd think was too much full-fat milk plus one dollop more, and ten spoons of sugar, two more than the usual amount Ray O'Connor liked to take, just for luck. But he was nowhere to be seen.
"It was the worst weather we'd seen in years," said Angela, Ray's partner, who was a member of his crew. "The rain just wouldn't stop. We got a call from Ray saying he didn't know where he was, but he needed help. He just couldn't keep going."
Judging from the map and the amount of time that had passed, the team could pinpoint whereabouts Ray could be waiting for them. They drove slowly, eyes peeled for fear that they'd blink and miss him. And they almost did, only Angela spotted the reflective panels on Ray's hi-vis top shining in the headlights, gleaming from a thorny, overgrown ditch. A shivering Ray had huddled down into the bushes and clay to keep himself warm and sheltered from the wild Atlantic storm.
After a quick spell under a foil heating blanket and his Lyon's tea with the perfect amount of too much sugar and too much milk, Ray was back out on the road again, completing the ultra-marathon, Connemara 100. The 100-mile race for the toughest of athletes, founded by Ray himself, is the longest single road race in the country.
Ray O'Connor didn't start running until he was 30 years old. Now, at 48, he has just completed his 149th marathon. But Ray doesn't just do marathons; he does ultra-marathons too, having completed the Connemara 100, twice, the Brathay 10 Marathons in 10 Days Challenge, twice and the Marathon Des Sables, yes – twice. In 2013 he completed his third 24-Hour Ultra race this time in Helsinki on a 400m indoor track.
Ray's life before running seems like, well, 149 marathons away. He describes himself in his twenties as "a 30-cigarettes-a-day stress head." Having had his first son, Adam, at 21 years old, Ray rarely did anything after that that was just for himself. He had his second son, Aaron, at 24, and then set up a marketing and design company at 26. After that, he had two more sons, Alex and Evan. But by the time he hit 30, Ray was underweight and unhealthy. He was six-foot-two and weighed just under 150 pounds. In 2000 he decided that he needed to change his life – his kids' caringly nagging him to give up the cigarettes was becoming incessant and, quite frankly, a little annoying. He decided to sign up to run the New York Marathon for charity: "I gave up the fags and ran the marathon six months later."
Before he made this decision, Ray was at a point in his life where he, in runner's talk, had "hit a wall". This describes the moment in a race where the glycogen levels in the body deplete, usually around mile 19 according to Ray. You become fatigued, and it feels like you just can't keep going. In fact, this phrase would become the slogan tied to his first event, where he invited people to don t-shirts proclaiming "I hit the wall in Connemara" It was his very own marathon, in the beautiful countryside of Connemara. The success of The Connemarathon was, as many participants would comment, due to the enthusiasm of the Race Director, Ray O'Connor. The event felt more like a community than just a bunch of lone runners, each person with their own story, and Ray's story motivated and inspired many of the people around him. Ray put on 28 pounds of muscle, transforming from a gaunt and skinny tall guy to a strong and fit tall guy. He is reminded of the change his body underwent every time he looks at the stretch marks on his knees, where light white lines indicate how much his skin stretched to accommodate new muscles. When talking about running, Ray takes on a kind of quiet confidence:
"I would go to the gym after work as often as I could and jump on the treadmill. I remember watching the 5 o'clock news, then the 6 o'clock, then the 7 o'clock," says Ray thinking about his early running days. "By the time Emmerdale and all the soaps came on, I knew it was time that I should be going home." Ray admits that he must have an addictive personality. He shrugs, admitting that he is always looking for the next big thing – anticipating his next burst of endorphins, he reckons, similar in a way to a drug addict craving his next hit.
His 55th marathon was during his first Marathon Des Sables, which he ran in 2009. This race is considered by many to be the toughest in the world: 156 miles over 6 days in the Moroccan desert. He started running on Monday, stopping at 21 miles due to, ironically, a torrential rainstorm that lasted into the next day. Tuesday, he ran 24 miles. To make up for lost time, the runners took on 56 miles on Wednesday, which took Ray from 9 am to 3:30 am the next morning to complete – 18 hours through what he describes as "more of a trek than a run." He carried all his provisions on his back. His backpack, weighing about 22lbs, held a small stove for cooking, as well as food and clothing "But the backpack got a little lighter every day," Ray says, "as we worked our way through the calories." They had to eat at least 2000 calories a day to abide by the race regulations. When asked if he enjoyed it, Ray laughs. "I hated it at the time, at two in the morning with the sand and wind in my face, but at the finish line I knew I loved every single minute of it." It is an addiction. An addiction he kept fuelling when he signed up for his second Marathon Des Sables in Peru in 2017. Much like the first event, there were 156 miles to trek over 6 days but this time it was set in the Ica desert.
"There are a lot of runners who were addicted to drugs or alcohol or something along those lines," says Ray. "Some would do a marathon every Saturday to keep them on the straight and narrow Friday night." But he feels as though his addiction is something he can be proud of. "The thing about addicts, though," adds Ray, jokingly, "is that they want people to do whatever they're addicted to with them."
In 2009, Ray founded Marathon Club Ireland which is now one of the largest running clubs in the country. He has delved into the arena of Event Management, combining his day job as a graphic designer at his self-built company, Proactive Design & Marketing, with his inside knowledge of the running world. He also founded RunIreland.com and began encouraging his two companies to intertwine. He sought out new ventures, learning more and more at each event. He was on the founding committee of Run Galway Bay, taking a hands-on approach, doing everything from mapping the course, to designing the website, to encouraging the participants on the day of the event. He became the Event Director for Electric Run Dublin 2014, winner of an Event Industry Award, and took on the role of Event Director for Irish Cancer Society Colour Dash events in Dublin, Cork, Limerick, Sligo and Galway. Ray often spends his weekends helping out at events to which he has no ties, just to lend a hand to some friends. He received a Galway Person of the Year Award for his services to charity and sport and continues his support of charities through his work with the Manuela Riedo Foundation of which he is a board member.
Through all of this, Ray suddenly gained a new circle of friends, and people began looking to him for advice and help. He built a community that he finds difficult to describe: "There are such great people in my club and it seems that my events attract a core of similar minded people too. I suppose if you put yourself out there with confidence, knowing who you are, you'll meet people that share what you love, and that's what happens to me on an almost daily basis." On the flip side to this, Ray gets nervous in day to day social situations. But when he is directing a race, it's like watching a shy caterpillar transform into a social butterfly. He smiles, chats, leads the way. Even with 3,000+ pairs of eyes on him, Ray is in his comfort zone.
More recently, Ray was appointed as the Event Director for Tough Mudder Ireland, the first licensed partner Tough Mudder event in Europe. The event was a challenge – not just for the participants who would attempt to complete the 10-mile obstacle course, but for Ray also. Tough Mudder considered the toughest obstacle course on the planet, matched all of Ray's personal ideals – that you must challenge yourself and overcome obstacles, but you can only do it at your own pace, with the help of strangers as well as friends along the way.
Ray remembers in the early days when he first felt himself "hit the wall" during a race. A woman, whose name he never learned, enquired about how he was doing at mile 23 – a mere three miles from the finish line. Ray told this woman that he wasn't feeling okay and that he was thinking of pulling out of the race. "Then she asked me, 'Well, how is your head? Do you have a headache?' and I said 'No,'" Ray says. "Then she asked me 'how are your neck and shoulders, are they stiff?' and I said 'no.'" She worked right down from Ray's head to his toes, asking each time if there was something wrong. "There was nothing wrong with me."
Ray realised that he could finish. It was his mind that was holding him back. The tiredness and everything surrounding it is exaggerated because you begin to doubt your capabilities. Sometimes, you need to stop. Ray knows this well from two failed attempts at the 24-hour races in Helsinki where he didn't achieve the distance he was hoping for. But sometimes, doing a simple physical health check can be distraction enough for you to get through the race.
"Ask yourself 'what is it that is actually bothering me?'" Ray reckons that by asking this question, you might realise that the problem is not as big as it seems after all. "It is a physical thing, not just a mental thing. But it is your mind that will really exaggerate that physical, tough part." He also encourages people who get to this stage to look around – there is always someone who feels just like, or worse than you. "You might hit a wall – a lot of people will definitely hit the wall. But if you can even get to mile 23 and then sense the excitement ahead that comes with reaching that finish line where the atmosphere is like nothing else, you can get through it. It will pass." Sometimes when Ray speaks specifically about running, it feels as though he uses running as a metaphor for life in general. But he never explicitly states this, ensuring that nobody will take his words as Bible: "At least, that's what works for me," he adds.
Each to their own. Ray's take on things like this is refreshingly simple: do what you feel. You have to listen to your body. This took Ray a little while to figure out.
"I was always getting sick," he explains. Ray would vomit so much that sometimes he'd have to pull out of the race. He remembers one marathon where he was taken to the medical tent because he was so ill at the finish, and the medic gave him a packet of salt. "He poured it onto my hand and told me to lick it up," he says. "After just a few minutes I was back to normal." Now, Ray always takes salt tablets for a race and hasn't been as violently ill since.
If asked for advice on what shoes or socks to wear, he'll say "whatever's comfortable." If asked what should a runner eat the morning of a race, he will tell you what's most recommended: a light breakfast of porridge, or fruit. However, he'll tell you honestly that sometimes his pre-race meal often consists of the complete opposite of what's recommended: "I love an Irish fry – sausages, bacon, eggs, beans, potatoes."
Sometimes a fry is what gets him through a race, and running is what gets him through life. For him, that's what works. "My first mile is often my slowest," Ray says. This is true for his races and his life.
His advice? Don't try to do what he did. "Everyone has a thing," Ray says, "and everything in life you can overcome." When you hit a wall, ask yourself: "what is it that's really bothering me?" And then get rid of it. Find what works for you, and do that instead. Sometimes, all it takes is a cup of over-sweetened Lyon's tea with too much milk to get you out of the ditch.