The streets of Boston were filled with inspiration and determination yesterday as Marathon Monday arrived. Boston Marathon 2019 took over the town, with an estimated 30,000 athletes taking part.
Photo Finish in the Men's Elite Race
Lawrence Cherono won his Boston Marathon debut by a mere 2 seconds in a sprint finish with second place Lelisa Desisa.
In this video, the dramatic test of speed, competitiveness, and perseverance can be seen between the two runners, in an unforgettable moment.
🤯🤯🤯
Incredible finish to the Men's Elite race at today's @bostonmarathon as Lawrence Cherono just beat Lelisa Desisa!

Congratulations to all who finished. 👏#Boston2019 #LondonMarathon pic.twitter.com/LDadfJ1no2

— Virgin Money London Marathon (@LondonMarathon) April 15, 2019
The Men's Elite Race Results were as follows:
1. Lawrence Cherono (2:07:57)
2. Lelisa Desisa Benti (2:07:59)
3. Kenneth Kipkemoi(2:08:07)
4. Felix Kandie (2:08:54)
5. Geoffrey Kirui (2:08:55)
Women's Elite Race
Worknesh Degefa is your 2019 Boston Marathon Women's Elite Champ! pic.twitter.com/QiHaVnMh5o

— Boston Marathon (@bostonmarathon) April 15, 2019

This was Degefa's first attempt at a WMMajors race, and she certainly made her mark as the 8th Ethiopian woman to win the race.
Kenya's Edna Kiplagat wasn't far behind, finishing 42 seconds later.
Women's Elite Race Boston 2019 results:
1. Worknesh Degefa (02:23:31)
2. Edna Kiplagat (02:24:13)
3. Jordan Hasay (02:25:20)
4. Meskerem Assefa (02:25:40)
5. Des Linden (02:27:00)
Men's Push Rim
Daniel Romamchuk was the first American to win the push rim since 1993, and is also the youngest person to have won it at just 20 years old.
Men's Push Rim #Boston2019 results:
🥇Daniel Romanchuk🇺🇸 (1:21:36)
🥈@m_soejima🇯🇵 (1:24:30)
🥉@marcelerichug🇨🇭 (1:26:42)
🏅@Pikester86🇺🇸 (1:27:09)
🏅@ErnstvanDyk🇿🇦 (1:27:23)

— Boston Marathon (@bostonmarathon) April 15, 2019
Women's Push Rim
Women's Push Rim #Boston2019 results:
🥇@manuelaschaer🇨🇭(01:34:19)
🥈@tatyanamcfadden🇺🇸 (01:41:35)
🥉@madiderozario🇦🇺 (01:41:36)
🏅Eliza Ault-Connell🇦🇺 (01:41:46)
🏅@KenyanScaroni🇺🇸 (01:42:34)

— Boston Marathon (@bostonmarathon) April 15, 2019
Irish Runners in Boston Marathon 2019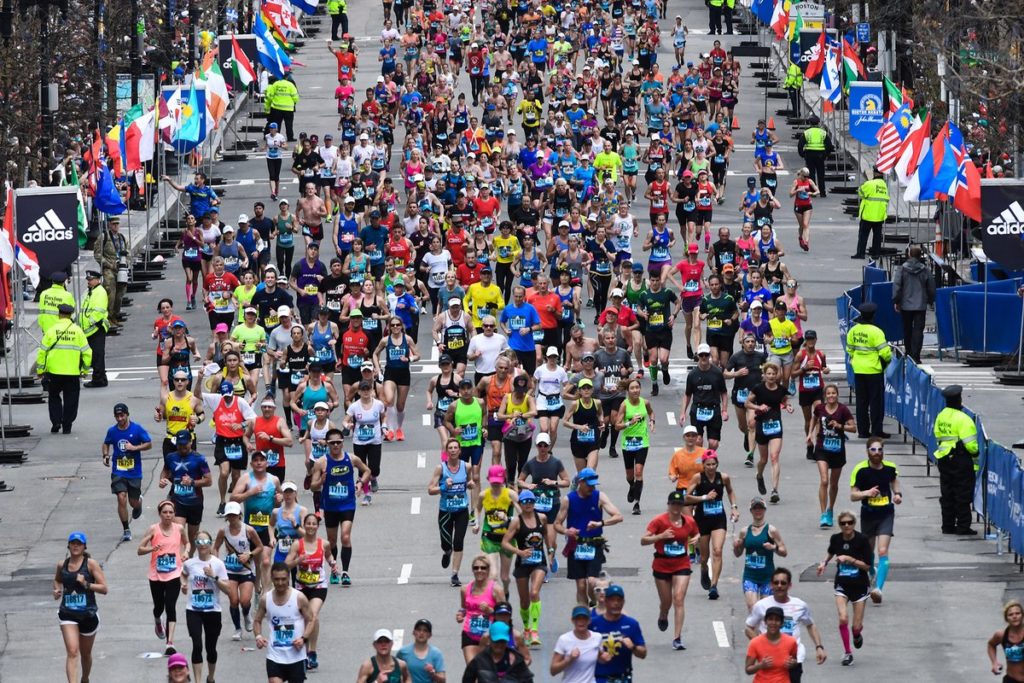 The Irish participants held their own, with Fionnuala McCormack finishing 11th overall in the woman's division with 2:30:38 – 44 seconds faster than her previous personal best.
McCormack was just six seconds behind tenth place Betsy Saina, and just fell short of a qualifying spot for the Tokyo Olympics 2020.
The first ten finishers of any of the five marathon majors are ensured a qualification for the Olympics, which has a qualifying time of 2:29:30.
However, McCormack still achieved major ranking points that still give her a short at Tokyo.
The Top Ten Irish Boston Marathon Finishers
1. Fionnuala McCormack – 2:30:38
2. Seamus Fearon – 2:37:12
3. Brian Lenihan – 2:38:23
4. John Kinsella – 2:39:47
5. Donal Coakley – 2:40:02
6. Vivian Foley – 2:42:04
7. Cathal O'Reilly – 2:44:18
8. Ger Copeland – 2:50:33
9. David Walsh – 2:53:11
10. Samuel Guinness – 2:53:33
Ireland was very well represented with over 200 Irish runners taking part.
Back safely, in bits, but #BostonMarathon done. Just Tokyo left for Aileen to complete the set for the six star finisher. (New York, London, Berlin and Chicago) already done. 👏🏻👏🏻👏🏻 pic.twitter.com/M79OCTo7WU

— Matt Cooper (@cooper_m) April 15, 2019
A big congratulations to everyone who finished. And if you're feeling inspired, here's how to qualify for Boston Marathon 2020.