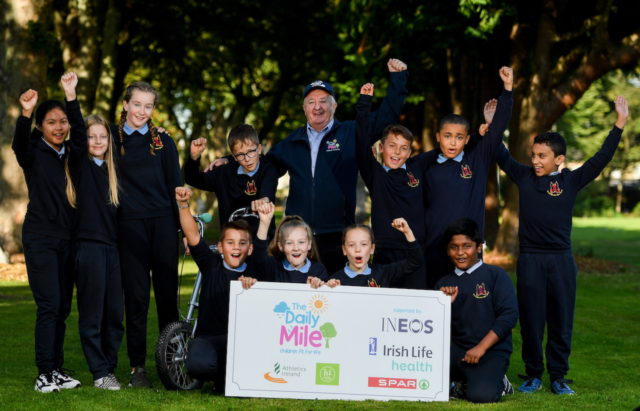 As part of the European Week of Sport, Athletics Ireland in association with Dublin City Sport and Wellbeing Partnership on Tuesday hosted The Daily Mile in Action for invited parents and media at Scoil Mhuire Gan Smal, Inchicore. 
Since launching in Scotland in 2012, The Daily Mile has grown exponentially with over 5,000 schools currently participating worldwide. Since the launch in Ireland only last April almost 300 schools have already registered for The Daily Mile. The benefits of this fun and free physical activity are numerous, improving children's physical and mental health and wellbeing, their focus in class, and their fitness levels.
Athletics Ireland has been appointed as the hub for the promotion and development of The Daily Mile in Ireland in collaboration with Local Authorities and Sports Partnerships.
"We are delighted to be leading this wonderful Primary Schools initiative that can make a great impact on the fitness, health, and general wellbeing of school children all over Ireland, "Athletics Ireland President, Georgina Drumm said. "Athletics Ireland is fully committed to encouraging all Primary Schools to embrace The Daily Mile. "We have already seen in Primary Schools like Scoil Mhuire Gan Smal in Inchicore that the impact of The Daily Mile can be transformational – improving not only children's fitness but also their concentration levels, mood, behaviour and general well-being. "
Brendan Griffin TD, Minister of State for Tourism and Sport attended this exciting Primary Schools media day.
The Minister of State for Tourism and Sport is also fulsome in his enthusiasm for The Daily Mile: "The overall simplicity of "The Daily Mile" is to be admired. There is no extra cost, no extra equipment or sports kit.  This initiative is all about getting children out into the fresh air and being active. There is no emphasis on winning or competition; it is simply about having fun.  The impact of this type of engagement can be transformational – improving not only children's fitness but also their concentration levels, mood, behaviour and general well-being. Finally, I would like to extend my thanks to Athletics Ireland, their partners, and of course the schools and teachers themselves, for their drive and commitment to the Daily Mile initiative."
Anthony White, Manager of The Daily Mile Ireland is motivated in getting every Primary School in Ireland involved in the initiative. "The Daily Mile is so simple but so effective. It benefits not only children's physical health but also their mental health. Our aim is to give every primary school child nationwide the opportunity to take part in The Daily Mile. We would like to thank Sport Ireland, Healthy Ireland and Minister Griffin for supporting our ambitious goals and objectives for the initiative."
Schools interested in starting The Daily Mile can find out more and sign up for free at www.thedailymile.ie