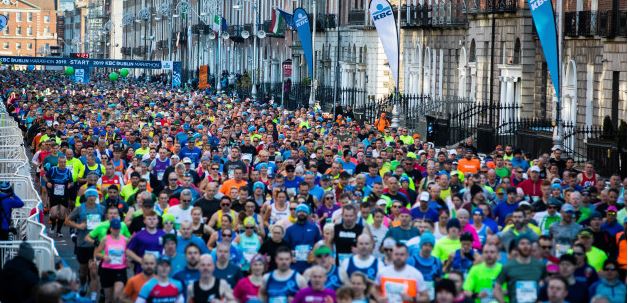 The 2020 KBC Dublin Marathon has been cancelled due to the coronavirus pandemic
The race was due to be held in the capital on Sunday, 25th October. Race organisers announced the news this morning and have said all entries for the marathon and the race series will be valid for the 2021 races. For those who do not wish to avail of this, a full refund option is available.
For the first time in 41 years, there will be no marathon in Dublin on the October Bank Holiday weekend.
In a statement, race director Jim Aughney said: "We know this is extremely disappointing for all runners, especially those who secured marathon entries.
"We made the difficult decision in the best interest of the health and wellbeing of all those involved in making our events such a success from runners, supporters, volunteers, sponsors, to suppliers. We explored many alternatives for running the events safely but ultimately none were viable."
Organisers have hinted at the prospect of staging a virtual race, with details to be revealed in the coming weeks.
KBC Dublin Marathon 2021
While elite athletes and regular participants were guaranteed places in the race, organisers switched to a lottery system this year to deal with demand issues.
Details regarding the potential reallocation of lottery places as a result of refunds will be made in early 2021.
As a result of the cancellation, Athletics Ireland has confirmed that the National Marathon Championship, scheduled within the event, has been cancelled.
https://twitter.com/dublinmarathon/status/1262669649780629504
All the other major spring marathons such as Boston and London races were postponed until the autumn.
Major question marks remain over whether they will now go ahead as the Berlin marathon which was due to take place in September has already been cancelled.