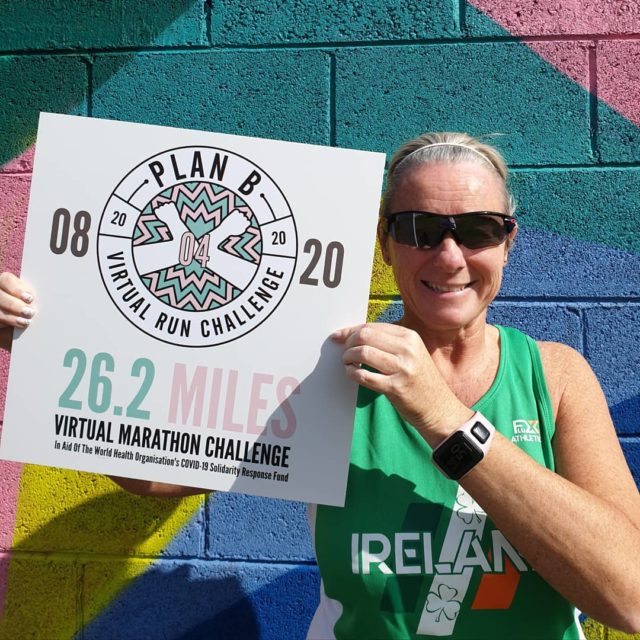 Tara Black was supposed to run the 2020 Virgin Money London Marathon this April, after applying to race in the lottery she was accepted on her first attempt back in October last year, just three weeks before taking part in the KBC Dublin Marathon.
Excited and grateful for the opportunity to accept a slot in London, her winter training was going according to plan despite the weather being less than kind to running outdoors in the early months of 2020,  however, she battled on and embraced the challenge of training in all kinds of weather for a spring marathon, joining Irish Mountain Cardio in January as part of her training program she was pushing herself outside her comfort zone in more ways than one.
"Having spent the last 8 years road running, running up a mountain in winter in Ireland in the freezing cold was another level. After the initial shock of the first week, I LOVED IT! Hooked!. So I spent the next 8 weeks combining training between road and mountains and I was feeling good. "
Classed as a diabetic she has to dial in her nutrition carefully to ensure she is fuelling her training properly and safely.  She made great progress in not only managing this but also shifted some weight that had been on her goal list for quite a while, another goal achieved on the road to London 2020.
She had the nutrition box ticked, the mountain running box ticked, 8 weeks training in adverse weather conditions ticked she was going to ROCK LONDON! Or was she? Covid-19 arrived in Ireland and the UK at the beginning of March, ten weeks into her marathon training program.
All around the world, marathons and large events were cancelled,   movement was restricted to essential journeys only and exercise. We were officially in lockdown. Essential businesses closed, her (digital print house) was closed for the foreseeable future and her husband was put on temporary lay off by his employer at this time. More than ever for her mental health and sanity she needed to keep running, keep active, and keep moving forward.
On the 13th March, the email she was dreading eventually came from Virgin Media Money, the London Marathon was postponed until 4th October 2020.
Tara Said "I had expected it but I was still gutted when that email arrived. While I realised the logic and reason why the London Marathon was cancelled I couldn't help but feel a sense of loss and frustration. 10 weeks of watching every morsel I put into my mouth, training in crappy Irish winter weather, plus running up mountains in crappy Irish weather for nothing. I have to tell you I ate 2 packets of Doritos that night and I don't mean the regular packs I mean the "share" packets and I opened the bottle of Hendricks and the Easter Eggs I had hidden in the wardrobe from the kids and I tucked right in. I'd love to tell you that binge lasted one night but I'd be lying. For the rest of the weekend and late into the following week I was submerged in a state of self-pity and justification for my binge eating."
So what prompted her to come out from behind the haze of Doritos and Easter Eggs?
"I came across findarace.com a virtual race in aid of the World Health Organisation Solidarity Response fund. Run the distance you trained for, I could sign up for a virtual marathon and help the fight against Covid-19. This was a win-win situation and I began focusing on the rest of my training and planning how I could run a marathon safely under the current lockdown restrictions."
As well as the London Marathon she had signed up for the Ibiza Marathon on 4th April. That too was cancelled, however, she thought the perfect time would be to run the marathon between 4th April (Ibiza) and 26th April (London) so set the date for Wednesday 8th April. Now she just had to tell family members and wing lady who all thought she was bonkers and questioned her sanity. Why? Was the recurring question.
"It was something I needed to do for me and for all those people who hadn't the opportunity to run but most importantly a 10-year-old girl who watched her mammy lace up and show up for the past 10 weeks, through hail, rain, sleet, and storms. A young girl who watched her mammy push on through every obstacle, every wall, every negative comment online about running a marathon during a pandemic (yes there were many) but here's the thing; Our world may have gotten smaller but that does not mean we have to give up on our hopes and our dreams. The hopes and dreams we worked hard to achieve. So on the night of Tues the 7th April, I got my kit ready, my hydration, my fuel etc. I had to carry that myself because there would be no grazing tables, hydration stations, portaloos or crowds to cheer me on and motivate throughout this marathon. It was all down to me and my family's encouragement, that was the only thing that was going to get me through those 26.2 miles. "
At 5 am on the 8th April she was out the door, her husband on his bike cycling beside her as she began the 26.2 miles in the early hours of the morning, running loops around her local park.
So what was it like?
"I started off pretty well, I enjoyed those first few miles, the stillness, the calmness knowing the world slept while I ran. It was very therapeutic. I focused on my rhythm, my movement, my breathing, and the targets, those stepping stones I'd set. One loop at a time. I found my rhythm easily enough and the miles went by pretty easily until I hit the 10-mile mark, running loops is soul-destroying, running loops alone, in the early hours of the morning is demoralizing and I was in real difficulty at this point questioning whether I could do this. Which is completely bonkers because 2 weeks previously I had no problem completing my 20 mile run so what was different here? Ah, the 3 hours sleep didn't help. I got to the halfway mark and my husband had this bright idea of changing my clothes and my trainers to a fresh pair. I didn't understand his logic but I was willing to give anything a go because my motivation at the halfway point was waning and waning fast. So off he popped on his bike up the road to our house and 10 minutes later produced a fresh kit and trainers for me to change into behind a bush in our local park. It was just after 7am so there was no one in the park and the sun had just come up. With my new kit a banana and some Isagenix Nitro, I set off for the second half of my marathon. Almost instantly I felt better, revitalized, positive, and knew I was going to complete this challenge. I was back!  Until the last 5km. Run the first third of the marathon with your head. (be smart, watch the pace), run the second with your legs (trust your plan & training) run the last third with your head & heart (recall why you are doing this, think positive). And that's exactly what I did because those last 5km running loops were sheer torture. I was exhausted. Physically emotionally and mentally. When you are suffering, your internal dialogue starts to go against you rather than with you. So I began to sing the upbeat song that was playing in my headphones which allowed me to focus on my running rhythm, it was extremely powerful."
Be Brave and Keep Moving Forward
Usually, at this point in a marathon, the crowd, adrenaline or your wing ladies will carry you to the finish line. I had none of those. All I had was myself, my courage, and my ability to dig deep. My finishing was down to me and no one else. Having to recall why I am here, the months of training, my daughter, my family gave me the strength and courage to run that final 5km. The body will always do what the mind tells it, I had no choice but to trust my mind to tell my body to keep going, keep moving forward. I had my own gold medal in mind. Seeing my daughter at the finishing point jumping up and down waving, willing me to run towards her is a feeling I will never forget. The finisher's hug that I never got from her at a finish line of the previous marathons I had run was priceless. Often these places are too busy and you are filtering through a pen and out into a "public area" or meeting point. That hug and those words "mammy you did it" was all I needed – No medal, no crowd, just those words. If she can't see it she can't be it."
What's Next?
I have deferred London Marathon until April 2021, too much uncertainty surrounding whether it will go ahead or not, I hope that Ibiza and Dublin will go ahead, I will continue to train for these events.   In the meantime, this will be the marathon I will remember most. The marathon that nearly never was, Plan B. The marathon I will be most proud of.

Do Your Little Bit of Good
What was her finishing time?  4:32 which is quite an achievement considering she got three hours sleep the night before,  changed kit halfway and 27 miles was the total when she finished and not 26.2. Running any marathon is hard, running a marathon alone during a pandemic requires a special kind of mental strength and endurance. It's no small feat. "Do your little bit of good where you are; it's those little bits of good put together that overwhelm the world" – Desmond Tutu.
To date runners all over the world have raised £25,000 for the World Health Organisations Solidarity response fund. That's impressive. By lacing up and showing up throughout the pandemic they have raised vital funds to help in the fight against Covid-19.
To support Tara and follow her plans for 2020 and beyond follow her on Instagram @womenwhorunIreland or join their Facebook Group Women Who Run | Ireland where a group of women motivate and support each other through this pandemic and running events.