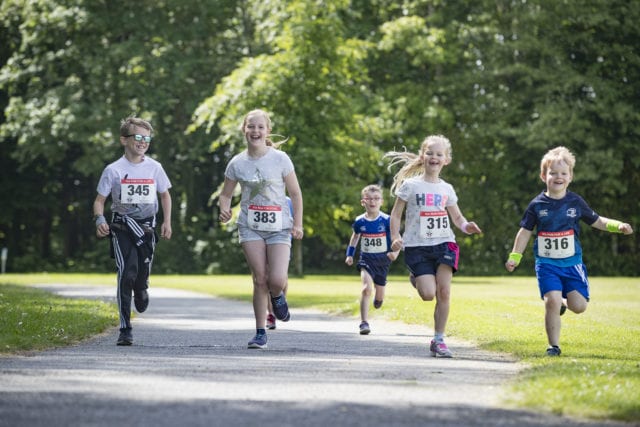 Hundreds of people of all ages lapped up the summer sunshine when they came out to support an important cause which is close to many of their hearts, organ donation, by taking part in the Irish Kidney Association's 'Run for a Life' family fun run which took place at Corkagh Park, Clondalkin,  on Saturday 19th May.
While the royal wedding was in full flow, another loved up kidney transplant couple Debbie Laffan and Reg Plunkett from Newbridge were running for their lives while celebrating their 12th wedding anniversary. Debbie donated one of her kidneys to Reg in October 2015. Also, ahead of their nuptials in Lisbon later this year, were Ciaran Long from Drumcondra, Dublin 9 and his fiancée Lisa Burke from Ardee, Co Louth. Lisa was the first lady to cross the 5km distance race and Ciaran came in second place in the 10km men's event.
Honouring his deceased organ donor at the event was Ken Mulkerrins (age 39) from Lucan, Dublin who underwent a heart transplant in Spring 2016. His brother-in-law Joseph Dunne is enjoying the successful longevity of his kidney transplant which he received 17 years ago. Later this summer, Ken, a former Irish Freestyle Kayaking Champion, will cycle 212 kilometres from Dublin to the symbolic Circle of Life Garden in Salthill, Galway to promote organ donation and he has set up a Facebook event page for this challenge which is aptly called 'Powered by The Gift of Life'.
Great Day For All the Family
Also taking part in Run for a Life was Ken's wife Pamela, their two young children, Conor age (9) who runs with Lucan Harriers and daughter Kate (age 6). Ken said "our family has participated in Run for a Life every year since it began and it's a great day out and an event we would not want to miss.  For many years we took part in it to celebrate the kidney transplant which my brother-in-law Joseph received when he was 25 years old. We didn't expect that more recently I would also need a transplant, a heart transplant, which saved my life two years ago. Two members of our family are alive today because of the generosity of two organ donors."
Promoting Organ Donor Awareness
Run for a Life Race Organiser, Colin White explained, "Our annual Run for a Life, which is now in its tenth year, is a great day out for all of the family. It is fantastic that the sun shone throughout this year's event and that almost 500 people including transplant recipients and their families and friends from all over the country turned up to support it. It's also encouraging to see several Athletics Clubs including Tallaght AC, Dunboyne AC, Newbridge, Lucan Harriers and many other running clubs and local companies represented such as Runners Support Page and a large contingent of staff from Klas Telecom. The Irish Kidney Association sees this charity fundraiser as a positive way to promote organ donor awareness. The loyal support for this event is wonderful with many making it a feature on their annual calendar."
Members of the inspiring Transplant Team Ireland who will participate in the 10th European Transplant & Dialysis Games in Cagliari, Sardinia next month showed up including newcomer to the team and dialysis patient Verina Borissova from Bulgaria and now living in Tallaght, Dublin.
Organ Donor Cards can be obtained by phoning the Irish Kidney Association tel. 01 6205306 or Free text the word DONOR to 50050. Visit website www.ika.ie/get-a-donor-card or download the 'Digital Organ Donor card'.
For more information on the event visit www.runforalife.ie