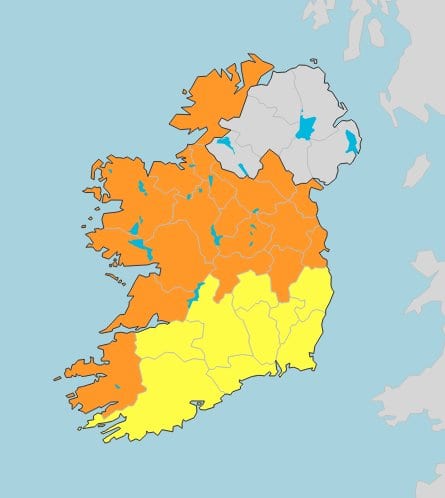 The latest Met Eireann updates suggest that a Status Red Alert may be possible as Storm Ali may bring gusts of wind over 130km/h.
The criteria for a Status Red Weather Alert is mean speeds of over 80km/h or gust speeds of over 130km/h.
Current Weather Status
Currently, there is a yellow and orange status in place.
The orange alert is in place until 1pm for the following areas: Connacht, Cavan, Monaghan, Donegal, Dublin, Kildare, Longford, Louth, Offaly, Westmeath, Meath, Clare and Kerry.
The Yellow alert is a nationwide alert that is in place until 5pm.
Please make sure to take care when going outside. The weather warnings mean there is potential for fallen trees blocking roads or causing damage to buildings and well as road closures and large waves.