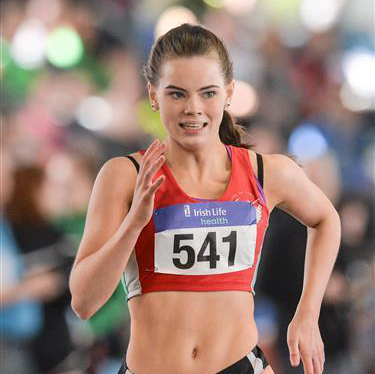 Athletics careers are fleeting at best. This month we remembered one of New Zealand's finest, the late Sir Peter Snell. His time at the top was only five years, albeit those were the amateur days when many had little option but to concentrate on earning a living outside of sport. Olympic Games 800m gold in 1960. Then in 1964 he became the first man since 1920 to do the 800m/1,500m double. No man has achieved this since.
Going the Distance
So, it is great to see promising young athletes who are prepared to take tough decisions in order to really "give it a go" while they have the chance. Making the effort now to eliminate questions and regrets in the future.
Last winter saw Lauren Roy (City of Lisburn AC) suddenly propelled into the limelight at 18 years of age. She took the Irish Indoor 60m title and lowered her personal best to 7.39sec. Then, following a deserved selection, she made her senior individual Irish debut at the European Indoor Championships in Glasgow. She already had represented Ireland as a senior in a Diamond League 4x100m relay team in 2018. She broke the 12 second barrier in the 100m the same year. Lauren is not limited to the shorter sprint either, in fact, she prefers the 200m in some ways.
All this when still a schoolgirl and juggling her A-Level studies.
Lauren had never even realised that she had real ability in running until she won gold in her first All Ireland Schools Championships in 2015 (100m). She had been more involved in gymnastics and hockey up until then.
Battling on
The summer season in 2019 did not work out as planned. Lauren fought on through, despite the niggles and setbacks. Her love of the sport helped to keep her going. Her attitude is commendable. In her own words, "Sometimes as an athlete you can get carried away and be disappointed instead of looking at the bigger picture and realising the opportunity that you've been given and others haven't."
So where to from here? Lauren took the brave decision to take a year out from studies to work and concentrate on sport. She has training camps planned and hopefully races abroad.
Recently she was buoyed to become a Power NI ambassador, receiving some financial help via the Mary Peters Trust.
2020 is a big year, with the World Indoor Championships approaching and the European Championships in the summer (not to mention the Olympic Games) this young lady's progress is well worth watching.
Article by Lee Maginnis
Lee Maginnis is a keen sportsman who lives in Northern Ireland. He likes the outdoors and is interested in wildlife.