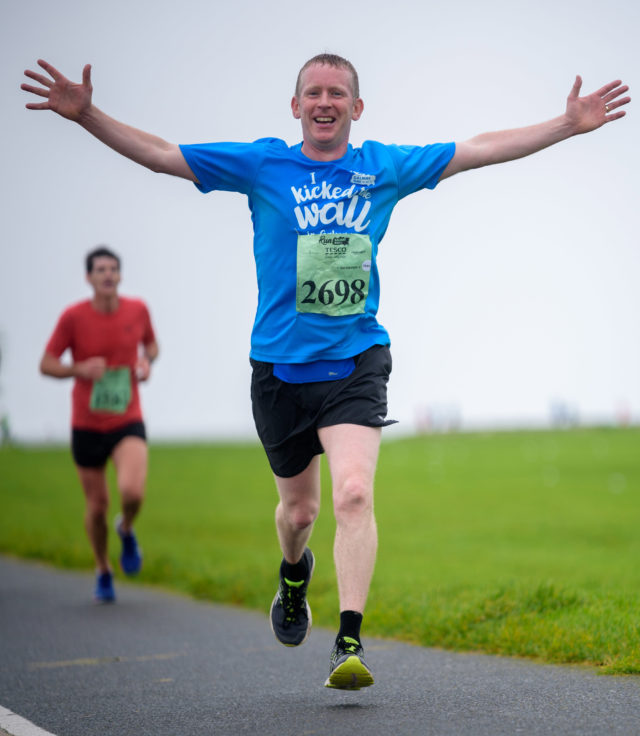 Saturday, October 5th saw the 17th edition of Run Galway Bay, the largest multi-distance running event in Galway City with over 4,000 participants undertaking a 10k, Half Marathon or Marathon along the shores of Galway Bay. Despite the weather, runners, joggers and walkers stormed ahead with nervous excitement and braved the conditions. A flatter and friendlier course upgrade resulted in fast times, personal bests and lots of enjoyment for participants, partners and volunteers who embraced the wind and rain and finished strong.
Results RoundUp
First to take to the starting line at 8.30am on Saturday morning were three Irish Cross Country Skiers members of the Irish Snow Skiing Team including Winter Olympian Thomas Maloney (Westgaard) who successfully defended his title in the roller ski marathon. The following is a breakdown of the top three winners, view full results for each category here.
Men's Full Marathon
Michael Canty (Moy Valley) who held a strong pace over the 26.2 miles was first to finish in 2:37:28 giving him a generous lead over Brian Leahy (Raheny Shamrocks) in 2:41:31 in second and Peter Burns coming in third in 2:43:07.
Women's Full Marathon
In the women's Marathon, it was Jenna Burton who ran to victory, in what was only her third marathon, finishing in 3:15:43, she was closely followed by Brittany Simone Spurrell in 3:17:05 who was completing her fourth marathon, Louise Jones from Belfast rounded out the women's podium to take third in 3:23:17.
Men's 10km
Eoin Everard and Grace Lynch the favourites going into the 10k event claimed victory. Everard, the Kilkenny man was on top form in Galway finishing in 31:48 with a significant lead to Kevin Glynn's 35:36 in second and Dave Keenan in 36:11 taking third place.
Women's 10km
Grace Lynch was third fastest runner overall on the day clocking 35:44 to win the women's race. Sinead Whitelaw (Mullingar Harriers) finished in 38:49 in second place with Linda Grogan 39:43 in third.
Men's Half Marathon
In the Half Marathon all eyes were on Sergiu Ciobanu and Freddy Keron Stuk who battled it out on the ground over 13.1 miles, it was Sergiu who broke the tape on the day, the former champion in Galway making easy work of the distance in 1:06:29. The Clonliffe Harriers man held a significant lead over Raheny Shamrocks Freddy Keron Stuk who finished in second place in 1:11:11, third place went to Gary Higgins from Tri Lakes Tri Club in 1:11:14.
Women's Half Marathon
The closest finish of the day was in the women's Half Marathon where Adrianna Mulligan and Heather Noone had a photo finish on the line with just a split second separating them. Running together for most of the race, it was Adrianna Mulligan who edged out Heather Noone to take the title on the line in 1:22:04. Galway City Harriers Grainne Ní Uallachain took third place in 1:24:46