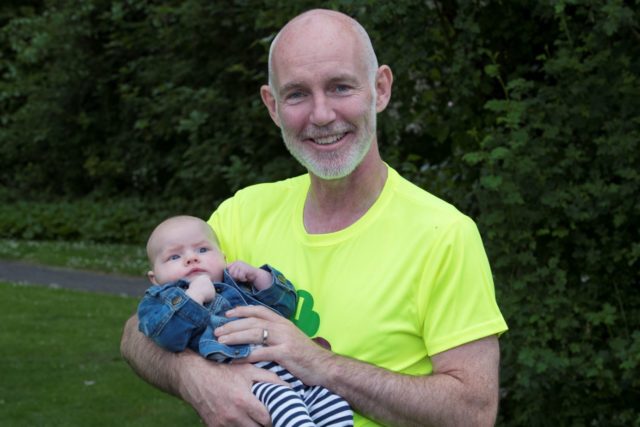 An eleven year old girl, Keela Smith, celebrated the 10th anniversary weekend of her life saving heart transplant by joining Ray D'Arcy and close to 500 hundred others who donned their running shoes to take part in the Irish Kidney Association's family fun run, Run for a Life, in support of the charity's work to promote the importance of organ donation and transplantation.
Run for a Life
Keela from Blackrock, Cork was accompanied by her mother Orla as they joined RTE's Ray D'Arcy at the start line to count down the final seconds to the run's 2pm start time. The event saw participants of all ages and levels of fitness come out in support at Corkagh Park, Clondalkin, Dublin 22 on Saturday 25th May.
Orla Smith said, "Being here at Run for a Life is such a fitting way to mark the 10th anniversary of the weekend in which Keela had her life-saving heart transplant and it's a wonderful surprise for her to meet Ray D'Arcy, who is so passionate about organ donation. Our lives were turned upside down on Easter Saturday ten years ago when Keela became suddenly and critically ill with a virus that damaged her heart.
Our family is deeply grateful to Keela's donor family who in their darkest hour ten years ago made the selfless decision to donate their child's organs.  Keela is living and breathing proof of this poignant legacy."
Ray D'Arcy, Ambassador for Organ Donor Awareness 2019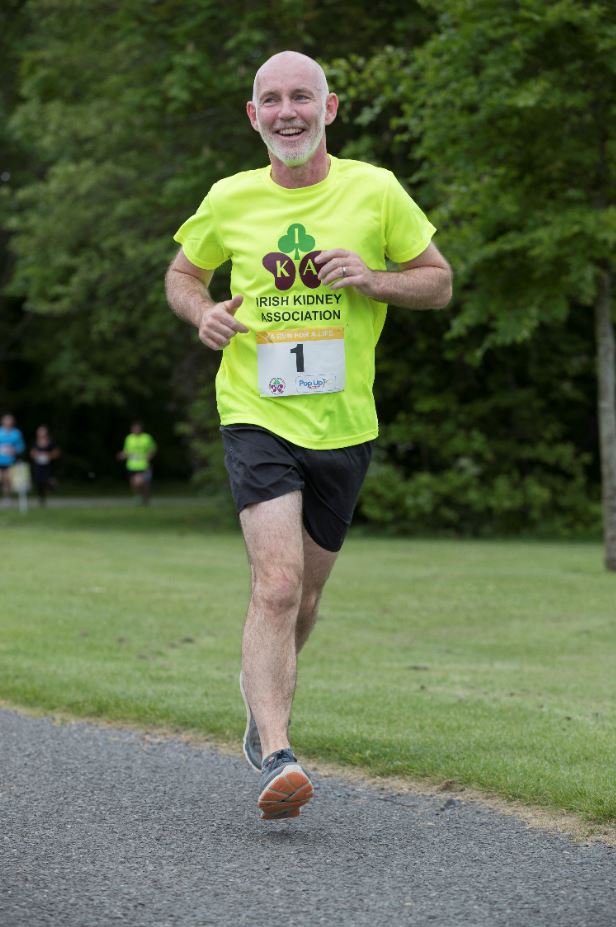 Ray D'Arcy, the ambassador for organ donor awareness 2019, is the first national ambassador to have run in the event which is now in its eleventh year. Ray said, "It's great to be part of a life-affirming event like this. It fits perfectly with the many stories that I've heard about organ donation and the life-changing effect they've had on the recipients and their families. We need to get people talking with their loved ones about organ donation… if they don't know how you feel it's impossible for them to make an informed decision when the unspeakable happens."
Run for a Life Race Organiser, Colin White explained, "Our annual Run for a Life is a great day out for all of the family. It is fantastic that the weather was favorable throughout this year's event and that nearly 500 people including transplant recipients and their families and friends from all over the country turned up to support it.
It's also encouraging to see several Athletics Clubs including Tallaght AC, Dunboyne AC, Newbridge, Balbriggan, Aughrim, Ferbane, Lucan Harriers, Raheny Shamrocks and many other running clubs and local companies represented by the likes of the large contingent of staff from Klas Telecom. We are also grateful to all our volunteers including members of South Dublin County Council Volunteers Corps. The Irish Kidney Association sees this charity fundraiser as a positive way to promote organ donor awareness. The loyal support for this event is wonderful with many making it a feature on their annual calendar."
A regular supporter of the annual event, Prof. Jim Egan, a lung physician at the Mater Hospital and the Director of Organ Donation Transplant Ireland (ODTI) once again showed up and ran the 5km distance.
Promoting inclusion and disability awareness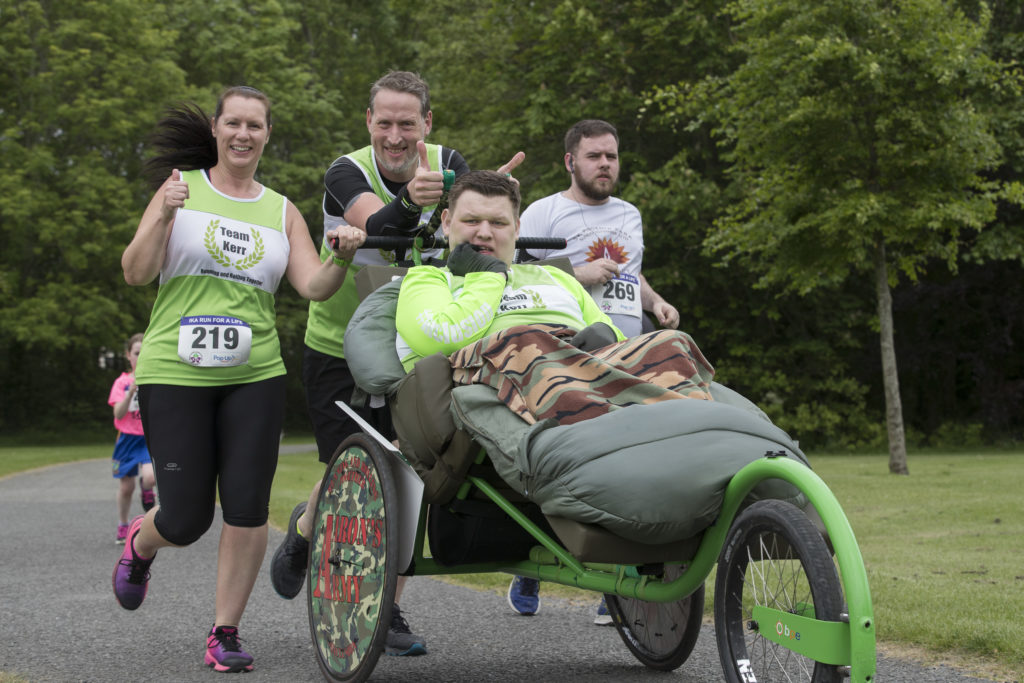 Team Kerr, a family from Co. Down, which includes transplant recipient Aaron Kerr (21) who has complex needs and is a full-time wheelchair user, his kidney donor father David and mother Sandra took part in Run for a Life. The Kerr family has run 36 marathonstogether all over the UK and Ireland whilst promoting inclusion and disability awareness. www.teamkerr.net
Transplant children taking part
Some of the other children taking part in Run for a Life were 5 years old Sam Kinahan from Baldoyle, Dublin who has been scheduled to undergo a living donor kidney transplant with his donor father Ivan early next month. Sam's older sister Ali (age 8) was placed 3rd in the under 18s category of the 2.5km event. 8 years old Eabha Devitt from Dunboyne, Co Meath who underwent a liver transplant when she was two years old took part in the 2.5km distance with her mother Ciara and sister Muireann, all members of Dunboyne AC. 2 years old Cialan Walsh from Waterville in Kerry, who will require a kidney transplant in the near future as his kidney function is in decline was brought to the event by his mother Fiona. Representing Children's Liver Disease Ireland (CLDI) was Reuben Kiernan (age 5) from Finglas, Dublin who has a liver condition, with his parents Natalie and Darren.
Kidney transplant recipient Jack O'Brien (age 17) from Navan, Co Meath a regular to the annual Run for a Life event, crossed the finish line in 2nd place in the under 18s category of the 2.5km event. Jack's family, including his kidney donor mother Cassandra and father Wayne, sister Maisy and grandfather Gerry also took part.
Proud transplant Fathers and other recipients
The weekend of Run for Life marked the first anniversary of a life changing kidney transplant for former Roscommon club hurler David Beirne from Knockcroghery who just two months ago became a first-time father to baby Ailbhe. Proud parents David and his wife Irene Nestor walked the course pushing along their baby daughter.
Another proud father taking part was Martin Traynor who ran with a running group from his native Skerries, Dublin. Last month he and his partner Mary became parents to daughter Shae, their fourth child to arrive since he received two kidney transplants. Martin's first transplant was from living donor aunt Vivienne Traynor, the RTE Courts reporter, and his second transplant was from a deceased donor.
Jordan Pim, age 16, from Fenor, Waterford encouraged her parents Jeni and Nigel to join her in Run for a Life to celebrate her grandfather Alan Pim reaching a milestone 80th birthday this year, eight years after he underwent a successful living donor kidney transplant from Jordan's kidney donor father Nigel. They were spurred on by some motivational guidance from fitness expert Karl Henry.
Other participants from Waterford included IKA board member Frances Moynihan and her kidney transplant husband Joe from Ballinamult, Dungarvan, Co Waterford.
Gavin Prendergast (22), from Artane who underwent two kidney transplants,  both from his donor parents, also showed up to support Run for a Life and was delighted with his kidney donor father Kevin's success at the event. Kevin, a member of Raheny Shamrocks AC, came third in the Men's 5km event. When Gavin's first transplant failed his mother Jennifer then stepped up and donated a kidney to him and the operation took place just under a year ago.
A large group of runners, Team PB, from Navan, Co Meath were brought by bus to the event by Paraigh O'Brien of Navan Bus for the race motivated by local man Jerome Lyness from Emmett Terrace, Navan who underwent a kidney transplant last year.
Team PB member Paul Gleeson from Herbert Place, Navan proved to be a powerhouse on the day running his way to victory by coming 1st in the 10km distance with a finish time of 37.32 just hours after winning a 5km race in his local Navan Park which he completed in 17.20. Following Run for a Life Jerome and his wife Deirdre returned home to make the final preparations for a fundraiser in aid of the Irish Kidney Association which they had organised for that night in the Stonehouse Pub, Navan. The event included music by local bands Sky Fever and Twister and with funds still being counted their charity fundraiser is expected to raise in excess of 1000 euro.
Lisa Carney from Raheen Close in Tallaght, who underwent a kidney transplant in 2017 took part along with her sister Amanda, both members of local jogging group Coach Approach.
Living with Kidney Disease
The McGill family from Portlaoise said they were delighted to support the fun run for the second year in succession as it represents a cause very close to them with several members of the family having Polycystic Kidney Disease (PKD). Dermot McGill's mother Josie underwent a kidney transplant in 2016 following almost a decade of dialysis treatment and one of Josie's sisters has undergone two kidney transplants. Dermot's wife Brid, a fitness instructor, and their two children took part in the fun run along with Brid's friend Paula Guinan and her family, from Stradbally, Co Laois. Paula won the 10km ladies event.  Run for a Life was an especially poignant event for Dermot's cousins, the Harrington sisters, Grace and Trish, from Belmont, Offaly  who also took part, as their late mother, Veronica (nee Murphy from Clareen, Co Offaly), who had PKD, passed away last July at the age of 65.   Grace and Trish are members of Ferbane Athletics Club.
Volunteering as a marshal at the fun run was dialysis patient Susan Mulligan, from Castlerea, Roscommon (living in Dublin 8), and several members of her family have kidney disease (PKD) including her father who underwent a kidney transplant. Susan's sister Julie Sutcliffe who lives in Augrim, Co Wicklow is expected to commence dialysis in the coming months and she took part in the fun run with her children Andy and Jane.
Celebrating the 34th Anniversary of his Kidney Transplant
The first person to cross the line in the 2.5km distance was John Moran from Glasnevin who this year celebrates the 34th anniversaryof his living donor kidney transplant which her received from his brother Frank.  His wife Angela took part in the event also.
First Husband to Wife Kidney Transplant in Ireland
Taking part once again this year were regular participants at Run for a Life Deidre Crowe and her husband Ned from Carrick on Suir, Tipperary who made national headlines eleven years ago when they were the first couple in Ireland to undergo a spousal living donor kidney transplant. Following the operations Deidre, the kidney donor and mother of three, became a dialysis nurse.
Transplant Team Ireland
Members of the inspiring Transplant Team Ireland who will participate in the World Transplant Games in Newcastle this August were also there to support Run for a Life. Among them was Kieran Murray from Ramelton in Donegal family including his nieces Ava and Isabelle Keogh from Swords Dublin, daughter of Ross Keogh who sponsored Keoghs Crisps for all the Run for a Life participants.  Other members of transplant team Ireland who attended were Peter Heffernan from Skerries and Philip Kavanagh, from Arklow.
RACE WINNERS
MENS 10KM
Powerhouse Paul Gleeson from Navan, Co Meath ran his way in to victory for the second time on the same day winning the Run for a Life 10km Mens event under the banner Team P.B.  after winning a 5km event in Navan earlier in the day.  Second place in the 10km event went to last year's first place winner David Browne from Naas Co Kildare, a member of Newbridge AC. Newlywed Ciaran Long from Drumcondra, Dublin 9 came third in the 10km Men's event, having taken 2nd prize the year before.
LADIES 10KM
Paula Guinan from Stradbally, Laois was delighted to be the first lady to cross the finish line in the 10km distance for the second year in a row. Second place went to Linda Kenrick from Lucan, Dublin and third place went to Julie O'Loughlin from Naas, a member of Naas Triathlon Club.
MENS 5KM
The men's category of the 5km event was also won by a member of Tallaght AC, David Callaghan from Old Bawn. Five years ago his mother Pauline travelled to Australia to donate a kidney to her granddaughter. Members of Raheny Shamrocks took second and third place in the event with Eoin Connolly from Raheny coming 2nd and living kidney donor Kevin Prendergast from Artane coming 3rd.
LADIES 5KM
For the second year in a row, the first lady to cross the line in the 5km distance was Sharon Tighe from Kingswood Heights and a member of Tallaght AC.  The second place in the 5km Ladies event was Rebecca Shalvey, from Trim, Co Meath and Stephanie Cleary came in third.
The 'Run for a Life' family fun run was open to people of all ages and levels of fitness who could choose to walk, jog or run in the event, which offered prizes for winners in a choice of chip timed 2.5km, 5km and 10km distances. For more information on the event visit www.runforalife.ie
Organ Donor Cards can also be obtained by phoning the Irish Kidney Association tel. 01 6205306 or Free text the word DONOR to 50050. Visit www.ika.ie/get-a-donor-card or download the 'Digital Organ Donor card' to your smartphone.