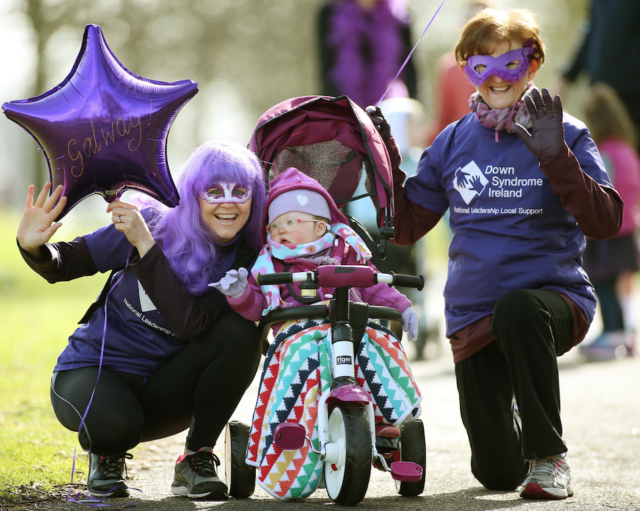 Down Syndrome Ireland (DSI), with the support of Today FM's Matt Cooper and Ireland's most capped female athlete Fionnuala McCormack, are encouraging people to put their best foot forward and take part in the third annual DSI 'Purple Run' proudly supported by MACE and help celebrate World Down Syndrome Day.
Run With Us
The charity is encouraging everyone to 'Run with us, not for us' as the event is a celebration of people with Down syndrome in Ireland. The Purple Run will take place on Saturday, March 24th at 11am, in the Phoenix Park, Dublin.
The event is open to all age groups and abilities and participants can choose to run, walk or push a buggy over the 5km or 1km distance, allowing all the family to take part. Registration for the event takes place online only at www.downsyndrome.ie and costs €20 which includes a 'Purple Run 2018' t-shirt. People with Down syndrome and under-sixteens can enter for free.
Fun For All The Family
The event promises to be lots of fun for all the family with face painters and music to keep everyone entertained. Down Syndrome Ireland is urging everyone attending the event to wear something purple such as wigs, hats, boas, bow ties, etc. in support of the 'Purple Run' and to celebrate World Down Syndrome Day. It is expected
Speaking about the upcoming event, Mary Doherty, President of Down Syndrome Ireland, said, "The Purple Run is more than just about creating awareness, it's a celebration of every person with Down syndrome and their families. We are so grateful to our new charity partners MACE for supporting the event this year and we are urging everyone to get involved in the Purple Run on March 24th which is guaranteed to be a fantastic fun event for all the family."
To register for the Purple Run and find out more information on Down Syndrome Ireland, please visit www.downsyndrome.ie or find them on Facebook and Twitter.