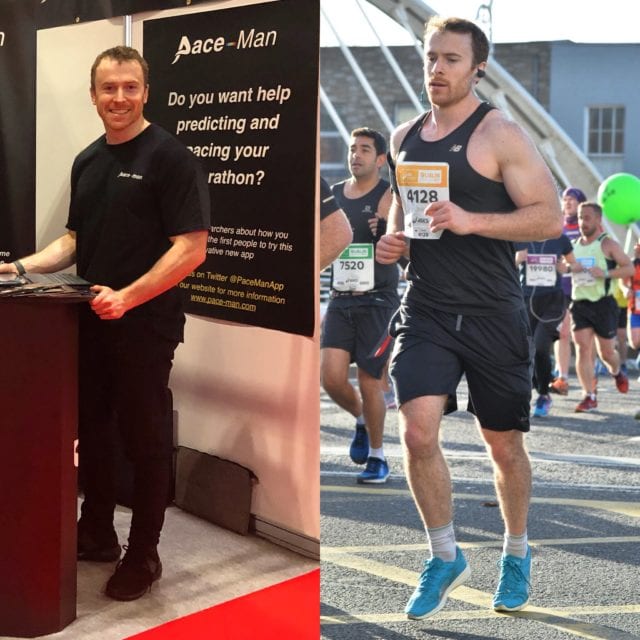 A team of researchers in UCD have designed an innovative new app that aims to prepare, predict and plan your marathon.
Is marathon running a science or an art?
For years the answer to this question has been buried in the anecdotes of successful runners, the training paradigms of their coaches, and at times, the hearsay that can be found within blogs, online platforms and running groups.
A vast network of scientific studies have investigated topics such as performance prediction, injury prevention, training and in-race nutrition, yet the views of hands-on experts and self-styled training influencers still possess the greatest clout among runners.
 Why?
Research in marathoning tends to reside in the silos of peer-reviewed scientific journals. Occasionally, it emerges (briefly) as part of a presentation at some kind of academic conference, only to return to the growing heap of unused and untapped research, which is considered increasingly redundant over time. Unless researchers can come up with a way in which they can practically provide this information to runners, then this current information void will never be filled.
So, to whom can marathoners turn to acquire advice?
Their coaches, who use their practical experience to develop various training programmes and guidelines. Many of these coaches even tap into the annals of scientific literature to inform their practice, provided it isn't behind one of the many paywalls of academic literature.
Undoubtedly, a number of knowledgeable experts exist, but there also exists a number who's advice may not be as helpful as they claim. But how does the runner figure out who's advice should be followed, and how they can become empowered to skip the middleman and access (and make sense of) the huge volume of scientific literature when most of it is locked up in subscription-based journals?
'It can be daunting and confusing, especially for novice runners who maybe aren't sure who they should trust or where they can access high-quality information', says Dr. Cailbhe Doherty, a researcher based in the Insight Centre for Data Analytics in University College Dublin. It is this confusion that Cailbhe and his colleagues are trying to target with their innovative, free to download app, Pace-Man. Pace-Man is a single platform that leverages the peer-reviewed literature on marathon running and massive datasets of marathon race times, with the aim of help runners plan, predict and pace their marathon.
Cailbhe explains, 'As a publicly funded study we are passionate about providing high quality, evidence-based solutions to real-world problems. That is our aim with Pace-Man.'
The team of researchers have harvested the publicly available race records for numerous marathon events, enabling them to assess the splits, finish times and pacing profiles of thousands of runners. This volume of data provides valuable insights into how factors such as training distances, gender and age can influence finish times. Working backwards from here the researchers can develop prediction times and pacing profiles that are based on an individual's information and the specific marathon course that they plan to run.
The Pace-Man team are now seeking to evaluate whether their technology is effective in supporting runners to reach their target finish time and help them avoid hitting the dreaded wall. They plan to do this by recruiting runners to use the app within the Dublin marathon. The app provides live audio feedback to runners in-race, alerting them as to whether they should speed up or slow down to help them reach their target.
'The idea is that it will act as your own personal coach, both before and during the race itself. We are looking for runners to use our app in the Dublin marathon as part of our research. The app is free to download on iTunes, and runners would need to run the marathon with their phone on them. What we want to see is whether those who use our app achieve their target times more than those who do not use it. We know running with a phone may be strange so to help runners get used to it, it is free to download and can be used in their training too'.
Cailbhe and his team are also keen to release their research beyond those that simply use the app. Cailbhe himself has been inspired by this research to undertake the Dublin marathon in October and is documenting his journey week by week on their website and social media platforms. Each week the team tackle a new topic and link it to Cailbhe's own experiences. A range of articles already exist on their site and are free to read for anyone who is interested in them. The team are also visiting running clubs to present this information to their members.
'We take the literature that is usually locked away and hard to access, and summarise it in a way that people can understand. We've been able to outline the training parameters runners need to fulfil to finish the marathon in a specific time. We've been able to list what we believe are the '10 commandments of marathon training'. And, we've outlined some of the fundamentals of nutrition. We have lots more topics still to cover including the pillars of injury prevention, whether runners should worry about their technique, in-race nutrition and much more. For us, it's about getting the science to the people that need it'.
Runners Required
The team at Pace-Man are currently looking to recruit interested runners for their study. Their weekly articles are also available through their website, and the team are currently visiting various running clubs to provide seminars on topics that they are interested in. If you are interested in reading these articles, in knowing more about the study, or would like to arrange for the researchers to visit your running club, you can contact them at www.pace-man.com, at [email protected] or through their Twitter and Instagram pages @PaceManApp.