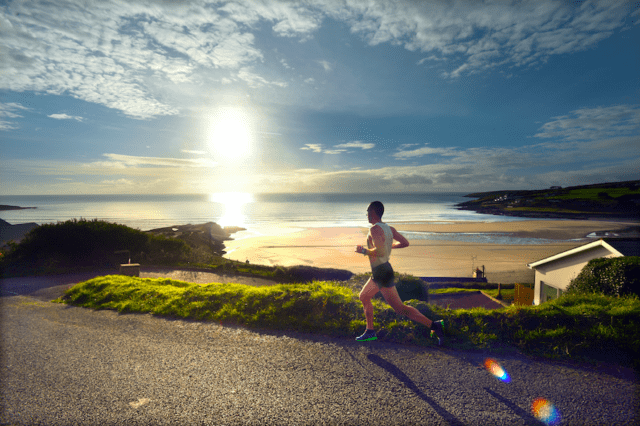 Clonakilty Waterfront Marathon returns for a ninth year tomorrow ( Saturday  8th December), with three different distances on offer, participants are spoiled for choice of race across a 10k, Half Marathon and Marathon. 
The route is a stunning testing course with ocean views and gentle hills, set at an ideal date to test your limits – the Clonakilty Waterfront offers distances for all levels and ages. All abilities welcome, walkers, wheelchair participants, slow runners, fast runners… you're guaranteed to have a great time.
This year's marathon falls on the 8th December, which is the annual festive shopping day in Clonakilty so the town will be buzzing with activity. The switching on of the Christmas lights will also take place on the same evening.
Globetrotters
Racers from all corners of the globe travel to Clonakilty for this renowned event. This Saturday, participants will include the heroic Collette O'Hagan, who at 69 years young is completing her 600th marathon. Also, striving to complete a Guinness World Record will be Donal Young, member of the Irish Navy and Courtmacsherry Rowing Club, is attempting to break the record of 1 hour 27 minutes for a half marathon, wearing a regulation military gas mask! Donal is fundraising for the challenge to raise funds towards a new clubhouse for the Courtmac rowing club. You can support Donal at ifundraise.ie
Race Day Parking
Clonakilty Chamber kindly asks participants and visitors to avoid parking their cars in and around the town centre during the day time, while the races are in progress. Car parking has been reduced all around town, along with Kent St. car park and it is extremely important to the retailers, that as many parking spaces are made available to shoppers on the day. Parking for race participants and supporters will be available at the Showgrounds and all are encouraged to try to get there by 8am.
 Marathon organizer Bobby Hilliard commented: "We request that everyone approaches Clonakilty Waterfront Marathon IX in a positive and respectful manner. Share words of encouragement, smiles and thumbs up with your fellow runners, marshalls and supporters. Please show your appreciation to the marshalls, stewards, and gardaí, on the course too, as without them this event would not be possible! And finally, Enjoy your day and cross the finish line with a smile on your face!
 In the words of our good friend Amby Burfoot, 'Every mile is a gift'. Enjoy each one we are privileged to be able to run…"
For more information on a late entry, starting times, routes, and road closures, visit www.runclon.ie