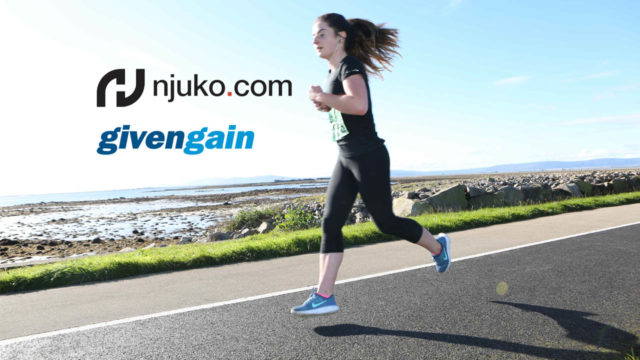 RunIreland's online registration provider njuko.com have partnered with global fundraising platform The GivenGain Foundation to help event organisers and participants raise more funds for their chosen causes through their technology.
Harnessing the power of many
Adam O'Connor, Head of U.K. & Ireland at njuko, says many of the events that run on the registration platform already have a fundraising component of some kind or another but explains how the GivenGain partnership will improve the experience for everyone.
"To professionalise this key feature of modern endurance events, we chose to work with GivenGain, as they are the leading global enabler of fundraising around events."
"Fundraising is becoming an absolute must in any event's toolkit, and this new partnership will allow race directors to harness the power of the crowd to make a positive social impact in their local communities."
"We work closely with the GivenGain team to ensure it is a seemless process for your participants to become fundraisers at the point of signing up to your event and then to share best practices, tips and industry insights to our growing customer base in Ireland."
Automating fundraising admin
Marius Maré, President of GivenGain, says the online fundraising platform takes the admin out of event-based fundraising.
"We help event organisers automate the process of connecting charities with participants, and provide a secure, automated, straight-through payment channel between the two. As a result, individuals or teams participating in an event can fundraise within their networks, and any donations they generate are paid straight into the charity account."
Using GivenGain further gives events an aggregated view of all money raised for charity through their event. "This enables them to showcase their top fundraisers, track the donor countries their event has reached, and give real-time feedback to stakeholders including the public," says Maré.
Adam O'Connor added that partnering with GivenGain has been a breeze and a revelation. "GivenGain, through their friendly hands-on support and expertise, has made it simple to wire events for mass fundraising. We encourage all our event partners to use GivenGain to make a lasting social impact without any extra effort and increase the international profile of their event."
Making events more meaningful
Established in 2001, GivenGain has worked with events on five continents, and fundraisers and donors in 193 countries, to support charities and non-profit organisations in more than 60 countries.
Supporting 10 currencies and multiple languages, GivenGain has worked with international events including the Cape Town Marathon, Uganda Marathon and Limassol Marathon, and counts numerous large charities such as the WWF and MSF among its users.
Marc Freudweiler, executive director of the GivenGain Foundation, says the Foundation is itself a non-profit whose mission is to enable global philanthropy and help race organisers give their events more meaning.
"We believe GivenGain is an ideal match for njuko, as both are truly human organisations. Whereas the GivenGain Foundation is all about making it easy for events to connect with charities and fundraisers to do good, njuko is all about helping events attract mass participation with superior event management tools. We believe this is a massive step forward for the numerous events powered by njuko and GivenGain."
About GivenGain
GivenGain is the leader in global fundraising activism. It is known primarily for three things:
• Allowing fundraisers to do extraordinary things in support of their efforts for their favourite causes.
• Giving event organisers the ability to make their events more meaningful by enabling participant fundraising.
• Providing charities with the tools to build sustainable funding models, cement relationships and win support for the ideas they believe in.
Visit www.givengain.com to learn more.
For more information, contact Marius Maré at marius.mare@givengain.com.