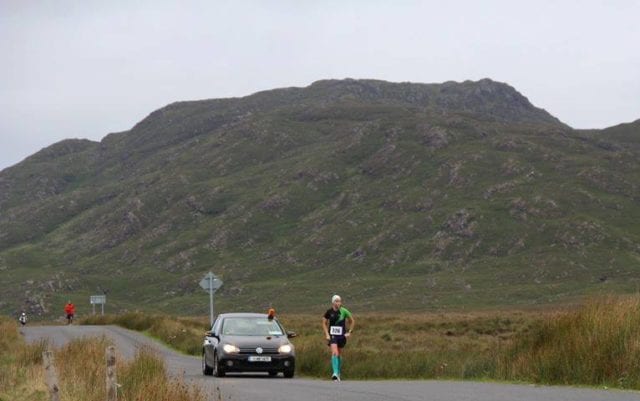 Article by David Doyle 
Nichola Duffy's introduction to running in January 2016 could hardly be described as love at first sight. With an infant (and buggy) in tow she set about escaping the sedentary lifestyle that is commonplace for newbie parents and to reconnect with the associated endorphins that had become distant relatives. A lap of the Bohermeen track saw her struggle to regain her breath. However, whilst the air had almost been extinguished from her lungs the fuse had most definitely been lit.
Fast forward to December 2019 and the same athlete completed the grand total of 201.8 km (a total of over 504 laps) of the track in Barcelona at the 24 hour event. In doing so she finished second overall and obtained the qualifying standard for the Irish 24 hour ultra running team.
A lot, apart from a difference of 503 laps had changed between Bohermeen and Barcelona.
Catching the Running Bug
Driven on by her initial experience in Bohermeen despite her initial struggle and eager to reclaim a more active lifestyle that had seen her compete at equestrian during her second and third level education. 'I just thought to myself, I am so bad at this but I really want to improve'.  Undeterred by some initial struggles she persevered and within three months had completed her first 10k race (Lismullen 10k) in a very creditable time of 51 minutes and her first half marathon (Bohermeen half marathon) in an equally creditable 1 hour 57 minutes. The initial bug had been caught and later in 2016 she completed her first marathon (Dublin marathon).
Through the power of social media Duffy became aware of endurance athlete Ray Cassin and having reached out to Cassin he became a source of encouragement which initially persuaded Duffy to push the internal boundaries she had set 'Until that point I had never really heard of ultra running. I found it fascinating to see someone pushing the boundaries of what could be achieved. It immediately became something that I wanted to emulate'. I became curious about how far out I could stretch my limits and Ray Cassin was a great support to me and convinced me that I had it within myself to take on the 100 mile distance'
Generally, within any interview there is a pivotal question. Every other question and section of the conversation branches out from this question. Having observed ultra running (from a safe distance) for a number of years I have always been curious about the motivating factors – all that road to be covered, all that mental space to be filled. 'I love the holistic side of ultra running, I wouldn't be the most natural of runners and as a discipline it is probably 70% mental, 30% physical. I like the fact that it tests you at all levels'.
Focus on the Small Goals
I probe a little on the mental aspect a little further curious about how the seemingly endless void gets filled 'the body really does follow what the mind says, it is about having different coping mechanisms and constant positive re-enforcement. This helps you to get through the times in the race when it gets really difficult. When it seems like none of that is working you just focus on much smaller goals such as hanging on to the back of someone or getting to the end of the next lap. You have to be prepared for the fact that things will get tough and have coping mechanisms to get through these'.
That degree of mental strength is honed in training and the endless solitary miles accumulated are driven on a primal level by the sense of mental and physical fulfillment. Juggling a demanding training schedule with a career and family life presents a challenge but the reward is significant. Our conversation veers towards the solitude of long-distance running.  Many of its exponents juggle it between family and career and whilst there may be others with similar goals and training workloads finding a training schedule that is compatible with that of someone else is compatible at best.
A typical training week involves a six day per week schedule with some days containing two sessions under the careful tutelage of her coach Paul Stephenson. The multiple base miles are complemented by two speed sessions per week, not to mention intermittent strength based training 'Strength is an area I will be working on a lot more in 2020. It will be more structured and less sporadic than it has been'.
Unwinding Through Running
Far from seeing the solitude as a deterrent many long distance runners embrace and almost crave it. The endless introspective miles serving a form of physical and mental therapy from the stresses of everyday life. Duffy elaborates on the isolated nature of training ' I could be out training at 3 or 4 in the morning. In that sense it can be quite isolated. In some ways it teaches you to enjoy your own company'.
Despite the heights scaled in the last 4 years it remains a fledgling career so I ask Duffy what the sport has taught her about herself ' It has completely changed me although I am probably still learning about myself. One of the main things I have learnt about myself through running is that I am very determined and goal orientated. It gives me back a sense of fulfilment. I need it in my life as it also gives me a sense of mindfulness and it is my time to unwind. It has become such an integral part of who I am'.
Along the way Duffy has accumulated some significant achievements such as winning the Connemara 100 mile in 2018, finishing second in the Wexford 12 hour race in 2019 (after leading for the majority of the race) and culminated in the achievement of the Irish women's 24 hour ultra running  qualification standard time in Barcelona ( a race in which she finished 2nd female and 8th overall).
Nichola Duffy has come a long way since that fateful lap of Bohermeen track in January 2016. 2020 beckons with bright optimism and beckoning goals. The same focus and determination that has carried Nichola Duffy to this point.
Who knows what lies ahead further on up the road.
About the Author 
David Doyle is a freelance sports journalist who specialises in feature articles. He has written on a variety of sports including Athletics, Cycling, GAA, Amputee Football and Boxing to name but a few. He can be contacted directly at
[email protected]