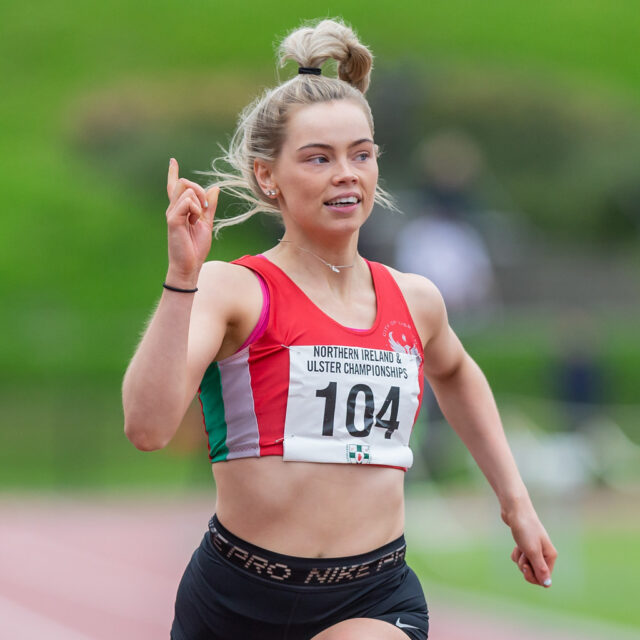 Last weekend saw the belated Northern Ireland and Ulster Senior Championships take place at the Mary Peters Track in Belfast.
Friday was an evening of 1,500m with age group races taking place too. In the U16 girls race, 14 year old Lauren Madine followed the pace until coming off the final bend when she moved out and launched a fierce kick for home. She moved way clear to win in 4:41 which shot her up to 3rd in the U15 rankings for the whole of the UK in 2020! This caps off a stellar year for the East Down star which saw her take titles indoors and at the Irish Schools cross country. On Saturday, she was out winning more prizes, this time on horseback!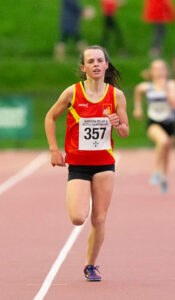 Saturday on the track saw Ballymena sprinter Lauren Roy go for the 100m/200m double. A superb effort considering the amount of races she would have to run over a few hours. She looked explosive coming out of the blocks and in great form, firstly flying to victory in the shorter sprint before overcoming cramp in the 200m, cruising to her second gold. This follows her Irish Senior Championships bronze in the 200m a couple of weeks ago. Her electric starts bode well for the 60m as her attention now switches to indoors.
The mens 400m saw unattached Conor O'Carroll claim the Senior bronze. Only just turned 17, he has a relaxed style and is very new to the sport, many will watch his progress with interest.
Victoria Lightbody moved down from her usual 800m event to take the ladies title, the young City of Lisburn athlete showing great speed endurance in the final straight.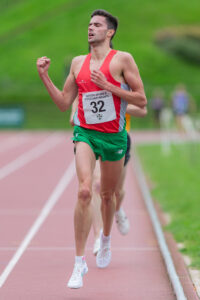 James Edgar and Neil Johnston put on a race to remember in the 5,000m. It was a classic that will live long in the memory. Newcastle's Eoghan Totten set the early pace and still led at the bell. Smooth striding triathlete James Edgar was in his wake. Tactically astute Neil Johnston, the defending champion, had moved wide onto the shoulder of Edgar, boxing him in. As Totten began to tire, Johnston launched his sprint for home with 350m to go, possibly earlier than he would have preferred, his kick opening a few metres of of gap on Edgar who was quick to respond. The gap was still there coming into the home straight but Johnston began tighten up. James Edgar maintained his form to get past and add the 5,000m gold to his 10,000m title from a few weeks ago.
Nakita Burke made her move early in the ladies 5,000m to come home unchallenged.
Former Commonwealth Games athlete Katie Kirk got married a few days before the Championships. She also was unchallenged as she won the 800m in style.
©2020, Lee Maginnis