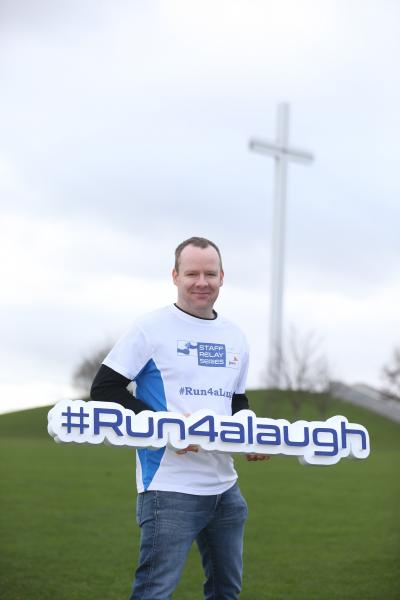 Comedian Neil Delamere is proud Ambassador and PwC is proud sponsor to the 2017 Staff Relay Series, Ireland's biggest mass participation relay event which once again returns to the Phoenix Park, Dublin, at 6pm on Thursday, 25 May 2017. The 5 X 5km fun relay event, in its seventh year and involving staff members from organisations all across the Dublin area, is a healthy alternative to the typical staff night out.
Playing to the strength of basic schoolkid athletics, the event combines a simple relay concept with socialising, healthy living and good craic.
Speaking at the 2017 relay launch, Neil Delamere, who partakes in some recreational running himself said: "I am delighted to be Ambassador for the 2017 Staff Relay Series which is a great initiative for work colleagues to mingle and get to know one another better in a fun, relaxed way. I wish all of the teams fun on 25 May and hope that new friendships are formed and existing friendships are strengthened."
Pierce O'Callaghan, Director, Global Relay Events who organises the Staff Relay Series, said: "The vision of the Staff Relay Series with PwC is clear – to provide a unique and special opportunity to build team spirit and create a sense of healthy competition within the workplace and to bring a sense of fun to a running event characterised with our hashtag #Run4aLaugh.
"The event has grown from strength to strength since the first run in 2011 and with this new and exciting partnership with PwC we are confident we can grow the event exponentially both in Dublin and throughout the other urban areas in Ireland."
The recent success of the Nitro Athletics Series has shown athletics bodies that their sport needs to implement change if it is to maintain relevance in today's market. The Staff Relay Series shows how running can be made attractive to the masses. Whilst there is undoubtedly a competitive element to the night with both inter-company and inter-industry rivalry at play, the event is not just aimed at the elite runner. It is open to any team of work colleagues from the public or private sector and is designed as an alternative summer party for employers and employees alike.
Speaking at the launch, Feargal O'Rourke, Managing Partner, PwC, added: "We're delighted to be involved with the Staff Relay Series. It's a tailor made event for fun, fitness and teamwork among office friends and colleagues but with, I suspect, a fair bit of banter and competitiveness on the evening. It's great that it's an accessible event for all classes of runners from the serious to the fun runners like myself. We're really looking forward to it in PwC."
The final kilometre of the 5km route passes through the Relay Village – a tented area where companies set up office for the night – and colleagues can cheer and encourage their team mates as they complete the final leg of the relay before socialising over refreshments!. The objective of the event is not about winning medals or posting record times but on building morale, camaraderie and teamwork whilst having the craic afterwards in the 'Staff Relay Village'. This is an event for organisations of all sizes and stature – from small local businesses to large multinationals. The only item on the agenda for 25 May will be for staff members to let their hair down and have fun in a relaxed outdoor environment.
More details on the event on www.staffrelayseries.com