AON Mullingar Half Marathon
Each year the AON Mullingar Half Marathon grows in numbers and 2020 is looking to be the biggest race yet. February is almost over, training is at its peak. Seeds of excitement and maybe doubt are kicking in. It may be your first half marathon, or you could be a pro at this stage. The weather is making the training harder, but your pure determination will see you through the next few weeks and we can't wait to see you at the start line of the AON Mullingar Half Marathon.
Why run the AON Mullingar Half Marathon?
Now in its sixth year, the AON Mullingar Half Marathon is a high class, gold standard half marathon and a race that appeals to both beginners and elite runners. Starting in Mullingar Town Centre, onto county roads, along the Royal Canal Greenway and finishing in Mullingar Town Park. Race HQ, carparks, start & finish are all within 200m of each other. The flat course makes it ideal to achieve your personal best. This is a must for your race calendar.
Not only does the race offer it all but by running the AON Mullingar Half Marathon you are supporting charity. All proceeds go to local charity T.E.A.M. (Temporary Emergency Accommodation Midlands). The money raised by the marathon is vital to the work they are doing in the region.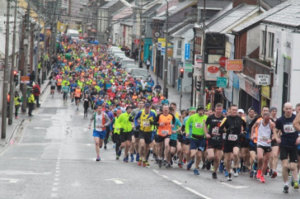 When is Mullingar Half Marathon on?
The Mullingar Half Marathon is on St. Patricks Day, starting at 10.30am in Mullingar town. Mullingar is a great destination for runners and families on St. Patrick's Day, offering something for everyone – from outdoor activities to great food, accommodation, music and entertainment. With the return of the Westmeath Bachelor Competition Mullingar is the place to be this St. Patricks weekend.
Training Tips and Advice
The Half Marathon was launched by proud Mullingar man and Leinster Rugby player Conor O'Brien. Conor was joined by his Dad, well know Offaly GAA star and Mullingar athlete, Garrett O'Brien. Conor who is used to being put through his paces on the training ground had this advice for anyone registered for the half marathon. "Consistency and small steps in the right direction every day is key, success isn't a straight line. You'll have days where you don't want to get up and train but it's about mentally winning that battle and getting out and training, then when it comes down to it on the day you will have confidence that you've done the work, get in form on the day and get through it."
For weekly training plans and tips pick up a copy of the Westmeath Examiner or follow MHM on Facebook.
Click here to register for AON Mullingar half marathon and for more information.
The Aon Mullingar Half Marathon takes place on ☘️ St Patrick's day ☘️ and it is expected to be the biggest event to date. Chip timing and technical Tshirts for all finishers. Save €10 by registering online below on https://t.co/jJZcI3djQf#runirelandhttps://t.co/tRvf49XB8k

— RunIreland.com (@TeamRunIreland) February 26, 2020