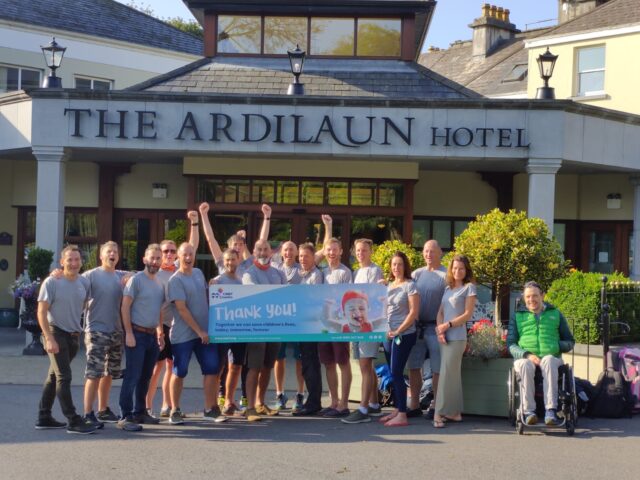 All pictures were taken before the Covid-19 pandemic.
Over the past few years, we have been setting ourselves a running challenge for the first weekend of April, to ensure that we continue training throughout the dark winter months.
We started with the Rome marathon in 2016. It was a fantastic experience and a wonderful weekend with a like-minded friends that we did it again in 2017.
On the plane, on the way home, I thought, "I'll be 50 next year, surely it's time to do something a bit more adventurous!!"
And so we found ourselves running the Montseny 80km ultra in Spain an incredible 9000m elevation challenge in the stunning mountain range north of Barcelona.
When we finished last year's Enkarterries Extreme ultra trail (60km in the Bilbao region) we started to think that the time might have come to do something closer to home.
During a training run over the Greystones to Bray cliff walk, the idea of a coast to coast run came to mind. We played with the idea of Shankill to Salthill but finally we settled for Greystones to Galway.
We wanted to do something near home to see if we could get a few more people to join us, to have others experience what we have been experiencing over the years, beyond the running and with a particular focus on mental health awareness.
We picked two charities – A lust for Life and CMRF Crumlin to raised fund for, set a €20,000 target and the 3rd of April 2020 as the starting date.
We gave ourselves the challenge of running the distance over 3 days and within a few weeks we had an 18 strong running group committed to the cause.
Then COVID 19 happened. We were in lockdown. Training became hard with the 5Km limits. Through a WhatsApp group we kept each other's spirits up and kept a healthy peer pressure to ensure that training was kept up.
We rescheduled for July but soon after we knew that was too soon. September 17th became the new and final day.
Everyone in the team worked to the strength to ensure that the organisation of the trip went as smooth as possible. Logistics, accommodation, food, support vehicles, support bicycles, sponsorships, media… No stones left unturned.
Six of the runners would attempt the full distance. The rest would play a supporting role running to the limits of our capabilities and ensuring that food stops and water was at hand at all time.
We set off from Greystones at 7:02 am on Thursday, sunrise, and headed for Bray over the Cliff Walk once on the seafront we headed for Leeson Street bridge along the N11.
Food stops and water replenishments were planned all along the way and some of us took turns to drive the campervan and prepare fresh food at all times.
Quinoa Salads, Bolognese Pasta, Rice and Daal, Potato salads, Spinach and plenty of Peanut butter and Jam bagels. We had Happy Pear energy bites and Cliff Bars for quick boosts.
At Leeson street Bridge we started our journey along the Grand Canal. This would take us all the way to Shannon Harbour at the end of day two.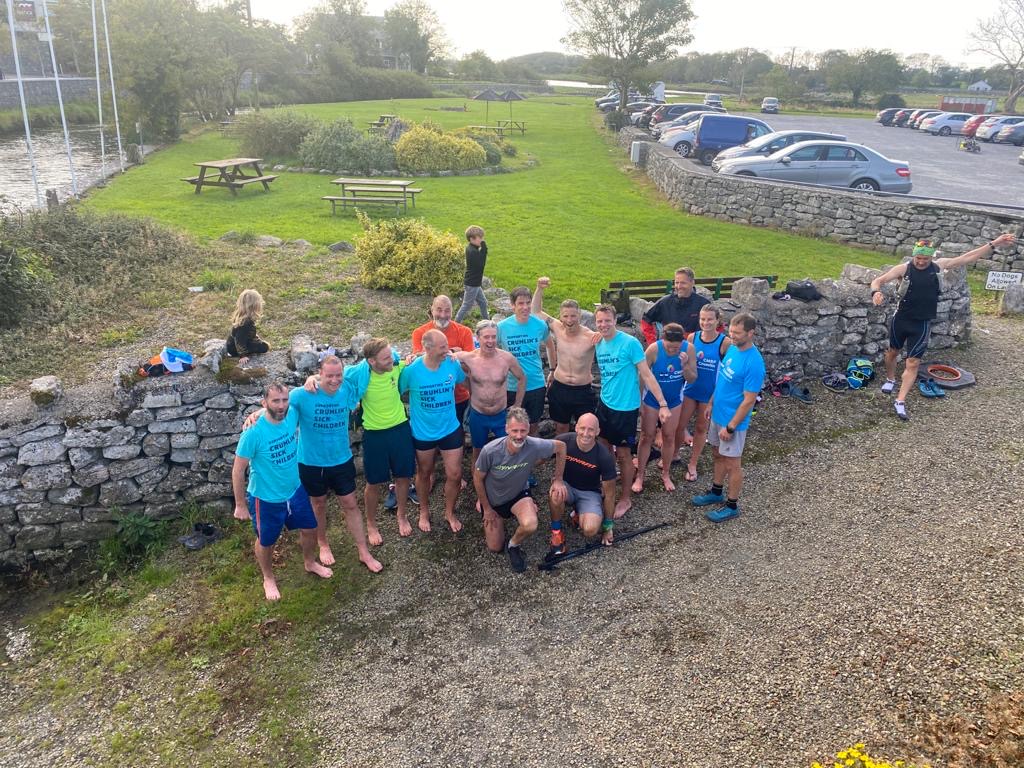 Picture was taken before Covid-19 pandemic
The first day is a 75 km run.
The elite runners, broke this down to a 50 minute run 10 minute power walk routine that ensure a mental "carrot & stick" to keep going. This was reduced to 25 and 5 later in the day as the kilometres felt heavier on the legs.
The canal route is perfect for running on with a combination of tarmac, gravel and slightly overgrown soft trails, with the odd cyclist passing by, it's very safe and pleasant flat surface to run on.
We had planned the major food stops to be every three hours or so and had plotted the route to ensure that the campervan could pull in where needed.
We were really lucky with a stunning weather, the sun shone for the three days, but this added an extra challenge of keeping hydrate. We used a couple of bicycles with water bottles strapped at the back for extra support.
Knowing that water was available at any stage was a psychological boost for the runners.
We finished in Allenwood and stayed the night in Clane. While buzzing from having finished the first day, the realisation that next day was going to be even longer started to sink in with most of us and a sombre atmosphere settled in the group.
Early night for everyone.
With a six o'clock running start it meant that food needed to be prepared and ready to eat around 5.30 am.
A few of us were down in the van early to get the main runner fed on the go and at the starting line for 6 am.
Two of the guys on the bikes headed off with them in the misty cool morning and the rest of us got organised for meet again after 2 hours or so and have a second breakfast, water replenishment and join the running.
The grand canal did not disappoint and whilst it was another hot day, it was nice to have the water beside us at all time, albeit unable to avail of it.
The promise of a freshwater river on the west side of Tullamore, got everyone moving at a nice steady pace.
Surprisingly the whole group was able to shake off the stiffness from the day before and keep on foot in front of the other.
The 50 minutes running 10 minutes walking was reduced to 25/5.
Psychologically made a massive difference and we kept a steady pace throughout the long 84km day.
Finished in Shannon Harbour and got everyone safely back to the hotel for a well deserved hot shower, meal and a pint…
The last day presented bit more of a challenge as we had to leave the canal and take back roads all the way to Clarinbridge. It became even more important to co-ordinate the runners in small groups to reduce the exposure on the road.
Thankfully it all went smooth and crossed the finish line, all together, to a small crowd of friends and family that were waiting for us.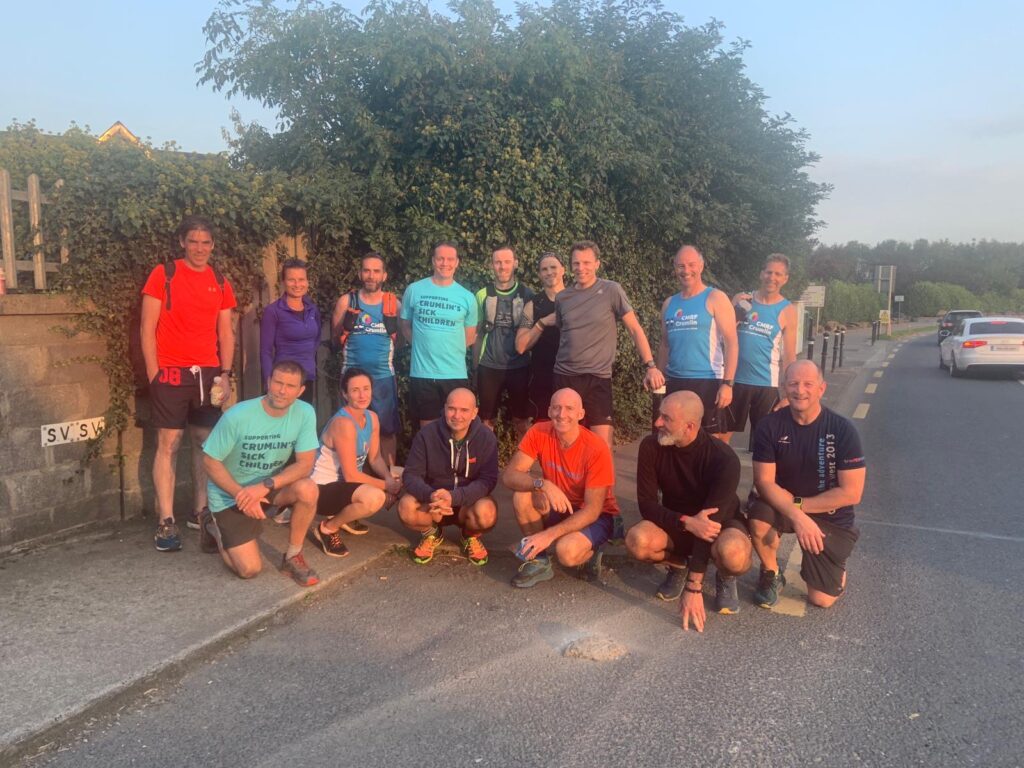 Picture was taken before Covid-19 pandemic
Overall was exactly what we had set out to create. A challenge open to anyone with any level of fitness. Everyone exceeded their planned target. Everyone created memories that would last a lifetime. Everyone carried a stone from Greystones Beach to Galway Bay, as a symbol of the weight that we each carry. The stones were thrown into the Atlantic Ocean We did it for mental health awareness. To raise funds for A lust for life and CMRF Crumlin.
Some numbers: 2466 km run collectively
3 runners – run every single kilometres (240km) Ross Thompson, George Coffey, Patrik Albertsson
The rest of us run over 30 Marathons collectively
People that never run more than 10km run 1 or more marathons over the 3 days.
At the time of writing people have donated €39,568 (our target €20,000)
Sponsors: John Sisk & Son, Kambukka Ireland, Microsoft, Dell Financial Services, JP Hegarty.
Food supplied by Supervalu Greystones. Other food donation from The Happy Pear, Kelly Hunter Trading
Report by Andrea Splendori