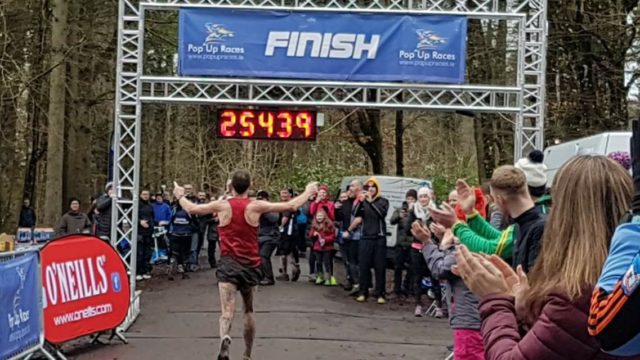 Gary O'Hanlon, the 2017 National marathon champion was in flying form yesterday when he took the title at the Donadea 50k which was the National Championship race for the distance.  O'Hanlon set a new record covering the distance in a time of 2:54 for the 10 lap 5km route which has become a highlight on the ultra running calendar in Ireland.
O'Hanlon ran a personal best on the day by over 2 minutes, not an easy task considering the conditions underfoot.  Taking to Facebook to thank the organisers for a great race he said:
"Went through 10k in 33:17 and the Marathon reached in 2:24 (5:30 miling) and just about held 6 minute miling for the last 5 or so miles for 2:54. Another great job by race director Anthony Lee. Really appreciated the support out there today and well done everyone who completed and supported along the course."
There was a tight battle to the finish for second and third step on the podium with Stephen Connon edging out Mick McKenna for the second position with just 30 seconds separating the two men finishing in 3:17:29 and 3:17:59 respectively.
In the Women's race Caitriona Jennings set a new record and was crowned women's champion finishing in a time of 3:24. Susan Mc Cartney took the silver medal in a time of 3:24 with Louise Smith rounding out the Women's podium taking bronze in a time of  3:47.
For a full list of Ultra Running Races taking place over the coming weeks and months pop over to our Home Page
Photo Source: Gary O' Hanlon